A lovely little campsite in Ulli's front yard. The problem with town campsites, is neighbours dogs and chickens.
We were up early, thanks to a cockerel who's neck I would have gladly wrung …:)
I mentioned in my last entry that we were about to undertake the notorious highway, N1. However I got the day wrong. It's today!!
After saying goodbye to Ulli we were on our way to N1. Several people had suggested we take a slightly longer and more scenic route, before meeting up with N1.
There was a heavy dew last night and it must have cleared the air somewhat as for the first time in days we were able to see the surrounding mountains. Very interesting formations they are. We pass peaceful villages, banana and mango plantations.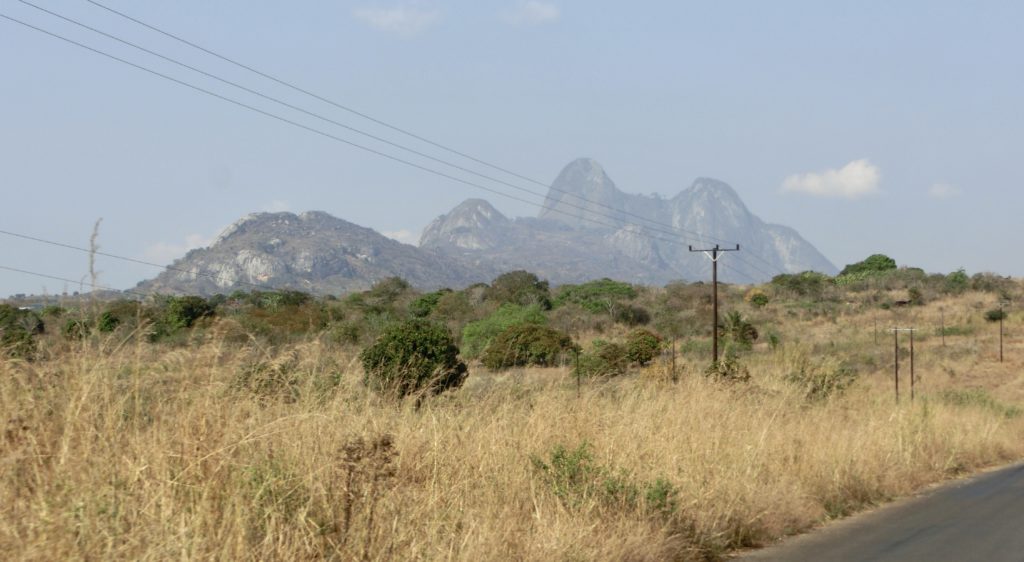 After 170k's we intersect with N1. For around 80k's it was reasonable, but we were not fooled as Edith and Peter had filled us with dread and this wasn't dread. However, sure enough the road while crossing a bridge, descended into a nightmare.
Trucks all twisting and turning to find the smoothest line. At one point while taking to a side track I was at eye level with the shattered seal. Edith and Peter did it in the wet season and they had no idea how deep the puddles were until they were at the bottom.
At a village along the way when stopping to buy a lovely looking pineapple, we were mobbed from both sides with pineapples being trust in the window along with bags of roasted cashews. We bought one bag of about 300gm for NZ$2. They were delicious so we stopped a little further on and bought another.
A little bit of mirth. Crossing the large Save River on a rickety bridge and a makeshift road, there are two bridges, one under construction. One, a 1960's suspension bridge being modernised. TWO!, very different and at different levels! Anyway, we passed through what I thought was an unoccupied toll booth, yes, you have to pay to use their roads, when there was a shout from within the kiosk. I tossed up with driving on but Jen demanded I go back and pay the toll. Instead of reversing back I turned around and approached from the wrong direction. Paid the toll then swung around and went back the way we were going. Hoy!! she shouted from the other side of the booth, you need to pay the toll. "You gotta be joking", so I drove on.
Our camp for tonight. Goody Villas.
It was 5.30pm when we pulled into Goody Villas campsite and getting dark. Whew! What a day.
Our campsite is huge, and we are the only occupants. We have a site overlooking the sea which is about 100m away. Tomorrow we will do some washing and maybe have a swim before setting off again. We have a steady cooling onshore breeze and I'm hoping it will be a pleasant night.
Again Jen has prepared a scrumptious meal. While it was in preparation, I have attempted to seal two small holes in my Thermarest sleeping mattress. While inflating last night, it fell onto a mosquito coil, unobserved. I've tried to seal with with a bicycle tube repair kit. I'll know during the night, how successfully.
It's been a big day. 390k's. My opinions of Mozambique? I'll reserve them for another blog.
Footnote. The government have decided they cannot afford to complete the two bridges. The new one, a joint venture with the Chinese.
Hits: 57