Fond memories in 1970 of travelling through the Great Salt Desert of Iran and the magnificent countryside and challenges of Afghanistan, India etc.. Time hadn't dimmed the passion for being in a Land Rover again.
The vehicle we, two fellow Kiwi's Jean and Roger and myself, drove home to New Zealand from the UK, had been sold years ago to fund a business venture. For those interested, the Land Rover was an ex British Army Series 11A Short wheel base. Bought at the British army auctions in Ruddington for £230. Only 44k miles on the clock and a canvas top. Perfect for a range of climates, from northern Norway to Central India. Canvas sides and rear, up or down. After months of adaption to accommodate us all for sleeping and living in and mounting Jerry cans for petrol, oil and water. The journey started when we shipped her to Bergen, Norway. I think it's fair to say, that trip changed my life.
A challenge to start the new Millennium.
Fast forward 30 years. Following a trip to Auckland in 1999 and a visit to a Land Rover collector in Henderson to check out his vast selection of Land Rovers, the perfect vehicle was found. Hidden in a shed with a dozen others. An ex NZ Army 1983 Series 111 Stage 1 'guinea pig', in great condition. It had been seriously modified by a military contractor, converting it to a diesel engine, fitting disc brakes etc. The reason, making it suitable for possible NATO integration, should NZ become involved in the Bosnian war. It wasn't and the army were divesting themselves of the marque for more modern equipment. She was long wheelbase and canvas. An Oldsmobile 4.3L V6 diesel motor had been fitted to replace the 3.5L V8 Rover petrol motor. While it was impressively powerful, it was potentially vulnerable to engine malfunction.
A more modern 3.5L Nissan direct injection FD35 4 cyl Diesel engine was purchased and fitted. Brilliant. Extra fuel tanks, a hydraulic winch and a second spare wheel. The rear storage area was divided and covered to separate spare parts, an Engel fridge/freezer, Coleman petrol cooker, tools, recovery equipment and personal belongings and to provide a flat sleeping area on top.
The venture was to take a Land Rover to Australia and renew a love affair with outback of Australia, formed in the mid 60's while 'roo shooting in Western Queensland.
2002 and it's time to go.
The dream of returning to the Outback remained and after 2 years prep, in 2002, a Kiwi friend, Neal and I, shipped the Landie to Brisbane to commence a 24,000k four month adventure. The first stage saw us head due west via Blackall and the Simpson desert, Alice Springs, Mt Dare to Geraldton on the West Coast and down to Perth. Neal had already decided to set up house in Perth and I carried on with other Kiwi friends that joined me for different legs.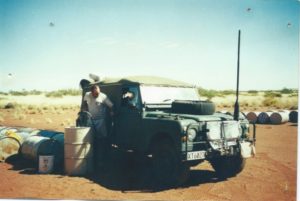 Subsequent stages took us to Albany, Darwin, Normanton and back to Brisbane via cape York peninsula.
Since then, the green machine has been repainted from drab military green to the Deep Bronze green of the original land Rovers. A Turbo version of the Nissan engine fitted and parabolic springs for a softer ride. Also an, inverter to run all sorts of equipment and of course, a comfortable sleeping arrangement makes it an ideal vehicle for exploration. Much of NZ has been covered over the years by Jen and I.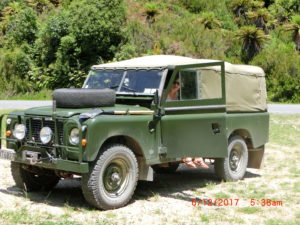 Hits: 845