This morning we weren't rushing. After 2 long driving days, we decided to take it easier today.
As it was almost dark when we arrived last night, we hadn't really looked at the beach. We we separated from the beach by a wire fence. There are lots of people. They seem to be mainly fishermen and children. Some fishermen came and tried to sell Dennis 2 prawns. Laughing, he told them it wasn't enough for a meal.
The drive to to Morrungulo was sadly pretty boring. A straight road, reasonably surfaced this time, but with dull scenery. Lots of speed restrictions due to so many villages. One has to be careful to observe the 60km limits through the built up areas, as there are many police radars. We were starting to feel sleepy, so pulled over for an early lunch.
We arrived at Morrungulo around 3pm. Camping is quite expensive, but we have a huge beachfront site. It is one of the most beautiful beaches we have seen in Africa. The first thing I wanted to do was to head for a dip. I expected Dennis to want to do the same, but no, the first thing he wanted to do was to clean Poki. Men!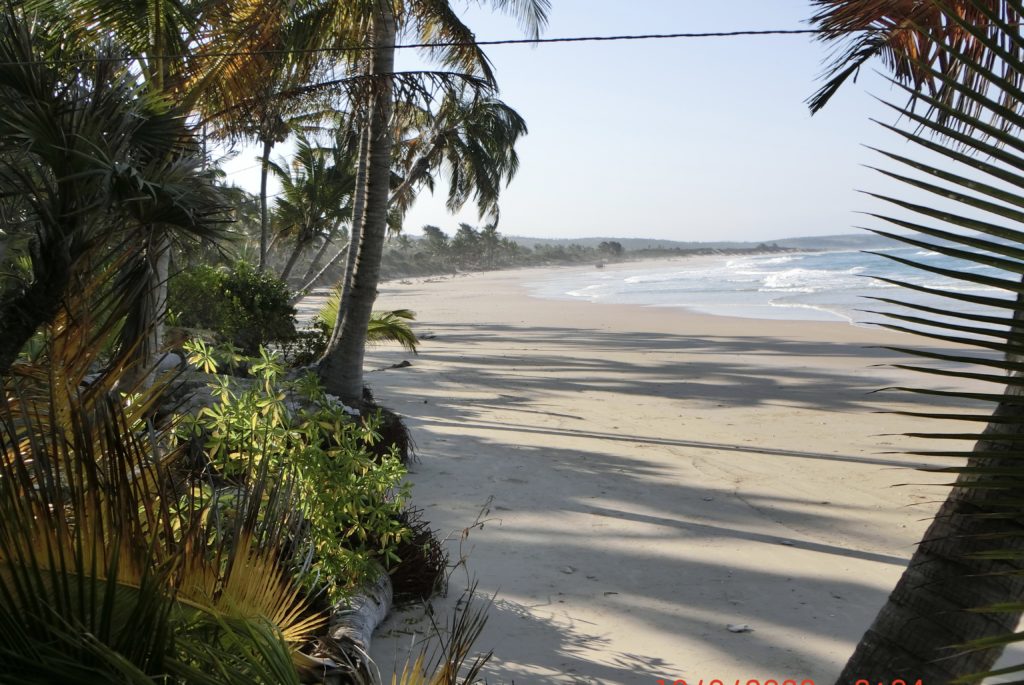 Once Poki was clean and we had put up the Caranex, we did head for the sea. It was beautifully warm, but there was a strong current. We played in the waves for a while, before heading back to Poki and a cup of tea.
Some history
Mozambique has had a history of conflict in relatively recent years. A bitter struggle for independence from Portugal. Like most African colonies, a movement for independence developed and the Mozambique Liberation Front, FRELIMO, fought a 10 year war from 1964 to 1974 for freedom from Portugal.
On gaining independence, FRELIMO, a Marxist/communist party, insisted on being the only party, under the leadership of Samora Machel.
This was followed by a barbaric civil war from 1977 to 1992, which resulted in the death of over a million people and the displacement of another 5 million. The war was fought between FRELIMO and the anti-communists, the Mozambique National Resistance, RENAMO, who opposed the establishment of a socialist one-party state. Even now we were warned not to stray too far off the beaten track, as land mines still remain.
The people are not immediately friendly. They seem quite wary. Perhaps the struggles they have been through have had an impact. Also it is not so easy to communicate, when we don't speak Portuguese.
Already, twice this evening a security guard flashing a torch has walked around our campsite. That is a bit unsettling.
Hits: 57