We left Bushman's Valley on another beautiful morning to head back to Oudtshoorn. Not via the Swartberg Pass this time, but via another pass, Meiringspoort Pass. This is via a tarmac road and took us through a deep, rocky gorge.
Not as dramatic as the Swartberg Pass, but still impressive. We had come round in a Circle back to Oudtshoorn.
Oudtshoorn
Oudtshoorn became a prosperous town in the 1860's. During this period no self-respecting society lady in the Western world would be seen dead without an ostrich plume decorating her headgear. The slump of 1914 brought this to an end, but the ostrich barons had made their fortunes. The town is still surrounded by ostrich farms today. Ostrich meat is common on the menu. Steaks, burgers, meat balls etc.
We stopped to visit a Pick and Pay supermarket, to see if we could locate any jumbo oats. We were in luck, so I purchased two boxes. Meanwhile Dennis had found us a sunny table at Mugg and Bean, where we had coffee/hot chocolate and a muffin and used their wifi to post a blog entry.
We set off for Calitzdorp. Another town originating from the 1700's, with some lovely old buildings.
It was too early to camp here so we continued to the next town of Ladismith.
Ladismith
Ladismith was established in 1851 and named after Lady Juana Smith, the Spanish wife of the Governor of the Cape, Sir Harry Smith. The original name had been Ladysmith, but it was changed to Ladismith to avoid confusion with the similarly named town in Natal. (We stayed here on our drive from Johannesburg to Durban.)
We are camped about 10ks out of town at Oakrest Vinyards. We are the only people at the campsite. The owner, Philip, was very welcoming and I purchased a bottle of their red, Pinotage wine for our dinner. We are camped overlooking the dam and stored water lake for irrigating the vines. The facilities are excellent. It was very windy when we arrived, but Philip said it would die down by 6pm.
It is now 9.20 and it's still blowing. Big gusts which rattle the tent and even shake Poki. We had a pasta dinner and the wine was excellent. Am still hoping the wind will abate, so we get a peaceful night's sleep.
Our camp looks towards the majestic Towerkop mountain. 2,189 m with a split peak. It dominates Ladismith. Legend has it, a witch flying overhead in a thunderstorm struck the peak in anger as it impeded her passage over the mountain, splitting it in two.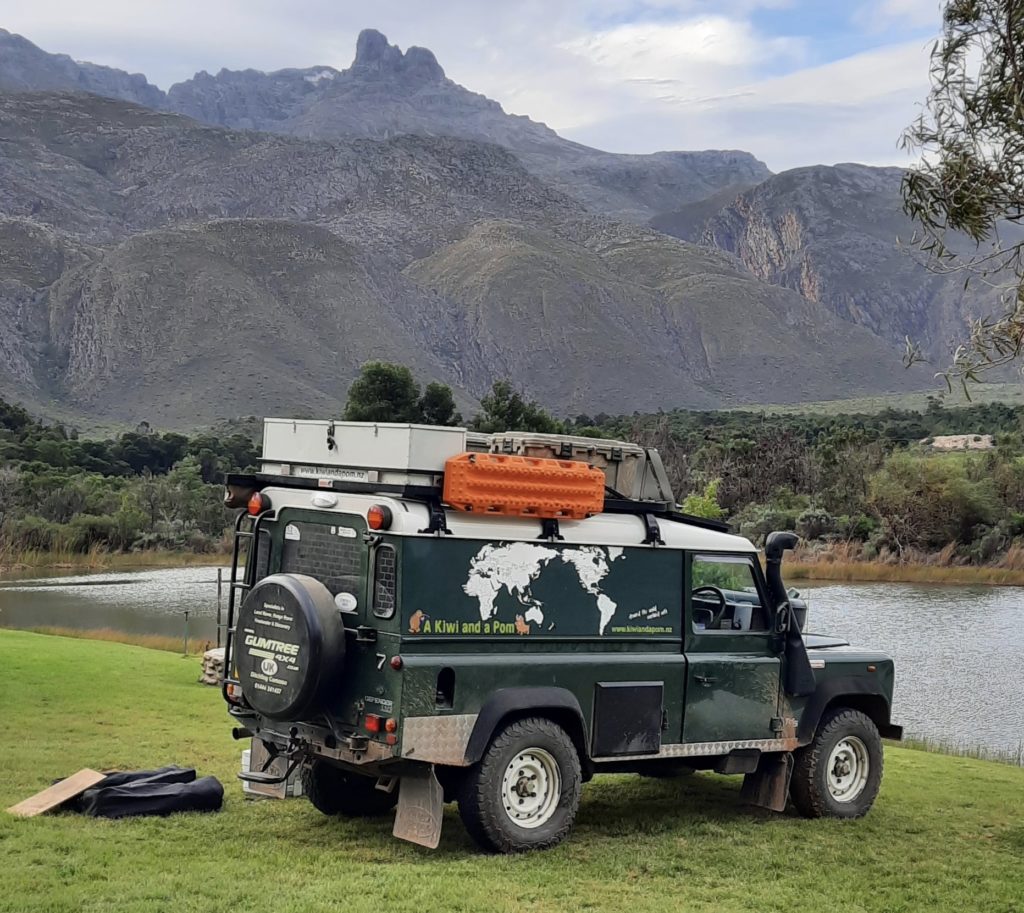 We are in the region called Klein Karoo at the foot if the Klein Swartberg mountain range.
It is an area of intensive farming, with a climate ideal for the growing of fruit. Apricots, peaches, nectarines, pomegranates, purple figs, pears, grapes, watermelons and ordinary melons are all produced for export as well as for local markets. Olives are also grown on a smaller scale. Of course, at this time of year none of these are available. Many of the grape vines look very sorry for themselves, not yet having been pruned.
Tomorrow we will continue in the direction of Capetown travelling via the famous wine producing areas.
Hits: 54