First up. Happy Birthday to Tim. Tim is Jens eldest son and is celebrating his last year in his 40's.
Our campsite host said the wind will die away at 6pm. Well, it did but not until 6am next morning.
However, it dawned a flawless morning. Warm and sunny. The only issue we had with the immaculate campsite, were the showers. Stripping off and enjoying the warm water in lovely facilities came to an abrupt stop when the gas fired califont went quiet and freezing water followed. What a disappointment that let down a lovey well maintained peaceful site.
Breaking camp
Looking back at our camp site.
On the road sharp at 10.45am heading for a motor museum near Franschhoek 200 k's away, that our friend Alex had recommended from a recent trip to the area. Jen has some wineries lined up that he also highly recommended. I wonder if they sell mineral water?…:)
Diesel & Cream Cafe.
A brunch stop at the Diesel & Cream cafe in Barrydale, recommended by our camp host.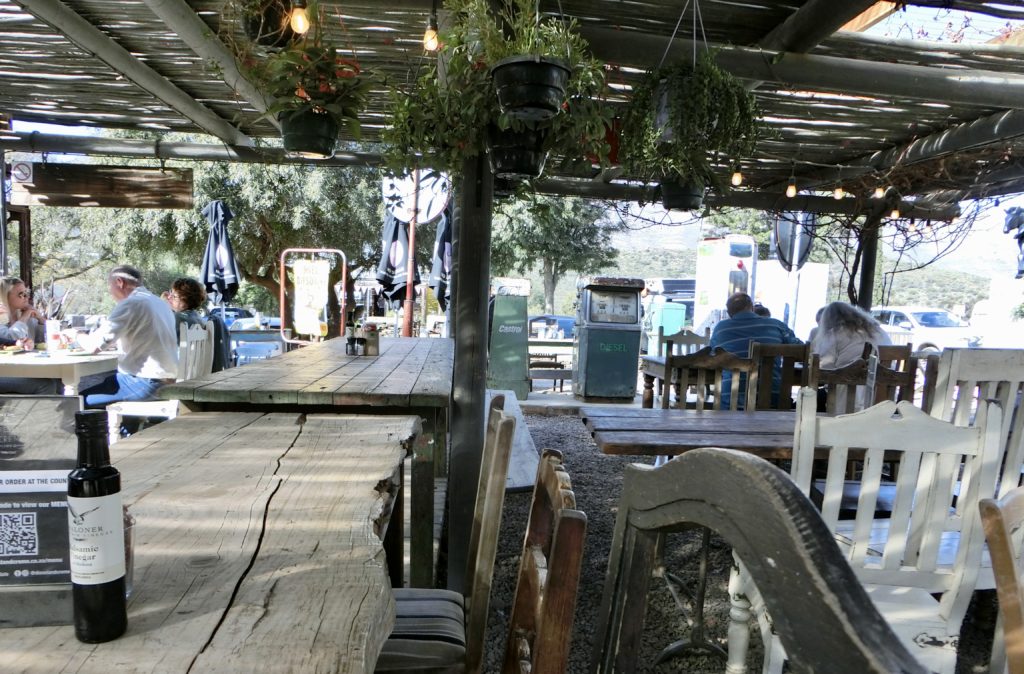 He said the milkshakes are to die for. Well, he got that spot on. Never experienced anything like them before. Thick, rich, ice creamy that were best consumed with a spoon.
Unfortunately the cheese and tomatoes toasted sandwiches were rather a disappointment in comparison.
We are driving through quite sparsely covered valleys, most of the day, lined with magnificent hills. The names of streams crossing under are tongue twisters in Afrikaans. Road surfaces are excellent and traffic is light. Being Sunday probably accounts for that. Several ostrich farms and many citrus orchards passed.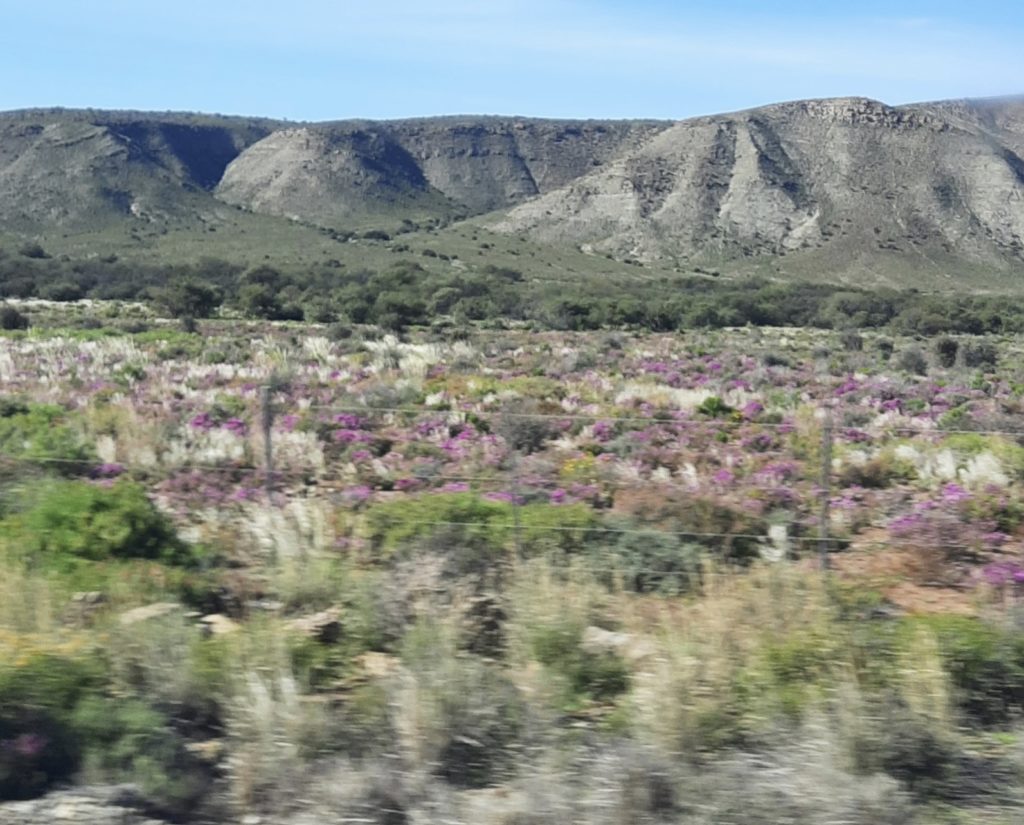 After leaving highway 62 through Worcester we joined Highway 1 to Cape Town. The sat-nav is programmed to avoid toll's, so we exited just short of the Huguenot toll tunnel and headed up over a pass. Looking down at the entrance of the tunnel, traffic was banked up for some distance. An accident in the tunnel, or just slow toll gates? The drive over the pass was spectacular. Cresting with a view over wide plains covered in dark ominous clouds.
Franschhoek for the night
Our campsite for the night was not easy to find. It's part of an orchard but they have had very serious rain over the presiding days and the ground is boggy. The camp host said they had had 480mm of rain over 48 hours. and it's looking ominous again.
Jen is on edge. She is, and has been an avid follower of Djokovic, who is embroiled with a young Spaniard in the Wimbledon tennis final, and it's not going her way….Damn…:)
Alexandra & Sebastien
We have just heard that our friends Alexandra and Sebastien have arrived in Reunion from France, to set up home. They are sounding excited by a new stage in their lives. However, their motorbikes have not yet left Durban. The start of another shipping nightmare?
Hits: 78