Another cold but comfy night. Up at 7.30am and on the road by 10am.
Today we are heading for the Cango Caves then on to Prince Albert. Only 66 k's away but over a serious mountain pass.
Again the camp site was beset with Loadshedding and the number of hours without power, are growing. Not only are the population deprived of electricity, the generator revenue will also be affected. So to solve the matter I'm writing an open letter to the ruling political party. The ANC.
Listen up folks 'cos here is the answer to your country's woes!
Firstly, all infrastructure needs to be run by people with internationally accepted qualifications. You, the ANC can pay yourselves whatever wages or salary you like, but your country will never be a happy one till everyone is looked after.
Secondly. With competent management running affairs, corruption…should come to an end? Mmmm.
Your country's vast wealth, which includes your human capital, will allow the country to prosper.
Taxation take will increase dramatically and infrastructure like health, education, roading, ports, transport, electricity, health, judiciary, revenue, police. Law will be respected and be available to all. Housing will be dramatically improved for the poor.
Thirdly and most importantly, your disillusioned, departed diaspora will return to turbo charge your future.
End of Open letter…:)
Oh, this same panacea applies to my country too. New Zealand. Once land of milk and honey, now being racially divided and surviving on handouts and ram raids…:)
There, that feels better…:)
Jen disapproves of my writing the above, but me, being me, thinks that anyone reading this will see that it is just one silly old fools views and hopefully have a chuckle
Back to reality.
The Little Karoo
Adam gave us strict instructions as to what route to take to Capetown. We have only started but we are thankful for his advice. Will he rejoin us?
Arriving at the Cango Caves at 11.45am and after a couple of wrong turns found the site and enjoyed a rushed cup of coffee, hot chocolate and a blueberry muffin, before joining a group of about 50 for the midday tour.
I have to say, we might have a bigger better 'Big Tree', but these caves make our Waitomo Caves, pale in comparison.
Our tour guide of the caves, Africa's largest, was a local of the Bushman tribe. Very talented, enthusiastic and informative.
After the hour long tour, which only covered a small part of the cave system, she sang us her national anthem, using a hollow stalactite for base drum effect. She had a beautiful voice. A most enjoyable tour.
Next stop Prince Albert. The road took us over the Swartberg Pass. Peaking at 1583m.
The narrow dirt road snakes over the summit with spectacular rock formations, and down the other side.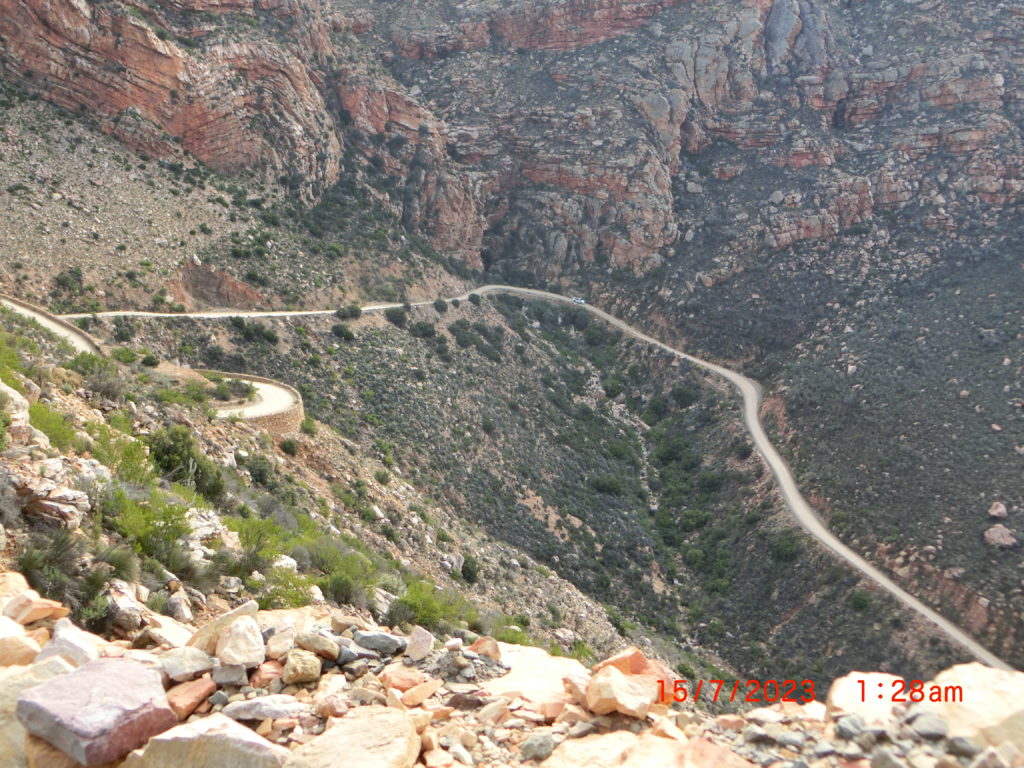 Then a 5k drive past our intended camp site, for a drive-through the lovely Afrikaans town of Prince Albert. Founded in 1762.
Our camp.
We arrived at the 'Bushman Valley Camp' and have established ourselves on a lovely springy grassed site, beside a dry stream bed. Yes, several meters above it. The camp is in a valley and beautifully tranquil.
Again, will Adam join us?
End of.
Hits: 50