We woke this morning to another glorious blue sky day but everything inside and outside the Caranex was soaking wet from condensation. After rising at around 7.30am it took us till 11am to dry everything out. Again, wonderful campers facilities, though we were one of only three vehicles on the site.
The decided destination for today, Plettenberg Bay.
On the way Jen had decided she wanted to explore some of the coastline. And rightly so, The first stop however was at a Woolworths store in Humansdorp. Sadly a very rundown town and not a white face to be seen and it didn't take long for one of tthe locals to plead his case for financial support, while Jen was shopping. Woolworths now are not the brand to the one I was familiar with in my childhood and teens. Cheap and cheerful. But in South Africa, it has a very different philosophy and they are the most expensive supermarket, but with the very best fresh produce. Fruit edible on day one, not overripe or worse, under ripe.
The road from Humansdorp was a secondary one (the R102), to the N2, but much more enjoyable. Passing through rich farmland and forestry. The farms, mainly dairy and the forests, a species of Radiata Pine but with longer needles, to that grown in NZ.
Ultimately the R102 ended and the N2 was rejoined.
There are a range of picturesque mountains running along the drivers side of the road and deep, deep gorges forged over the millennia by streams off those mountains. One of these gorge bridges boasting the highest bungee jump in the world.
Storm River Settlement & bridge.
A little further on after the roadside retail settlement at Storm River, a sign beckoned us to investigate "The Big Tree". After making lunch in the back of Poki in the car park, we bough a ticket to walk the 500m to see the tree. It's indeed a big tree. Yellowood. Estimated between 6-800 years old 36.6m high and a trunk circumference of 9m. I wonder how many more there were of this size and vintage that felt the axeman's blade? The tree though, holds no height or girth records. It's just a beautiful tree.
By 3.30pm iOverlander directed us to this campsite. It's huge, but again, with only a few campers. There is a clear sky and warm sun now, it won't be long before the cold returns and we will have another close to freezing night.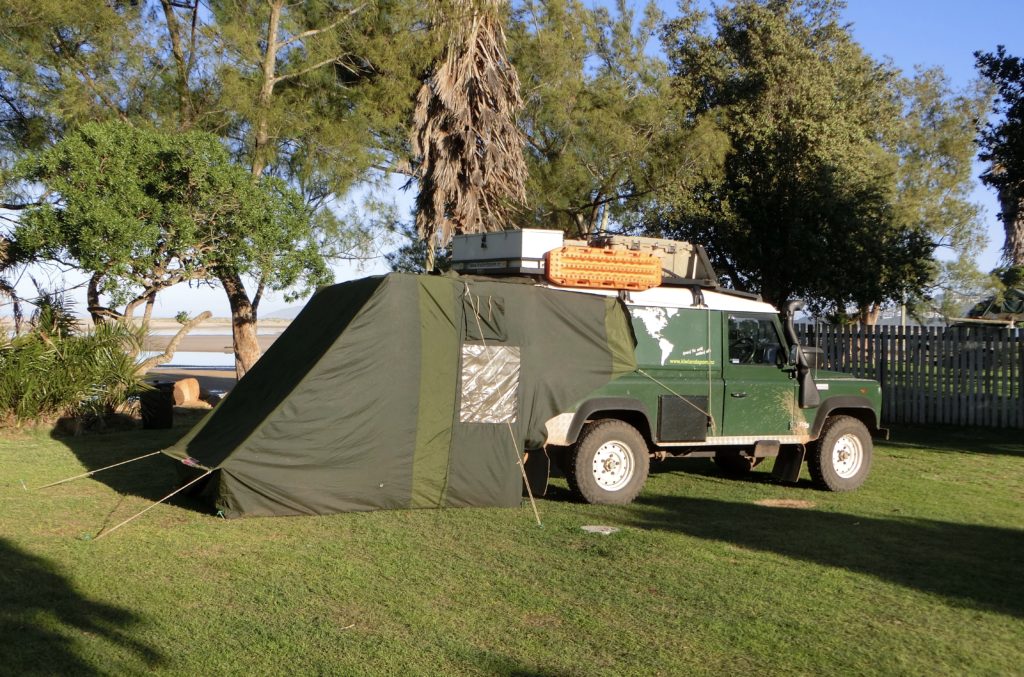 There is an amazing array of bird life around the camp.
A belated Post Script. About two weeks ago Daniel Hillier won the British Open golf title. Daniel is the son of Nigel and Karen who are or were stalwarts of both cricket and soccer in the northern Wellington region. What an amazing performance and the first Kiwi to win the prestigious title since Sir Bob Charles win in 1963.
Hits: 73