It was cold this morning. We woke early with cold feet. The blanket wrapped around our duvet keeping us snug, had come unwrapped. The thermometer in Poki revealed it was 6 degrees, inside. We decided we would get up as it was just about light and around 7am. We wanted to be in the park to look for elephants early.
We set off at 08.20 with a very wet tent, from condensation, thrown in the back of Poki.
Our first sighting was of some large antelopes, variety unknown. Next some zebras . We had a map advising us where we were allowed to stop and get out of our vehicle. At our own risk, though, in case we were eaten by lions. (We didn't see any all day).
It was a truly beautiful blue sky day. We stopped at an elevated viewing point where we were allowed to exit Poki. We took out the tent and spread it out to dry in the sun and had coffee and a snack. Through binoculars we could see a large bull elephant in the distance.
Packed up once again, we set off hoping we could find the track which would take us in the direction of the elephant. En route we saw warthogs and baboons and eventually found the lone bull elephant.
We spent the next 3 hours driving around looking for more elephants. They must be around as the roads are littered in dung. Not fresh though. We saw many zebras, warthogs and antelope, a few Cape buffalo, an ostrich, a large heron, a fox, a meerkat and eventually 3 more lone bull elephants. Sadly despite driving all around the park we couldn't find any groups of females and young ones. I was very disappointed. If there are supposed to be 600 elephants in the park, where were the other 596 hiding?
Here are a few pics of what we did see today. Some a bit blurry as taken from quite a distance.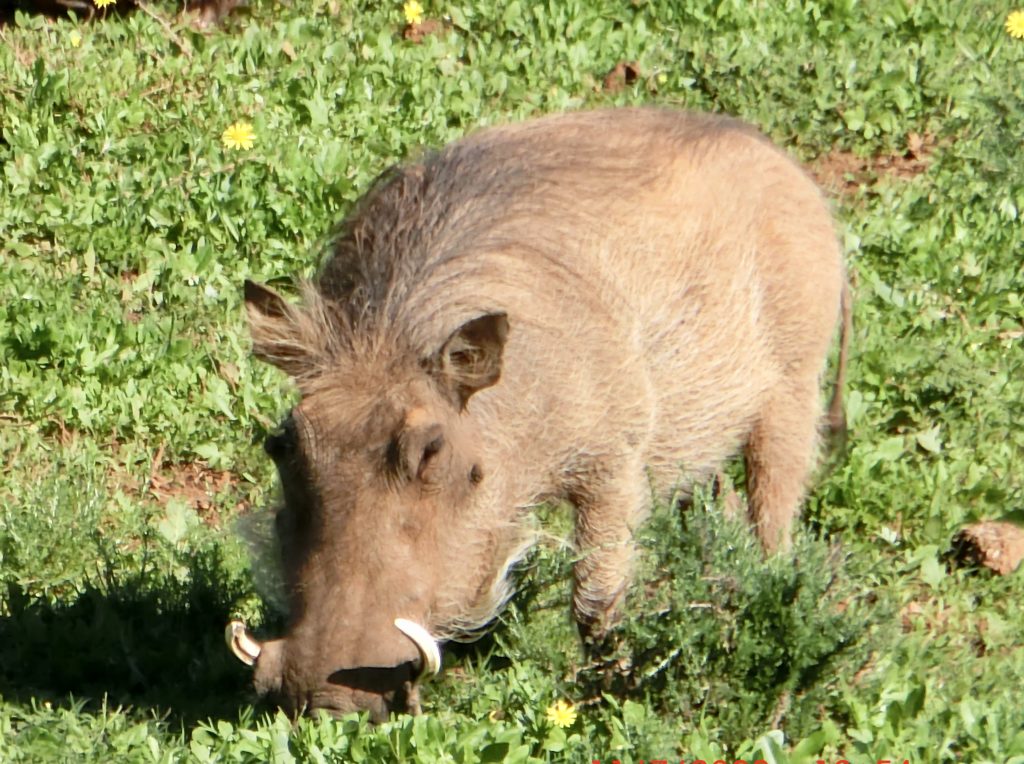 Leaving the park we headed for The Ferry Hotel Caravan and Camp site. There is also a hotel and small shop. I hoped the hotel would have a restaurant, as I didn't feel like cooking. It did, but the receptionist advised me the restaurant, bar and shop all closed at 5pm! Far too early for us. Instead I bought some beer and after putting up the tent it was warm enough to sit in the sun, drink our beer and watch the sun set over the river. While we were watching we were joined by a nosy duck.
It was the most amazing red sky, after the sun had disappeared over the horizon. It will be another cold night and, hopefully, another lovely day tomorrow.
Hits: 65