Setting off about an hour after Tim and Sarah, we had been doing some research into replacement fridges. I had some suggestions from the Pan Am Facebook site and was given a contact for Dometic here in Mexico. Am in discussion with him now. Hampered by the lack of wifi here at Cenote Kankirixche though.
Heading for Walmart at Campeche, we arrived to find Tim and Sarah and the kids, in the store. We decided to do a tour of Campeche's historical centre, while the others were going straight to the Cenote.
Campeche was added to Unesco's list of World Heritage sites in 1999. It is a walled city. Narrow, cobblestone streets with pretty pastel coloured buildings. Many have been restored and there are well preserved colonial mansions. There are seven surviving bastions and two preserved colonial forts guarding the city's outskirts.
Once a Maya trading village, the Spanish first briefly approached Campeche in 1517. Resistance from the Maya prevented the Spanish from conquering the region for nearly a quarter of a century. By 1540 the conquistadors has gained control and founded a permanent settlement.
The city flourished as the major port on the Yucatan Peninsular. However, it was subject to pirate attacks. After a particularly bad attack in 1663 the city was left in ruins. The King of Spain ordered the construction of a walled city. The famous bastions putting an end to the periodic carnage.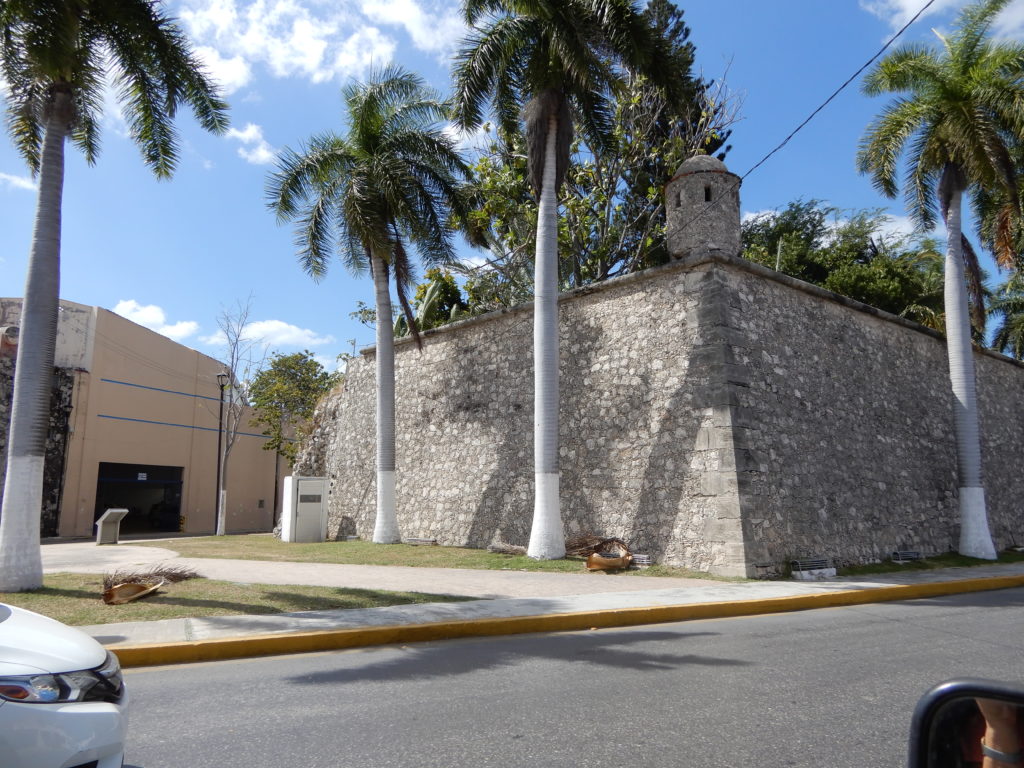 We couldn't find a parking space anywhere. The city is obviously a tourist hub now and few locals live within the walls. We drove around stopping frequently to take photographs and then parked in a big square, outside of the walls under a palm tree, for some lunch.
The road north in the direction of Merida was a good road. Probably one of the best we have driven on. Dual carriageway with little traffic, so we made good progress to Cenote Kankirixche. Arriving at about 4.30 there were a few other cars parked. We introduced ourselves to another "overlanding" couple. Heike and Peter from Bonn, Germany.
First impressions of the Cenote were not promising. What appeared to be a not very large hole in the ground, surrounded by tumbledown fencing. For those unfamiliar with Cenotes, pronounced 'Say-NO-Tay", they are a natural sink hole in limestone created where a cave ceiling has collapsed. Cenotes were the only source of water in the jungle for the Maya and they considered them to be sacred.
When we arrived at the Cenote there were showers. Something we had not seen for several days. This was my first port of call, as I was dying to wash my hair. When I returned the camp was deserted, the car park empty and the place silent.
They must have all disappeared down the 'hole', I thought. I went to find them and there they were in a really beautiful pool. Stalactites hung down from the ceiling and swallows were darting through the overhanging foliage. Hard to believe such a beautiful scene could exist in that hole.
Hits: 27