Today is the official start date for the annual festival.
We are close enough to the village square to hear sporadic outburst of band music from an early hour, signalling the beginning of festivities. Not that it stirred us enough to get up and join in. It's a relaxing day for us and an opportunity to tidy up my 'mechanical' bits 'n' pieces box, on the roof rack. Amazing what you find. There were at least three engine oil filters, when I thought I had used the last one, and various other empty boxes and things to be discarded.
Yesterday afternoon a VW camper arrived with British registration. Stuart and Hellen are on an extended vacation of the America's having shipped from Southampton to Vera Cruz, Mexico. Their experience was similar to Joel and Nicky who had stuff stolen from their vehicle on the ship. Stuart lost all his tools and much beside the camper. It's outrageous the shipping companies allow it to happen!
Anyway we have a nice mix of people camping in Overlanders Oasis. Stretch & Lucinda too, who are down from California. There is much chat and bonhomie.
Around 6.30pm Tim, Sarah, the kids, Stuart and Hellen and us went into town for a meal and hopefully see some of the parades. Temporary retail shelters ringed the square along with sideshow entertainment.
Wandering around after a marginal meal there were several tall structures with elaborate firework arrangements, ready to be set off at midnight. Fireworks play a big part in Mexican life. There are spasmodic explosions going on night and day wherever we have been.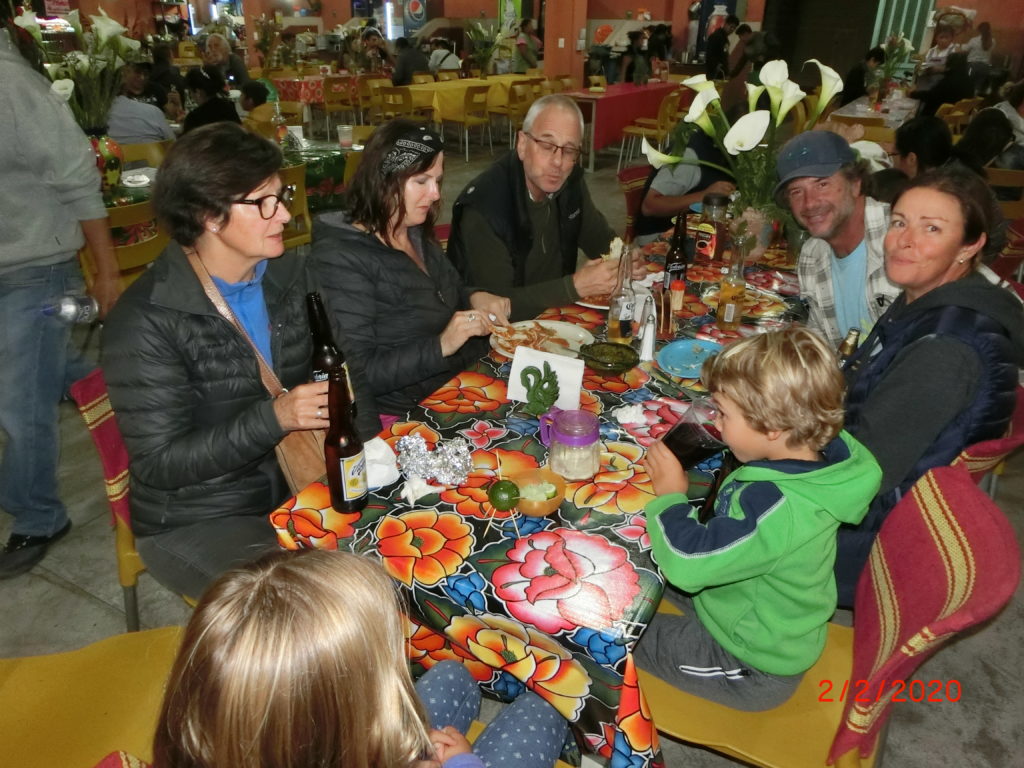 Charley & Jaxon managed to cajole their parents to take them on a dodgem ride. The four 'kids' had the time of their lives, crashing into each other.
By around 8pm we headed back to camp. Jen and I weren't interested in going back for the home-made fireworks display. By all accounts, just as well. It seems a section of one of the stands collapsed spilling active fireworks on the ground and rockets proceeded to pepper the crowd. Tim had his good shirt badly burned on the back where he turned away to protect himself. Sarah had her best padded jacket badly damaged. Stuart was hit in the forehead by a rocket which dislodged and damaged his prescription glasses. He was very lucky not to loose an eye. O.S.H. would have been besides themselves! It seems Hellen was the only one unscathed. An experience they will all remember.
We'll hit the road again tomorrow.

Hits: 23