Saying our farewells to Stretch and Lucinda from the US, Bryn and Tacey from Costa Rica and Vancouver Island, Stuart and Helen from Scotland and Northern Ireland and our hosts Leanne and Calvin, we set off to explore the Valle de Tlacolula.
Our first stop was the Sunday market in Tlacolula. Whatever you could possibly want and all sorts you would never need were on display. From live chickens, roasted chickens, ornamental birds in cages, rabbits, clothing of every description, bread, handicrafts, food stalls and the most amazing selection of fruit and vegetables. Ladies walked through the crowds with trays of roasted grasshoppers on their heads. As well as the stalls people walked along trying to sell you something.
We restocked with fruit and veggies, buying avocados, tomatoes, lettuce, cucumber, pecan nuts, an enormous papaya and pineapple and some delicious nectarines. The strawberries looked very tempting too, but we thought we had plenty to keep us going. Back to Poki, as the bags were heavy.
Next stop, San Pablo Villa de Mitla. This was a very touristy spot. 7 coaches parked in the square. As well as ancient ruins, there is a huge retail area. A craft market displaying mainly embroidered goods and the inevitable Mezcal, for which the Oaxaca region is famous.
Ancient Mitla dates from 2 or 3 centuries before the Spanish conquest in the 1520's. It was probably the most important Zapotec religious centre of the time. A cult centre dominated by high priests who performed literally heart wrenching human sacrifices. The geometric mosaics are unique. The 14 different designs are thought to resemble earth, sky, feathered serpents and other important beings. Each tiny piece of stone was cut to fit the design, set in mortar and painted. 
We visited 2 of the ancient groups of buildings, including an underground tomb. The ruins cover a large area and some have been built over by a more recent church. By this stage the kids were all ruined out and much more interested in visiting an ice cream stall.
Setting off again we headed up into the hills for San Lorenzo Albarrados. En route we stopped at some Mezcal factories to see how the liquor is produced. Mezcal is made from the heart of the agave plant. First the agave hearts are smoked. They are then chopped up and thrown into a circle where a poor horse, or donkey, is forced round in circles pulling a huge, round stone which crushes the juice out of the agave fibres. The juice is funnelled into vats where it is distilled. It is extremely potent.
Of course we had to taste the finished product. We had a tasting, or 6. Not just the straight version, but also various other flavours – cannabis, grape, strawberry, pistachio and mango. Sarah and I were rather partial to the mango (a bit tipsy by this stage, I suspect). We decided we would buy a bottle of the mango flavour. The sales girl was more interested in providing everyone with samples than making a sale, so we gave up waiting for our bottle. Probably just as well!
Onwards to our final destination, Hierve El Agua.  Despite it being late afternoon it was still heaving with people. Being a Sunday many local people were enjoying the pools. If anyone has been to Pamukkale in Turkey, this is similar. Although not as nice.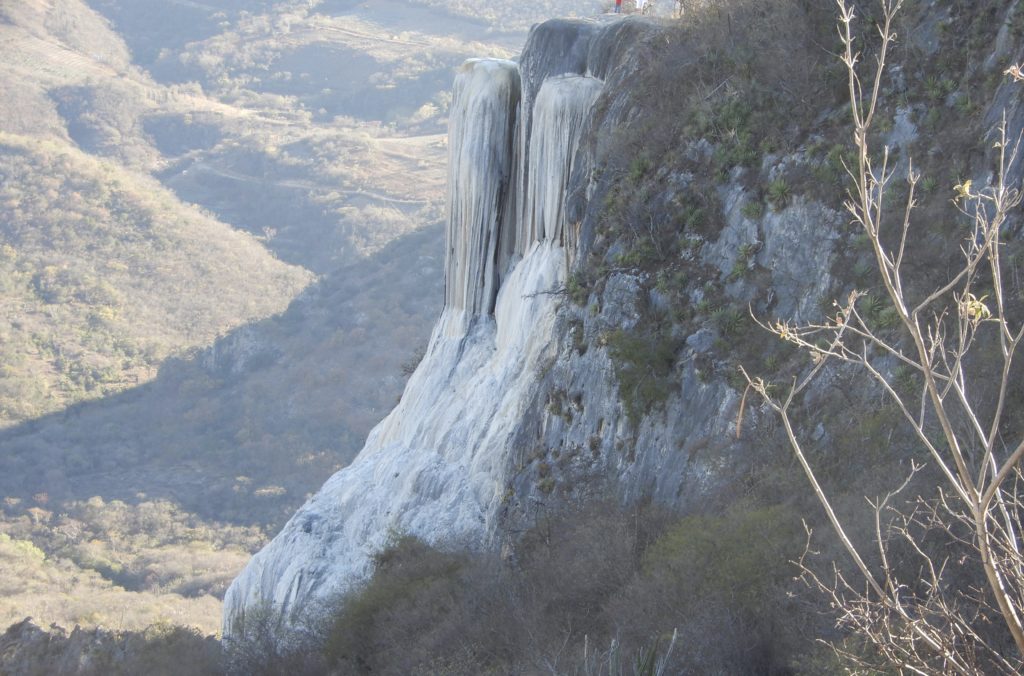 Here there are two "frozen" waterfalls. Caused by silica from the water clinging to the cliff edges forming what looks like a frozen waterfall. Two large artificial pool have been created here. The water is contained by concrete barriers, but the silica has clung to the concrete making them look more natural. There are some smaller natural pools too. Unfortunately as there were so many people, the water looked dirty and most uninviting, so we did not venture in.
We camped at the top of the site ad soon everyone had gone home. Tucked up in bed, we heard the sound of a car approaching. A knocking on the side of the Land Rover and the truck followed. A fee for camping was required, immediately.
Hits: 25