Last night we had been chatting in the bar with an Aussie Guy, Mick. Although he sounded like an American having lived in San Diego for more than 20 years. He and his friends regularly come down to Baja on dirt bikes. He knows the area very well. This morning he came up to our camping place to give us some info. on where to go for camping and interesting things to see.
The owner of Coyote Cal's, a long term American resident in Baja, with a Thai wife, also helped us with information. He was telling Dennis New Zealand is his favourite country. On a motorcycling holiday, he related an experience he had had with the Mongrol Mob in a bar in Christchurch. For the non-Kiwis the Mongrol Mob are the Maori Hell's Angels. The gang leader had invited him into their pub for a drink, because he was riding a Harley Davidson bike. In return he was buying them drinks when a mob member at the bar pulled a knife on him. This guy did not realise he had been invited by the "Mongrol Mob" leader. The gang leader saw what was happening and instantly 3 other members picked up the knife wielder without his feet touching the ground and he was forcibly removed and disappeared. Two sides to the gang leader. Both charming and brutal.
Fortunately today the traffic has been much less and we have made better progress. 147 miles. Although it is still slow going through the many small towns and villages. The largest place we went through today was San Quintin. We have been following the MEX1.
There is a huge amount of vegetable growing in this area. All sorts of varieties. Courgettes, potatoes, capsicums, tomatoes, sweetcorn and cactus are just a few. In the supermarkets here, and close to the border in the US, I have seen these large flat leaved cactus. Sometimes just the leaves and sometimes cut up in small pieces in bags. I am not sure how they are eaten, Presumably cooked somehow?
There are acres and acres of either plastic, or mainly a type of gauze structures covering the fields. It is impossible to see what is being grown inside though. What is interesting is the difference between the neatness and precision of the agriculture and the dirty roadsides and towns. There is litter everywhere. The vegetable growing is very neat and precise. Planting is in immaculate straight lines and the gauze and plastic housing is all perfect and in the neatest of rows.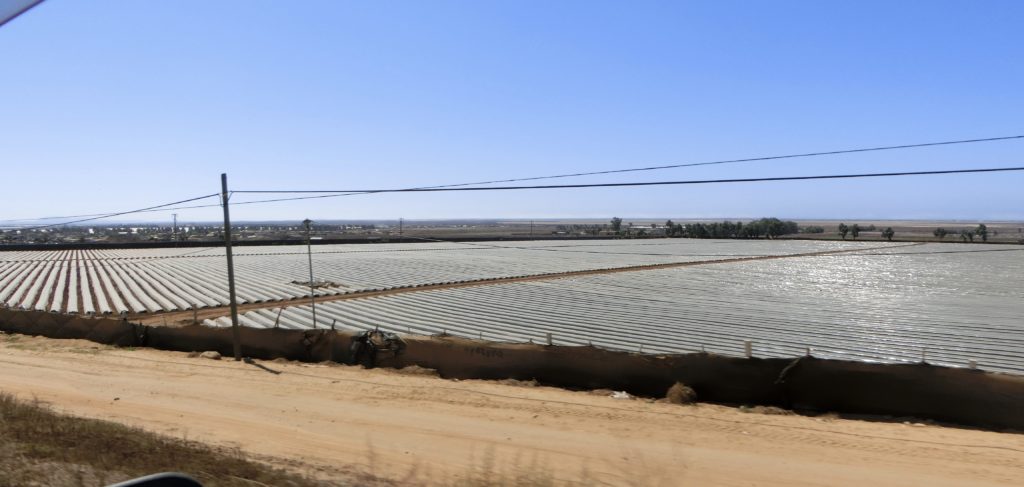 We stopped for lunch beside the road next to a huge area of gauze housing vegetables. All along the edge was beautifully flowering bougainvillea.
If this can be so well cared for, why can't they pick up the litter beside the roads? The towns and everything in them are also dusty. Once off the main road nothing is paved so all traffic turning off onto the sidewalks and roads creates clouds of dust.
About an hour after our lunch stop we came to San Rosario. Mick had told us there was a restaurant here called Mama Espinoza's where you simply had to stop and have the crab soup. We thought we would be pigs and have a second lunch. Mama Espinoza's didn't have any crab soup though, so we settled for fish tacos. But we didn't just get fish tacos. Nachos and two extremely spicy dips turned up first. Then a bowl of soup. A vegetable soup, rather like minestrone. Next to go with our fish, a bowl of limes, some home made tartar type sauce and a finely chopped salad of onion, tomato and peppers. When the tacos came they were served with rice and more green salad, a bowl of brown sauce type stuff – we have no idea what is was made from and some tortillas. Impossible to eat it all. After eating the fish and nibbling at some of the other things we were stuffed.
By this time it was around 4 o'clock and we thought we would stop. There was an RV park just down the road from Mama Espinoza's at the Motel Sinahi. It is not the nicest of places and we wondered if we should have continued. However, we are parked here now. The Motel doesn't look too bad but the camping area is not very clean. Litter scattered about and there is not much shade. There is a shower and wifi though. The sun has gone down now, so it is actually quite cool. At the moment no one else has joined us, so hopefully it will be a quiet night. Sorry no pics today. Dennis explained why yesterday. We will go back and add pictures, once we have another card reader.

Hits: 49