Update on the unknown insect bite?
Amputation didn't take place..:) 2 weeks of antibiotics appear to have worked. The NHS was incredibly thorough. After my visit to A &E, I had a call from the Infectious Diseases Department at the Royal Sussex County Hospital in Brighton, asking to see me. They took numerous tests and extended my time on antibiotics. They also wanted me to have a biopsy, so the following day I had to go to Brighton General Hospital for this procedure. Last Friday I went back to the Infectious Diseases Department for the test results. Everything was negative, apart from one result which has yet to come back from a lab in London. I feel better, so am sure all is well and I don't have some nasty tropical disease.
Poki news.
Once again African shipping is proving a total pain. Poki is booked on the Maersk Santa Clara. The Santa Clara was due to leave Durban on 7th October. This was then delayed to 14th, then 20th and departure is now due on 23rd.
Customs inspected Poki last Friday and she was loaded into a container. This was progress, so we hoped departure on the 20th was on track. Not so, unfortunately.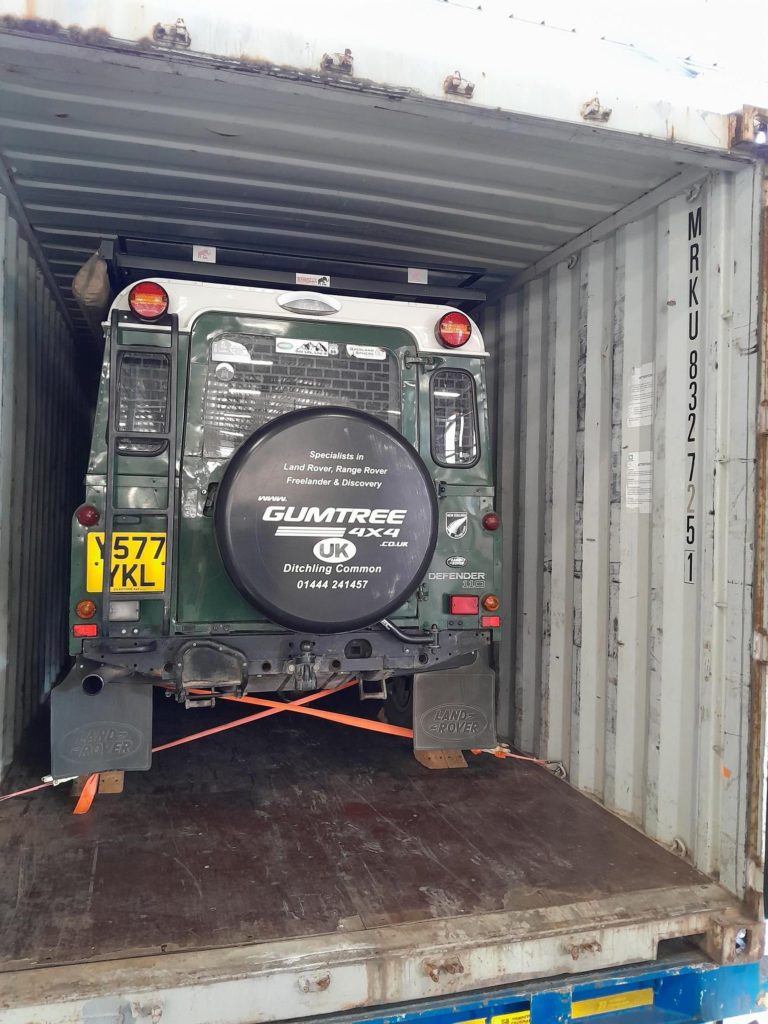 How's that for a tight fit. I bet those straps break!
We have been tracking the Santa Clara. She has been slowly sailing north up the South African coast. Stopping for several days in Port Elizabeth and Coega (East London). She is now moored offshore from Durban, where she has been for the last 4 days, along with 40 plus other vessels. The shipping companies must be very unhappy with the performance of Durban port.
The original date for the Santa Clara's arrival in Rotterdam, was 7th November. It was revised to the 5th and according to the Maersk schedule, remains the 5th. This can't be possible now the departure is so delayed. It is very frustrating as we cannot arrange our travel over to Rotterdam, or our tickets back to New Zealand with this uncertainty. The longer we wait the more expensive these become.
We have been lucky with the weather since we arrived back in Sussex. It had been unseasonably warm and sunny, but over the last weekend it has become cooler with average temperatures for this time of year.
Meeting family & friends
We have been very social catching up with friends and family. Yesterday we met Alex and Pam. Alex was a great source of tips for places to visit, knowing South Africa and Namibia well and mentioned a few times in the blog.
Tomorrow we are going away for a couple of days – we're not very good at staying still! Not far distance wise, to Arundel, about 24 miles away. However, it is somewhere we haven't visited. Arundel has a magnificent castle, with nearly 1000 years of history. Also an interesting cathedral. We are staying at the Norfolk Arms Hotel, which is a charming Georgian Coaching Inn built over 200 years ago. So, 2 days of history. We will keep you updated on our visit and further Poki news.
Hits: 69