Wednesday 20th.
Just a brief on the winding up of our Stage 4 Africa trip.
Late in the morning, we received a message to say Poki would be ready to collect at 2pm. We had had an early lunch, which was fortunate, as the power went off at 12.30 and remained off until 8.30pm. Not a scheduled load-shedding. A breakdown due to a transformer blowing up.
We used the Bolt App, which we have been recommended, to call a taxi to take us to TuneServe garage to collect Poki. She was being cleaned when we arrived. I hardly recognised her without her coating of African dust.
She is now in much better shape. A new windscreen and a new guard. Well, a replacement guard from a white Land Rover. Once we get back to the UK, she will need some green paint!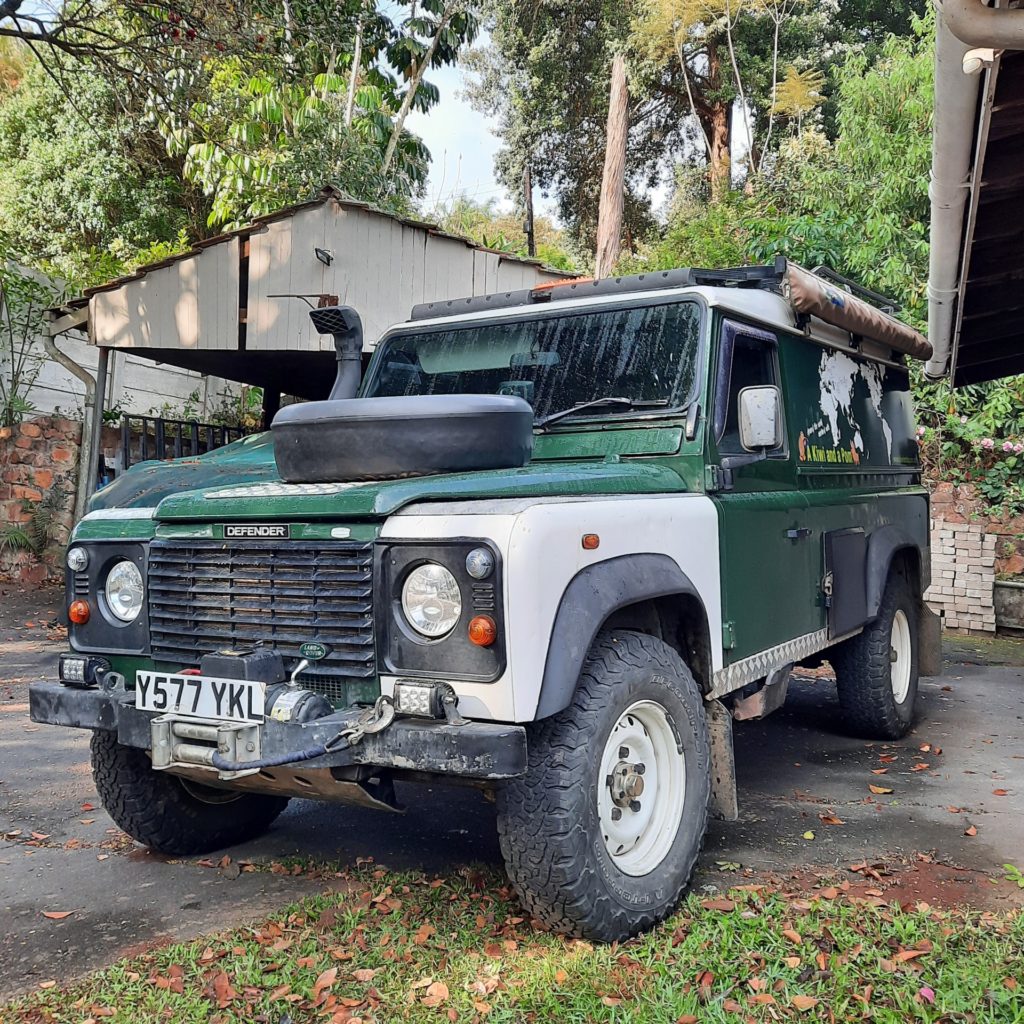 Everything from the roof is stowed inside Poki. We have a lot of things in the cottage to repack in her. We decided to wait until the morning when we would remove all the roof boxes, clean her up a bit inside and repack.
As it was, we had to remove all our cooking equipment to make dinner. Our hosts felt very bad about us not having any electricity and came around with a flask of hot water for us to make tea. We already had our jet boil heating water and one of our mini stoves cooking pasta. They hadn't realised how self sufficient we were. We had a chat about the state of things in South Africa. A favourite topic of Dennis's.
Thursday 21st.
Up early to start the repacking process. By 10.30 we were all tidy and ready to go. It felt a bit claustrophobic in Poki with the back choc-a-block with boxes, sand tracks, the spoiler with the solar panel and the tent etc.
We were at OneLogix office in 30 minutes. Our first task was to return the PPE we had been given when we retrieved the vehicles from the container on arrival from Lomé. Adam was going to return it to OneLogix, but never had the opportunity. It was left with our suitcase in Eurika's care.
Next all the documentation, which was remarkably straightforward. Tyron then gave us instructions as to the location of their depot, where we had to deliver Poki for loading.The depot is at Camperdown on the way to Pietermaritzburg, 60kms away.
There are roadworks in Camperdown, therefore getting off the motorway for the correct OneLogix entrance, proved challenging. At the first entrance they knew nothing about us and after a lengthy wait and a phone call back to Tyron at Head Office, we were advised we were at the wrong entrance.
Things weren't much better at the next gate. They knew nothing about us and didn't know Daryl, the person who was due to meet us. We just sat and waited. This is Africa. Everything is slow. Shortly a van pulled up and out jumped Daryl. All was well. We took Poki into a warehouse and Dennis explained how the immobiliser worked and where we wanted the keys left and where the battery is located for disconnection.
Will we be able to get back to our accommodation?
The plan had been to call a taxi on the Bolt App to get us back to Kloof. First problem, my data had run out. A couple of guys let us use their phones as a hotspot, but repeatedly we were advised there were no cabs. Tyron had said it might be difficult to get a taxi out at their depot.
Daryl suggested we go to to Caltex Service Station a short distance away and buy more data there. He gave us a lift there and said if we were still stuck at 4.30, when he finished work, he would give us a lift. We were able to purchase more data and also took the opportunity to have some lunch in a neighbouring cafe.
Dennis asked a young guy who had come in for a takeaway lunch, if he was going anywhere near Kloof and could give us a lift. No problem, but we would have to wait until 4pm when he finished work. We exchanged WhatsApp numbers so we could let him know if we got an earlier lift and no longer needed his services.
A little while later Dennis approached another guy. He was leaving soon after and he was happy to give us a lift too. A very lively discussion about South Africa and world politics took place on the journey back to Kloof. We never found out the gentleman's name. He had just returned from a business trip to Portugal and Italy and was a commercial engraver. An ardent Trump supporter. I will say no more.
We were dropped at the Kloof Mall and walked back to the cottage from there. Hopefully, we have restored everything that needed to be put back in Poki. We only have one suitcase and one piece of hand baggage, and they are pretty overfilled.
The next 2 days will be time wasting days. We have to checkout of the cottage and into a new place near the airport. There appears to be no accommodation in the airport vicinity, so we are booked into a guest house on the beach about 12kms away. Checkout time is 10am and check-in time 2pm. Same situation on Saturday, our flight isn't until 18.40 and checkout time is 10am. Tedious.
Hits: 132