Sunday
I am combining 2 days, as there isn't a lot of interest to report. On Sunday, we had to pack up a wet tent. I already had a bag of damp washing. Camping isn't fun when it rains!
We had to checkout from the camp at 10am, so really had time to waste. We have an appointment with Eurika to collect our suitcases at 3pm. Eurika was the agent who looked after our rental accommodation while we were at a Key Largo and had kept our cases for us while we were travelling.
Back in familiar territory, after spending 2 months here waiting for our vehicles to arrive from Lomé. We visited the Galleria Shopping Mall, where we spent a lot of time.  First to Vodacom to top up on data, next to find an ATM and then to DisChem for walnuts and flight socks. All our tasks completed, we visited Mugg and Bean for coffee and chocolate milk shake.
The Galleria has numerous entrances, but only one without a height restriction. We eventually found it. I was worried it might be a problem getting out, but there, fortunately, was no barrier.
Leaving the mall we headed to our old stomping ground Key Largo. There was parking overlooking the beach, so we decided to park here and make lunch.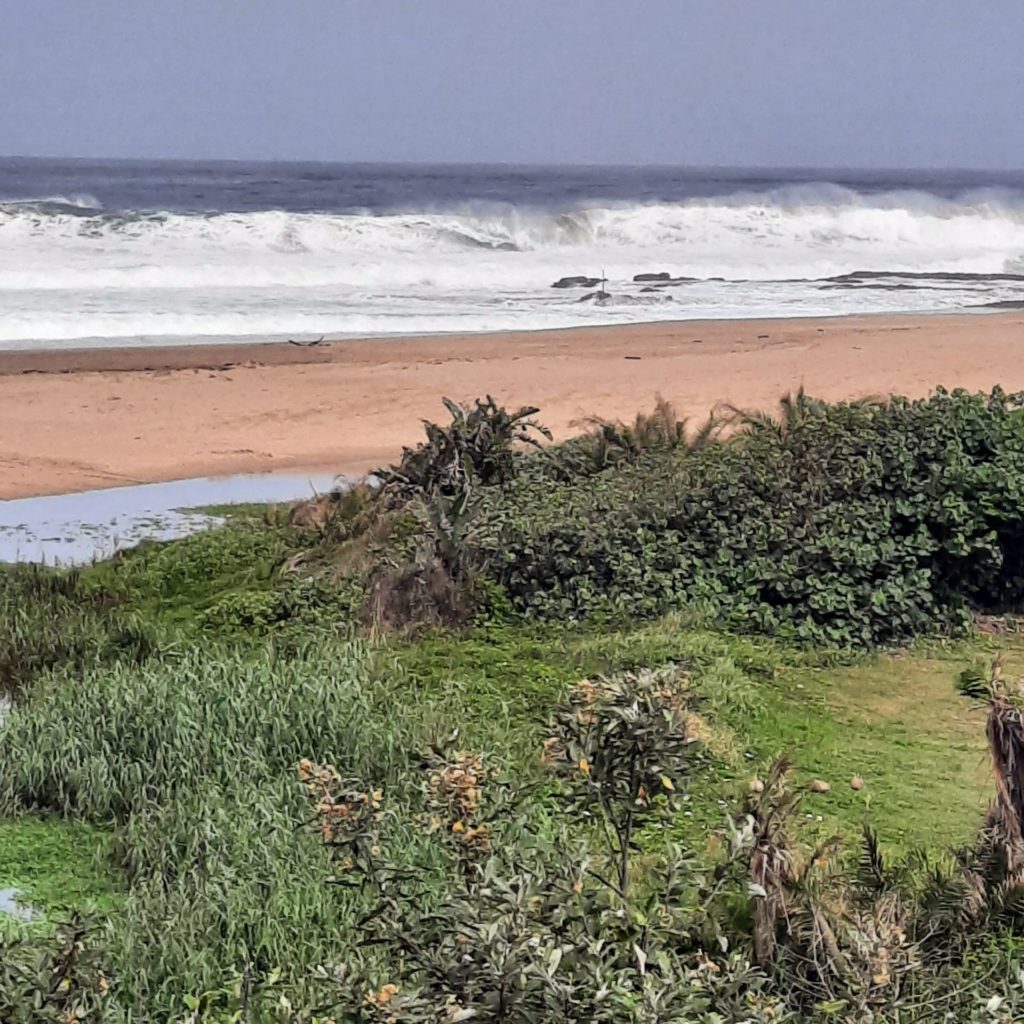 Backdrop to our lunch stop.
Next stop to visit Eurika for our suitcase. After chatting for a while about our Southern Africa experiences, with a bit of politics and concern for the current economic situation thrown in, we headed for our accommodation in Kloof.
We will be here for the next 5 nights. The Cottage is a small self-catering cottage. Perfect for our needs while we are without Poki for a few days. Kloof is an upmarket Durban suburb. Very green and pretty with tropical vegetation and very hilly.
Monday
Up early, Dennis left to take Poki to the garage, TuneServe in Pinetown, 8 kms away. My tasks for the day were all administrative. Apart from having to get the damp washing dry, do another large bag full of laundry and dry out the tent.
First I had to check with OneLogix, our shipping agent, to make sure it was going to be feasible to fly out on Friday. Tyron, the Operations Director, assured me all the formalities could be finalised on Thursday. We will visit their offices first to complete all the paperwork and then take Poki to their depot for loading into the container.
I then spent the entire morning trying to find a reasonable airfare back to London on Friday. As it is so close to departure fares have gone up tremendously. Any sort of reasonable fare has two or three changes of plane and long waits in between flights. Having found the best deal I could, I tried to book it. It is so frustrating. Having tried 2 bank cards, the system would not except either.
Trying another website and a different routing, this time for Saturday, as it was slightly less expensive, same problem. Neither card was accepted. I was about to tear my hair out in desperation that we wouldn't be able to book anything, when Dennis returned. He had spent the morning removing the boxes and spoiler from the roof, so we can get Poki into a 20ft container.
After lunch, we started the whole air ticket search all over again. We are now booked back to Heathrow on Saturday evening. Thanks to British Airway's website accepting Dennis's credit card. We fly to Durban first with South African Airways, then on a British Airways A380 into Heathrow.
I still had to arrange some accommodation nearer to the airport for Friday night. Unfortunately, we can't stay on here as it is booked that night. Also arrange a transfer to take us from Heathrow back to our lodge in West Sussex. Finally, to send the shipping agent we are trying to use in Rotterdam numerous documents. Hopefully, he is going to be able to clear Poki through Customs and unload her from the container.
Admin completed, it was time to cook dinner. An easy pasta dish. Before retiring we entertained ourselves watching an Al Jazeera documentary about gold smuggling/money laundering in Africa, followed by a programme on dangerous roads. This included a notorious road in Bolivia, known as "Bolivia's Death Road", one of the most dangerous in the world. I have told Dennis we are not driving this when we eventually make it to South America!
Hits: 41