It was nice to be woken with birthday wishes, but perhaps 5am was a little early! So, we were soon up and after saying goodbye to our hosts, Paul and Stacey, we were on the road by 08.45.
It was a good road to Liwonde. We stopped at a number of police check points along the way. They are some of the nicest policemen we have met. All smiles and interested in where we are from and where we are going. One policeman told us it was a good road to start with and then it would get bad. After Liwonde there were some potholes, but we have experienced far worse.
At about 10.30 we stopped for a break and a coffee/hot chocolate. We arrived in the town of Zomba at about 1pm. There were queues of traffic everywhere waiting to get into garages to get petrol. We don't know why there is a problem with obtaining it. It is apparently just petrol, not diesel. We have 4 full jerry cans, so we are going to use some of this diesel when we need it.
Zomba was the capital city from 1891 to 1974. The Zomba Plateau rises some 1800m behind Zomba town. We climbed the 12kms or so winding road up onto the Plateau. Views for miles, but it is hazy. The air cooled as we got higher. The mountain is green with pine trees, creepers and flowers. Some of the hillside has been logged. Some replanted with pines.
Roadside food stalls.
Stopping to buy gooseberries, strawberries and bananas on our way up. We tasted mulberries too, but Dennis wasn't impressed. Once we reached the top, a picnic spot was signposted.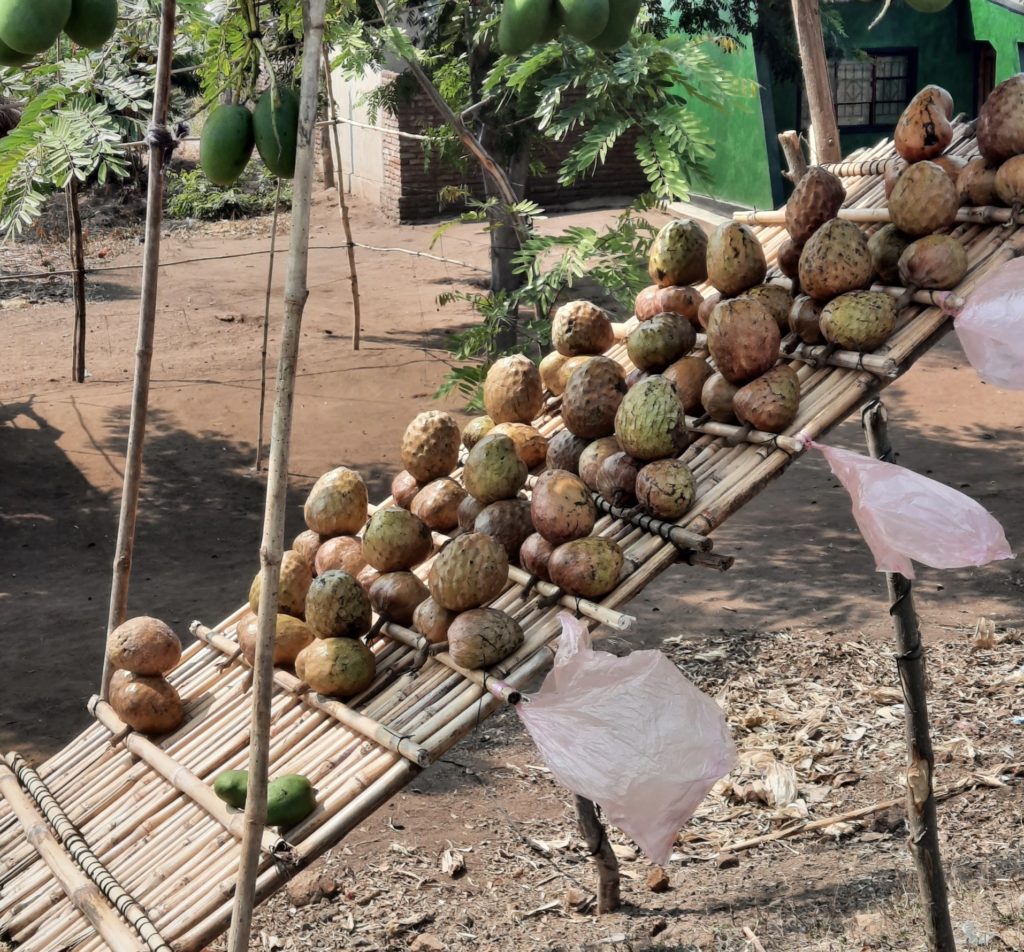 We don't know what they are. Fruit or veg?
We followed a rough, stony track up to a waterfall, where we decided we would have lunch. After lunch we climbed down to the waterfall. It wasn't terribly impressive, but perhaps we've been spoiled by Victoria Falls!
'We passed dozens of people carrying huge piles of branches, men, boys, women, all with incredibly heavy loads on their heads.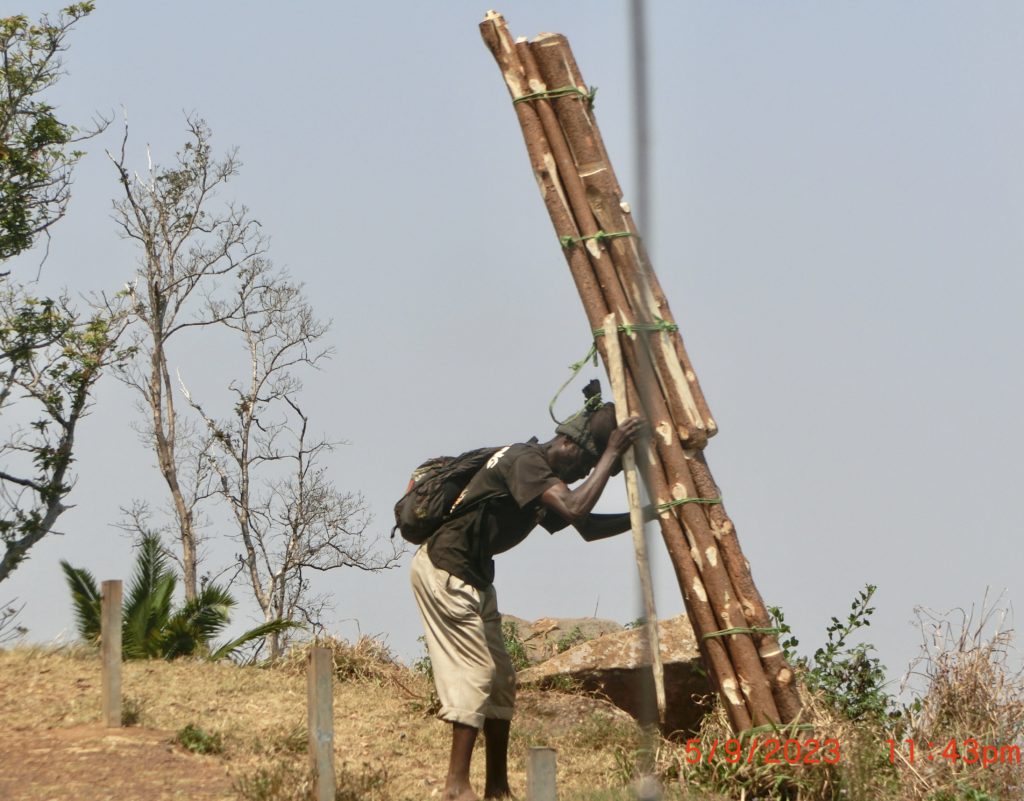 Also dozens of bicycles laden with chopped logs. Again huge loads and seriously heavy. We passed a couple of guys balancing these massive loads on a steep slope and changing a puncture at the same time.
Apparently a lot of this logging is illegal. They were even cutting down some of the newly planted and pruned pines. A small amount of firewood is permitted, but this is being totally abused. There is deforestation on a huge scale.
Towards the top we came past a large dam holding back a lake. Presumably Zomba's water supply.
Camp tonight in the highlands.
Tonight we are at Casa Rossa a little way up the Plateau. Nice and cool and quiet. There is also a very nice Italian Restaurant. I'm not cooking tonight. We ate enormous pizzas and ice cream. My ice cream came complete with candle and all the staff singing "Happy Birthday".
Breakfast is included in the cost of camping here. We haven't put up the Caranex tonight. The plan being to set off early in the morning to get to the Mozambique border. Dennis got his e-visa approved this afternoon and I have been advised I don't need one. Hopefully it will be an easy border crossing. It is 145kms to the border at Zobue and then another 130ks on the Mozambique side, before we reach a nice campsite in Tete.
Hits: 68