Kigelia Campsite.
We had just finished breakfast, when campsite owner Ben came along with a tub of butter, straight from the farm. Yesterday, he had mentioned the family had a dairy farm. A really nice gesture. We were chatting when Ben's father, Ernesto came to join us. Apparently the campsite was started by Ernesto's father. We were standing near a large "Sausage" tree. The Latin name for the tree is apparently "Kigelia", hence the campsite's name.
Sausage tree.
Setting off for the Malawi border, we arrived there more quickly than we had anticipated. There is a brand new, very swish, joint Zambia/Malawi immigration building. Finding where to go and where to park was quite confusing, but there were plenty of "officials" to tell us where to go.
Crossing the border into Malawi.
The Zambian side was quick and easy. A group of Americans, on a bus tour, were ahead of us in the queue and so the Malawi side was moving more slowly. A gentleman came and asked us if we already had a visa, or if we needed to obtain one. We needed to, so he said we must ask for forms to complete. This gentleman was a "fixer" and helped us through the whole entry process.
Having completed the forms, an immigration agent came and took them from us and asked for the $100 fee. I gave him a pristine $100 note. He soon returned saying it wasn't acceptable. It was too old, being dated 2009. I had another note in my purse, which I presumed would be the same, but fortunately it was dated 2019 and was acceptable.
We sat and waited for about 15 minutes and then received our passports back with the necessary visas. Next stamping the Carnet. The young lady wasn't sure what to do, it wasn't her usual job, but Dennis explained the procedure and she duly obliged.
Not finished yet, we had to pay road and carbon taxes. US$20 for the road tax and 11,500 Malawi Kwacha for the carbon tax. Dennis handed the cashier $20. It's no good he said it's too old. Meanwhile I had tried to get Kwacha from an ATM. It refused to give me any. Empty I suspect. So, I changed the rejected $100 note I had with one of the money changers and obtained 108,000 Kwatcha.
Dennis refused to go back to Poki to find another younger note and the cashier would not take Kwatcha for the road tax. Stalemate, until the money changer came to assist. By this time I am totally confused as to what's going on. The money changer wanted the cashier to give him smaller notes in exchange for the $100 note I had given him. Once again the cashier said it was to old to accept. I was afraid the money changer would give it back to me and demand his Kwacha back. Fortunately, he wasn't so fussy about newer notes.
Eventually all was sorted out, but now we needed third party insurance and a SIM card. Of course, there were plenty of people around prepared to sell both. The insurance was reasonably straightforward for 55,000 Kwacha, but the SIM card took ages to set up.
It was early afternoon before we finally left the immigration car park and drove into Malawi. After Zambia it seemed very crowded. People everywhere. We did eventually find an empty spot to pull over and have some lunch.
This part of Africa works overwhelmingly by bicycle. As well as carrying people, often 2 or more at a time, everything you can think of is transported by bike. Sometimes very heavy loads too. Sacks of grain, wood charcoal etc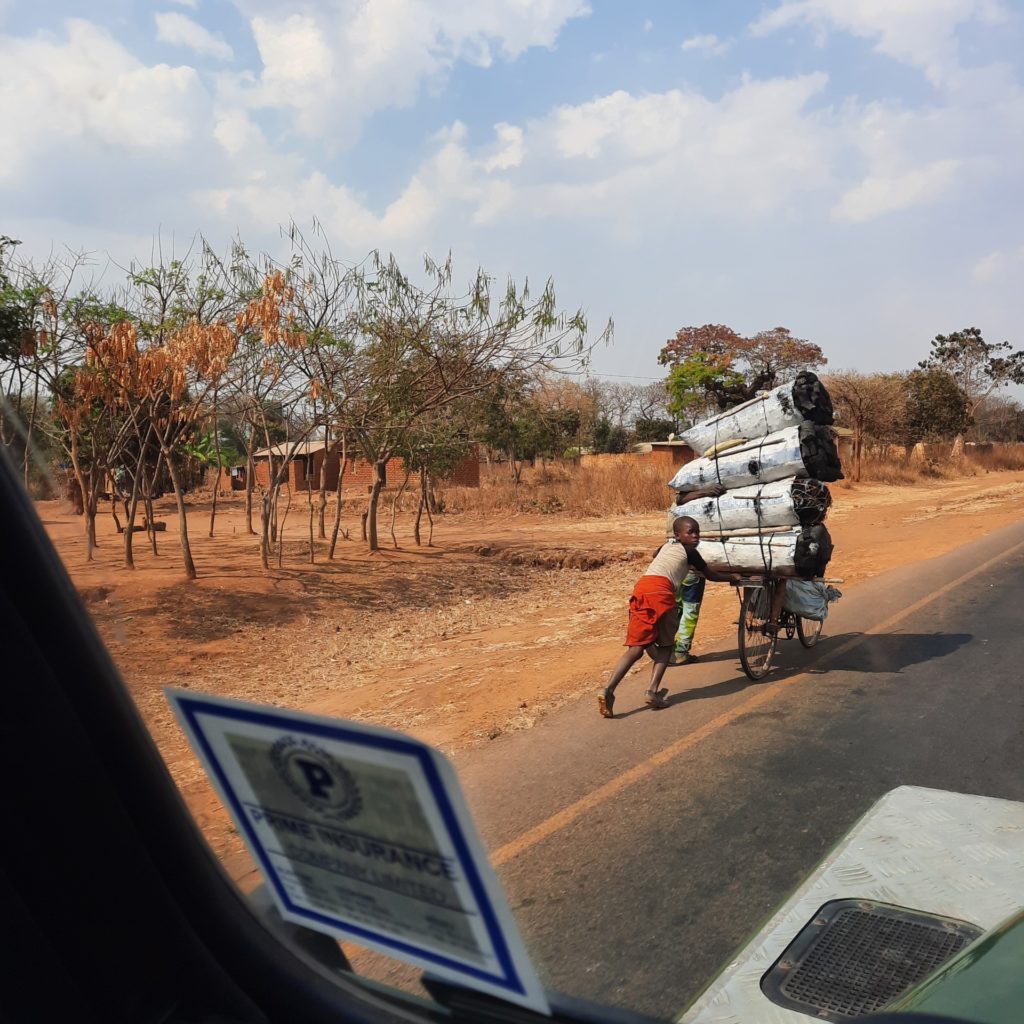 The versatility of the bicycle.
Barefoot Lodge & Safaris
Our resting place at Barefoot Lodge and Safaris was a welcoming oasis, after a hectic day. When we arrived, another Landy was parked in the car park. We subsequently met the owners. A lovely couple. Edith and Peter, from Antwerp, Belgium. We got on very well with them and Edith gave us lots of tips about Mozambique and other camping places in Malawi. Also advising us that we would be best to apply for an e-visa for Mozambique. We spent the evening trying to complete the online forms. With attachments and slow wifi, these things are always a nightmare. The blog was, therefore left unfinished. Hence late publication.
We went to the bar for a needed drink. Feeling exhausted by this time, I didn't fancy cooking, so we ate hamburgers at the bar. We did, however, manage to successfully submit the e-visa forms. They say approval can take 5 working days, so we hope this isn't going to hold us up.
Hits: 52