On the road by 8.45am. Wow, and nobody wet the bed…:) Only Kiwi's would understand that comment?
The 2k's back to the main road were potholed, as was the road the whole of yesterday. Wrestling with the wheel to avoid smashing a tyre or worse, wheel, or whole suspension.
However, turning right and over a suspension bridge and onto a beautifully paved road for three hundred kilometers.
Only one vehicle at a time, regardless of size. A guard with a Kalashnikov there to ensure.
With a good road surface we were able to achieve over 200miles for the day. Pretty good for us.
The beautifully paved road is with compliments of the European Investment Bank and the African Development Bank, each stumping up approx. 500billion Kwacha. It's just over 10years old now and already showing some signs of deterioration due to the endless heavy trucks using it. Will Zambia maintain it???? I very much doubt it, given the state of the road, up to it.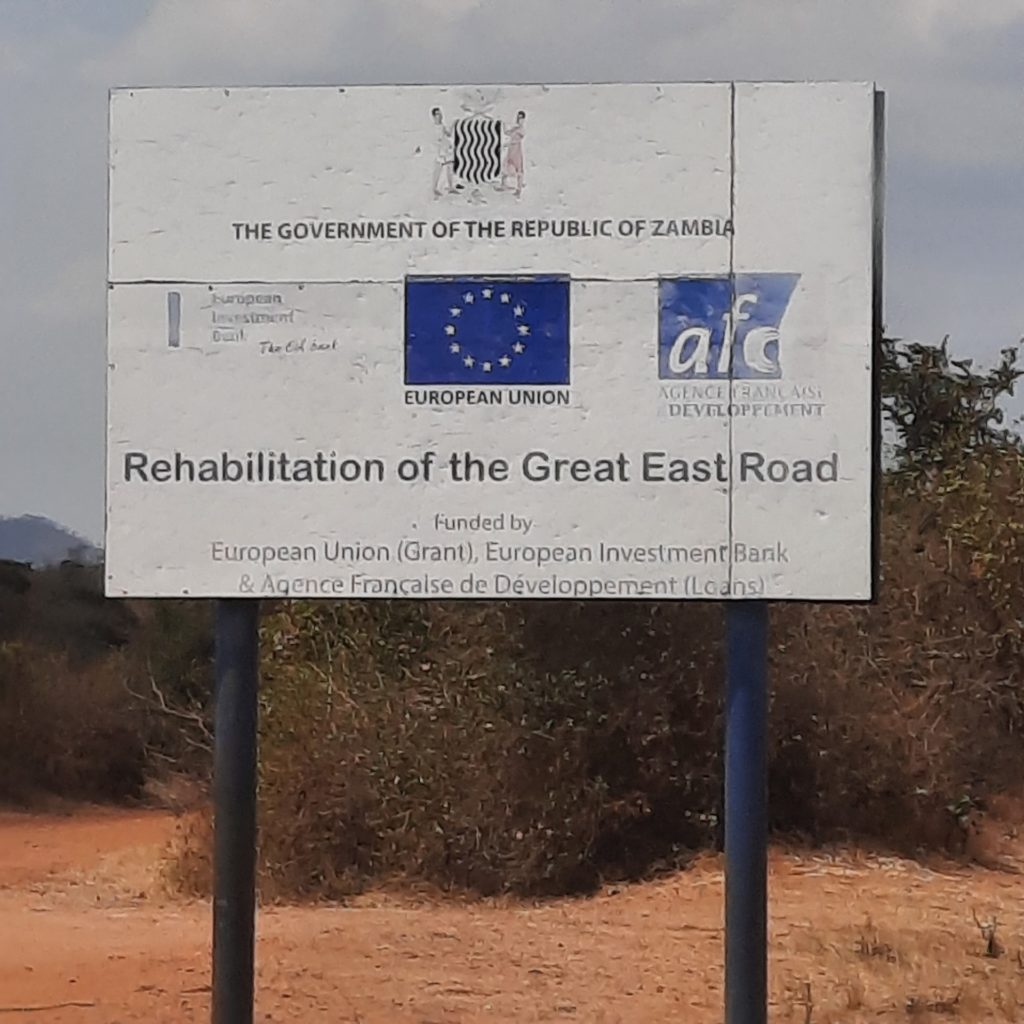 The first part of the day was driving through a series of hills and valleys. The habitation was desperate. Towns packed with people and vehicles, filthy in every respect. Rubbish strewn everywhere. Charcoal ovens smoking and bags of it stacked by the roadside for either pick-up by truck or sale to passing motorists. Once out of the hills the countryside took on a very different hue. Houses made of stone or concrete, tidier and the countryside flatter and more conducive to cattle grazing and crops.
There is a noticeable use of the bicycle among the locals. Bicycles carrying all sorts…
Camping at Chipata.
Tonight we are camped In what must have been a lovely camp but has been left largely untended. A recent visitor commenting on iOverlander, said it was closed. By chance we noticed a Range Rover parked in the driveway, so called in to investigate. A young couple, both with English accents though born in Zambia, greeted us warmly and offered us the whole camp at the very reasonable rate of 300 Kwacha = NZ$25 and that included the use of an unoccupied Chalet to shower, etc..
Time to relax.
With camp set up by 3.15pm Jen has been reading and I have changed the air filter in Poki. We have topped up all jerry cans and the main tank with diesel as it will be significantly more expensive in Malawi, where we hope to cross into, tomorrow. All depending on acquiring a visa at the border.
The town we are in, is called Chipata, formerly the Rhodesian outpost of Fort Jameson. Jameson was Cecil Rhodes First Lieutenant. It is recorded that the last slave caravan in the Empire was liberated here, in 1896.
In it's heyday in the early 1900's, the white population numbered around 200 but there was an unhealthy malaise about the place. Malaria and insanity prevailed. Few survived a posting longer than two years. It could only be reached by foot as Tsetse fly killed the horses.
Elevated at 1100m it has a relatively mild climate. Cotton, tobacco, groundnuts and maize are grown in the area.
Jen has prepared a lovely meal, so I gotta go…:)
Hits: 55