Tsumeb
Today we were on tar sealed roads all day. Our first stop was at Tsumeb. A sizeable town. Nicely set out and maintained. Lonely Planet had given the museum a good write up, so we thought we would pay it a visit.
The lady in charge was very helpful and Dennis had a lengthy chat with her about Namibian politics. It appears corruption is creeping in here too.
The museum contained a mix of items from the various local tribes, the struggle between the Germans and the Union forces and mining.
In 1914, at the beginning of WW1, Britain pressured South Africa into invading Namibia. The South Africans were under the leadership of Prime Minister, Louis Botha and General Jan Smuts.
Pushing northwards they, forced the outnumbered Schutztruppe (German soldiers) to retreat. The German general knew their position was hopeless, so ordered the destruction of some of their military equipment. This was thrown into Lake Otjikoto, just outside of Tsumeb.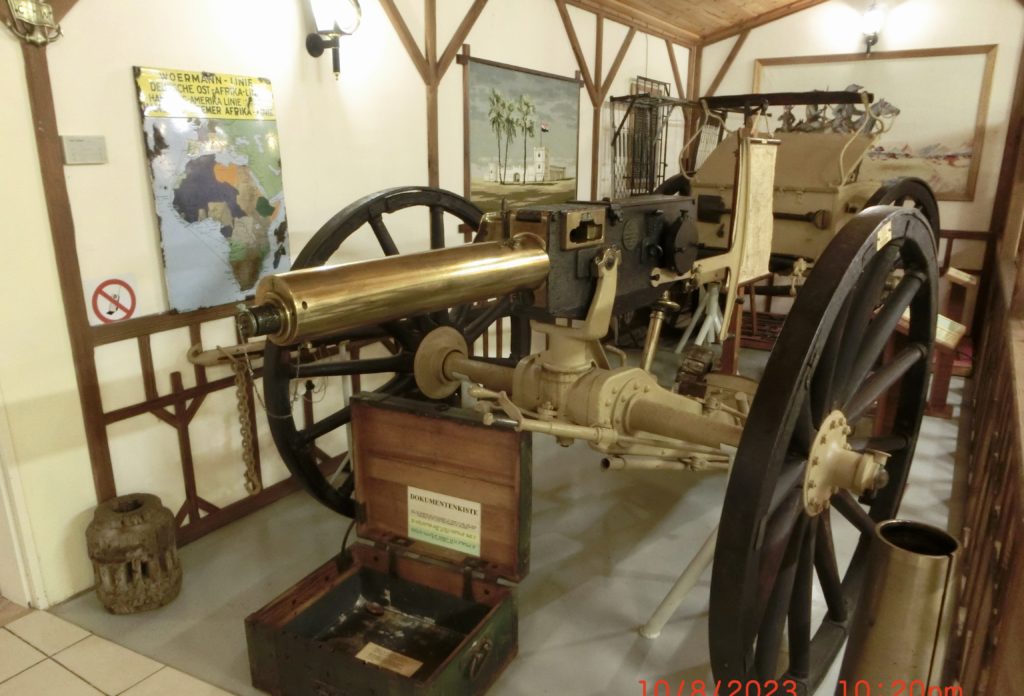 No plastic in this piece.
At different times, divers have recovered various pieces of equipment and a number of restored field guns and other armaments are on display in the museum.
Tsumeb was also a important mining town. Copper, lead, zinc and a small amount of silver were all mined here. The museum also had an interesting display of minerals and crystals. Especially malachite which is prevalent here.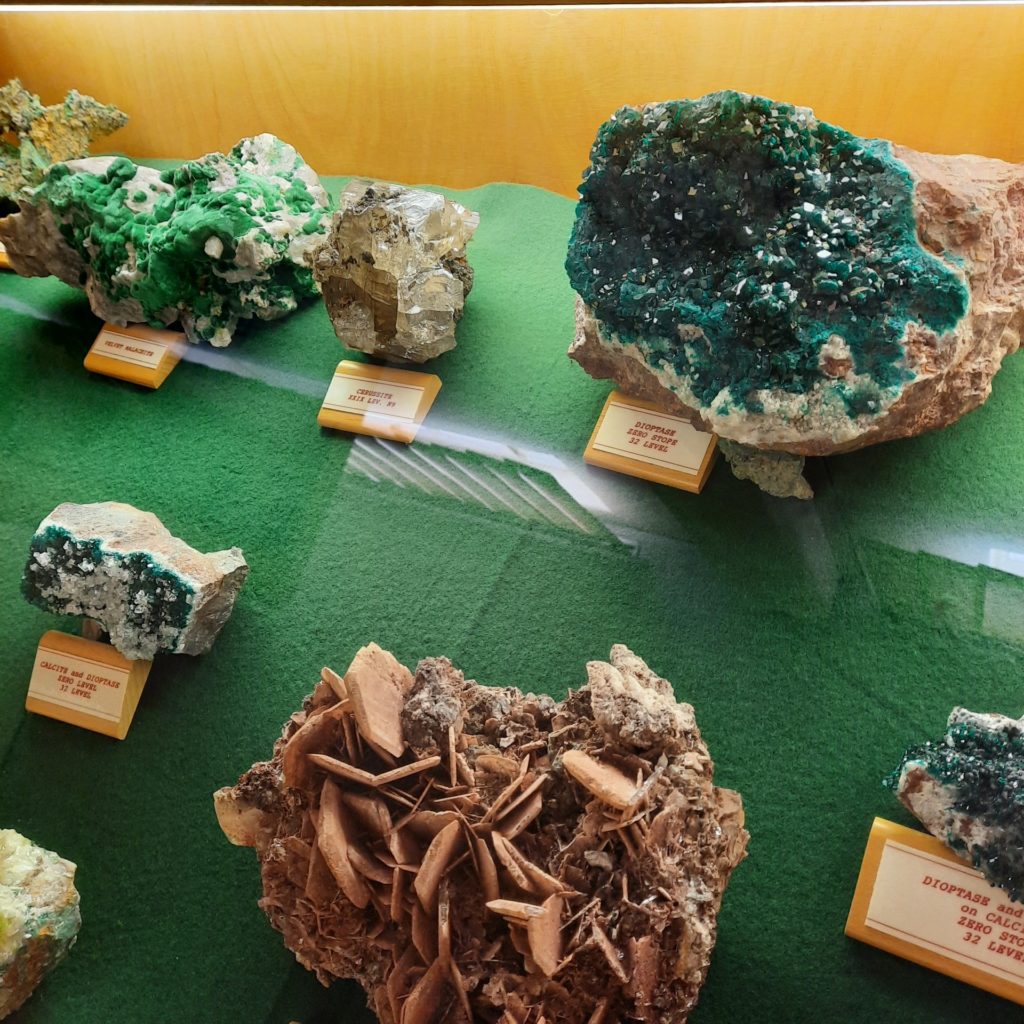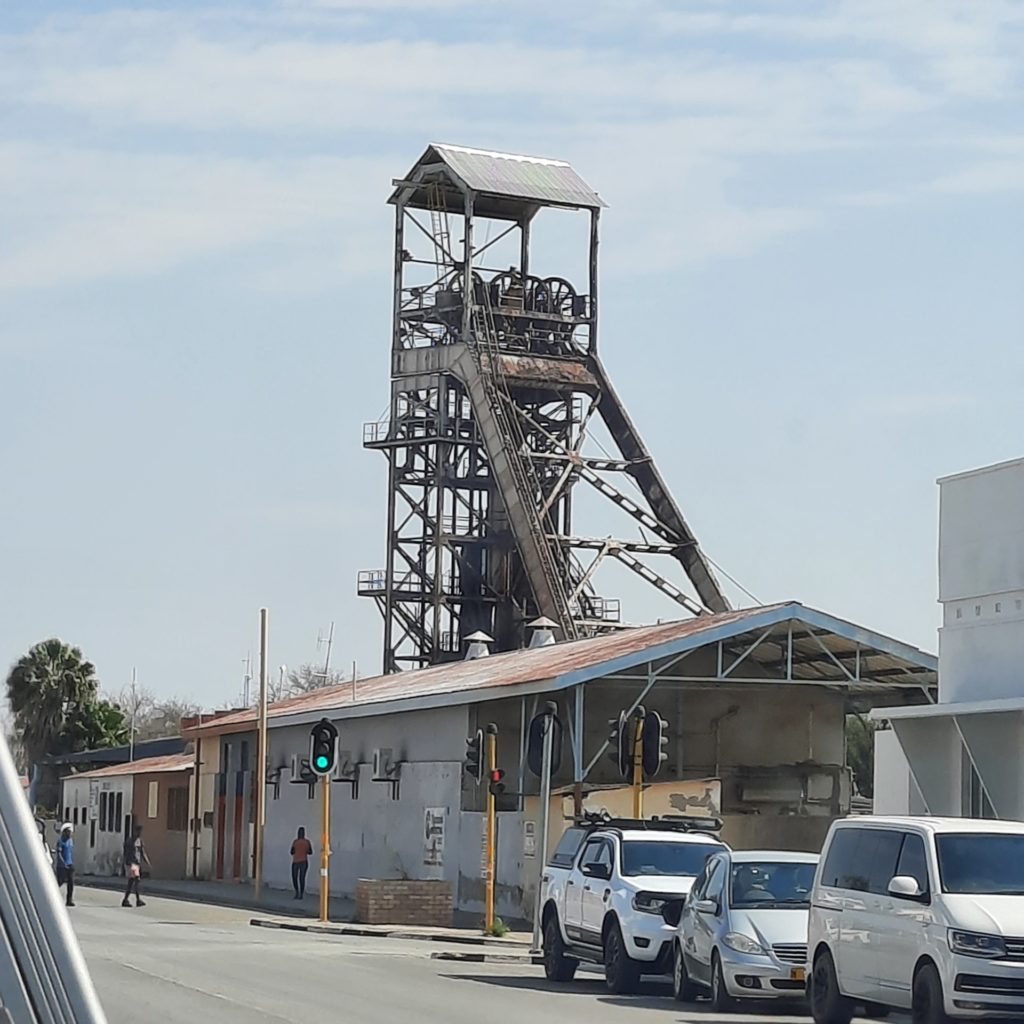 Pit head dominating the town.
Namibia's economy is dominated by mining, although it only employs only 2% of the population. Diamonds being the most important. It is one of the world's primary sources of gem-quality stones. Uranium, lead, tin, zinc, silver and tungsten are also prominent products.
In terms of African countries economy's, Namibia does pretty well. However, unemployment is still almost 30%, officially. It is more likely to be closer to 50% though. Three quarters of 15 to 19 years olds being unemployed. About half the population depend on subsistence agriculture. In recent years, tourism has become of major importance, largely controlled by white Namibians.
After we left the museum we passed a large shopping mall advertising a Pick and Pay supermarket. We decided we needed more provisions, so turned around and went shopping. There may be little opportunity for stocking up in the next few days.
Grootfontein
Our next stopping point was the town of Grootfontein. Smaller than Tsumeb, but still a reasonable size, with most facilities. Thinking of the route for the next few days, we decided to refuel, but not fill up the extra jerry cans. Fuel is apparently cheaper in Botswana and we will be there in probably 2, but maybe 3 days.
It is a long stretch of road to the next major habitation, Rundu. There appears to be little in the way of camping places. There were several just outside of Grootfontein, so we picked Pondoki. It seems it was a good choice as it is reasonably priced and we have a nice site, with private ablutions.
Having been on the road for around 5 weeks and not yet having had a "braai" (barbecue), which every South African seems to have at every campsite, we decided we would try one. I went to reception to see if I could buy some wood. The receptionist said they only had wood for the "donkey" (hot water boiler), but she thought it might be okay. Wood is wood to me, so I thought so too.
We had a nice kitchen facility with a dining table right next to the braai, so it was an ideal location. Having bought meat at the supermarket, all systems were go. Eventually we got the wood to light. It was bone dry, but very dense and we had no kindling material, other than dried leaves and a small amount of paper. Someone had left a small amount of charcoal, so we used that too.
Dinner was a slow process, but edible, although the meat was pretty tough! The corn and the sweet potato made up for it though.
Hits: 45