Not a lot of sleep last night as there was a Lion, on the campsite, in a pen!! I'm sure it was crying all night to go back to it's mates. There is something rather sad about these "Safari" Camps. I'm perhaps repeating myself, but they all want to compete with the large government controlled and regulated, wilderness area's where the animals can be animals and do their own stuff in plenty of space.
Etosha National Park
Our destination today is the Etosha Wildlife reserve. It stretches for hundreds of kilometres and is the biggest and most popular park in Namibia. Very close to the Angolan border. Talking of which, both friend Alex and my sister Liz, have told us we are not allowed to go there!!! Angola, that is. My sister Liz, is not one to be disobeyed…:) A little on family discipline, Our dear Mum used to say she would 'wang' us with a wooden spoon, in exasperation, if we were ever naughty. So, we are never naughty, and I'm afraid Liz might want to 'wang' me if we go…:)
Back to Etosha. They just about wanted our finger prints to get in and it's a convoluted system of entry, but it's worth it. Animals for Africa..:) The entry point we chose, was at the Andersson Gate.
The first viewing point was a waterhole only a kilometre inside the gate. The place was heaving. Zebra competing with Springbok, Gnu's, Black Faced Impala, and the odd Oryx and Kudu.
No sign of Elephants though. For the next six hours we covered 170k's on rough, gravel and very corrugated, dusty roads, stopping at various waterholes to watch the animal and their antics.
A solitary Gnu.
Scene at the first waterhole
Perhaps the most amazing sightings were a solitary White Rhinoceros and very late in the drive, just before exiting the park, two separate herds of Elephants. Fortunately I had managed to reformat the Gopro memory card and was able to record the encounter. Wonderful. A young bull with a broken tusk seemed to take responsibility for the herd and stepped forward to issue a challenge, complete with ears flapping and a trumpet call. We were not very far away from him, the width of half the road and I tell you, I had Poki in gear, ready to move away if the challenge got more intense.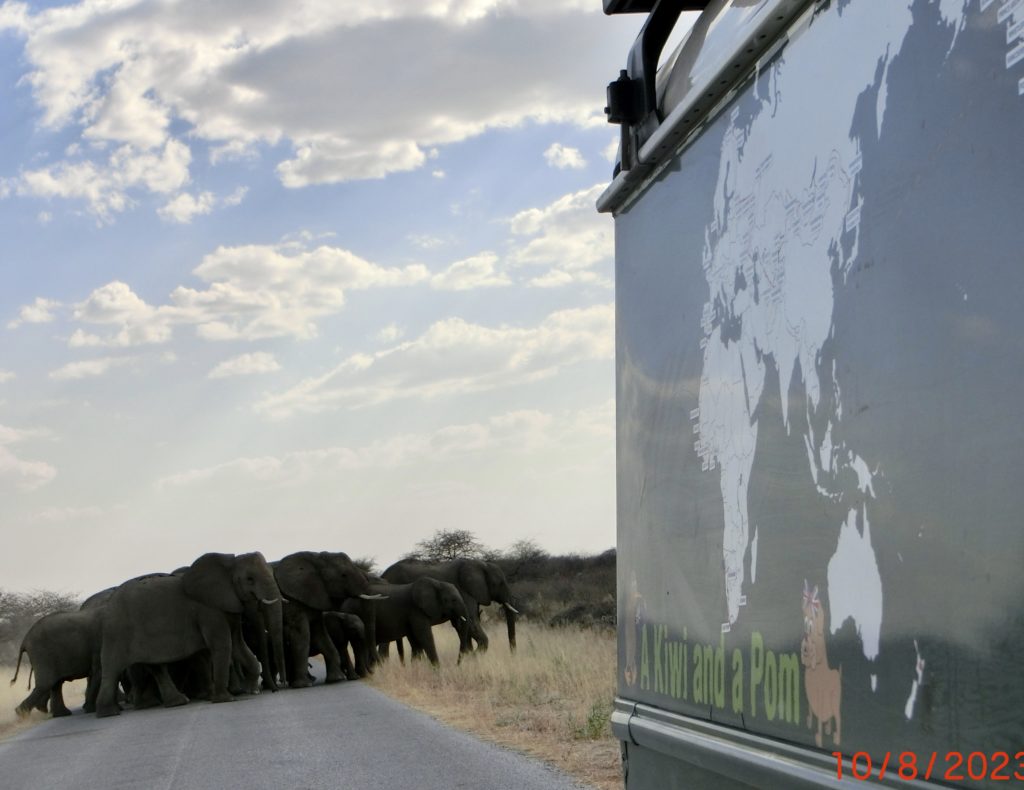 The herd, streaming across the road after we moved away.
Surely prehistoric!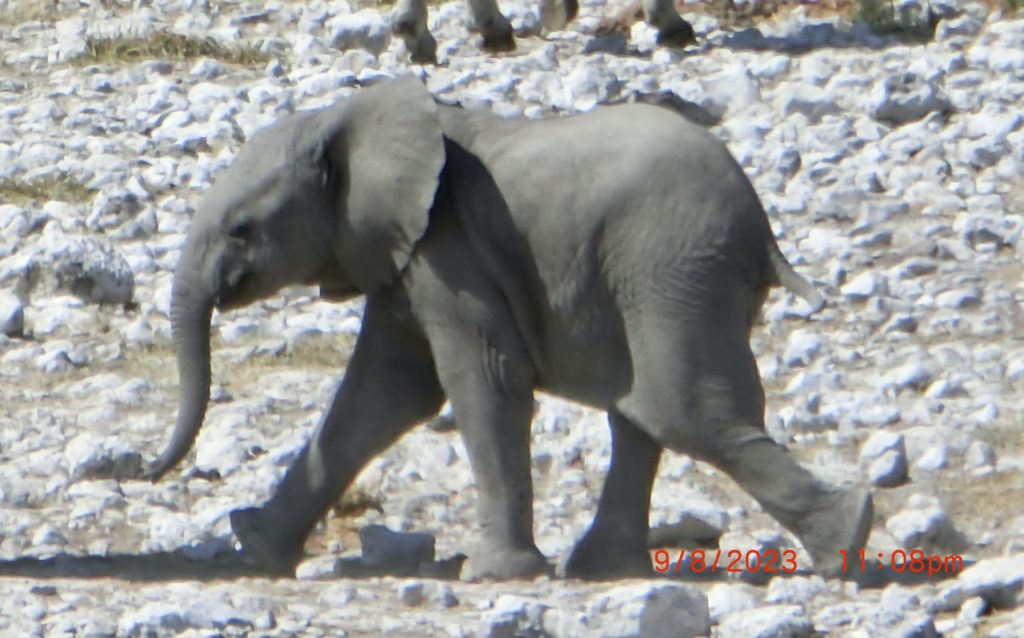 This cute little guy was running so fast he nearly fell over..:)
Oh! I nearly forgot, we were whistling along and Jen said, "I saw a cat". Yeah right!..:) Not wanting to tell her she was hallucinating, I stopped and reversed back and there, sure enough, a Cheetah sitting in long grass at least 500m away, watching a herd of Gnu's (Wildebeest) on the edge of the pan. How she saw it, was a miracle.
A beautiful Springbok.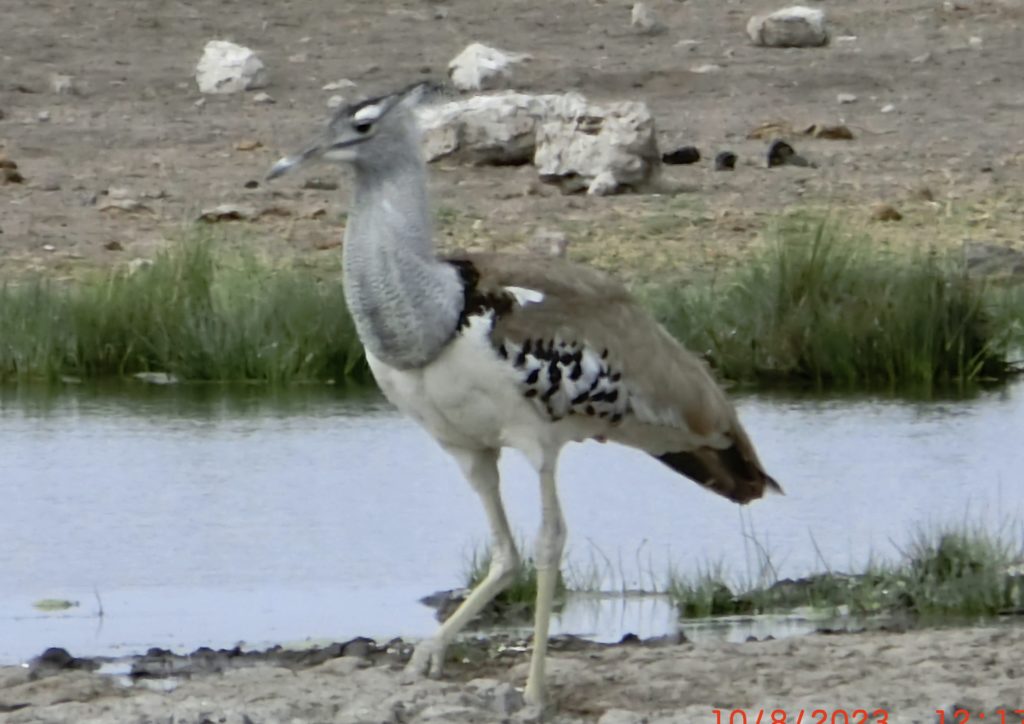 A blurry Kori Bustard
How do we know that! Jen bought an amazing book at the entry point to the park. Giving photos of all birds and animals we would be likely to see.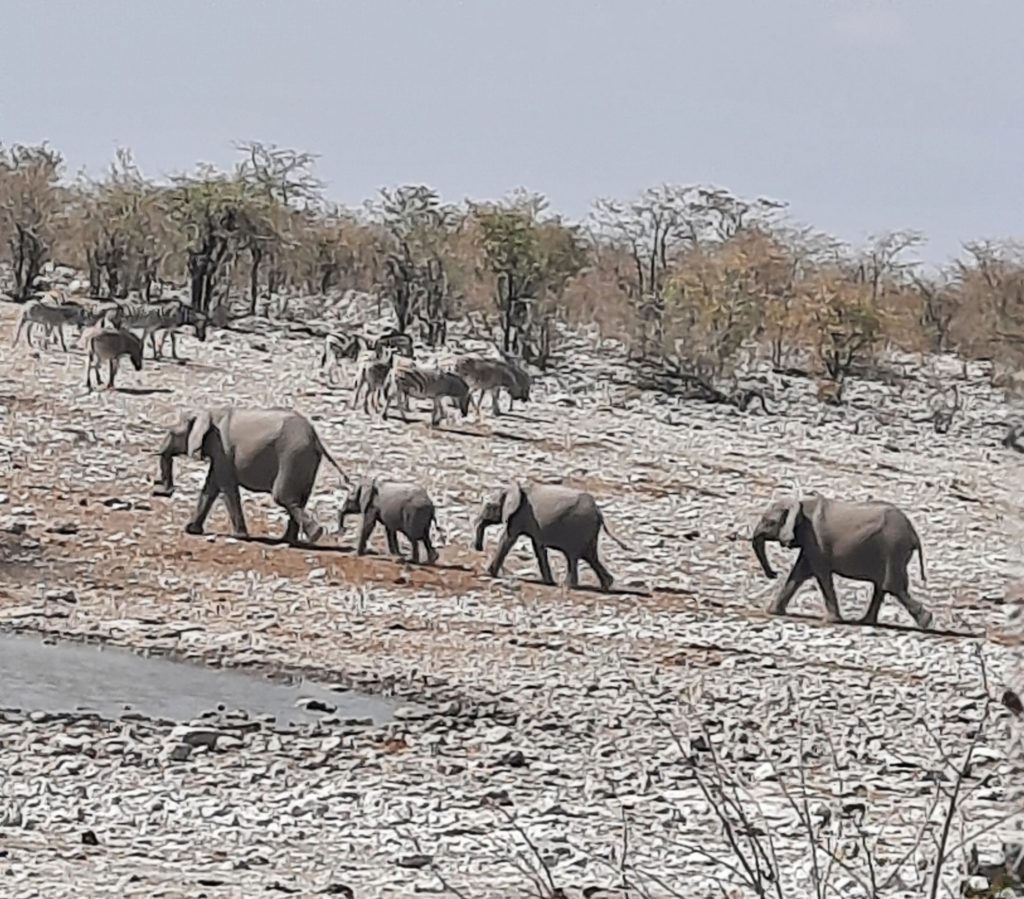 Our patience was rewarded at this waterhole.
The cost of camping, both inside and just outside the park, is expensive. We chose to drive about 40k's to this camp, Sachenhausen…:) Unfortunately wifi is non existent so this won't be posted until we reach a town, tomorrow perhaps?
Meeting people
While sitting outside the caranex this evening, writing this, a chap popped his head around the side of Poki and while Jen was elsewhere doing admin, we got chatting. Zirk is a South African with a passion for out-of-the-way travel. Later his wife Doret called over to find what was delaying her husband. For the next hour we were in deep discussion about a great number of things. They both lived in Auckland for a year or so, in the '90's. Oh! and Zirk worked for Escom!
Hits: 82