Rock Engravings
This morning we planned to visit the rock engravings, close to Kamanjab. Oppi-Koppi Lodge controlled access to the engravings. I had to complete a form, pay $60 for each of us and get an entry key (this needed a further $100 deposit, to ensure we returned it). I asked for directions. Melanie, who was very sweet, told me she had never been, but we needed to pass the Shall Service Station and take the gravel road.
I knew it wasn't far and as there was no sign of any Rock Engravings after about 6 kms, I checked on iOverlander to see if we were going in the right direction. We weren't. We turned around and headed back passed Shell and in the opposite direction.
Finding the gate and on entry we followed a track for about a kilometre to a parking area. Here a small gate gave access to a rocky track. A plaque told us this was Peet Albert's Koppie. A heritage site and pointed us in the direction of the rock engravings.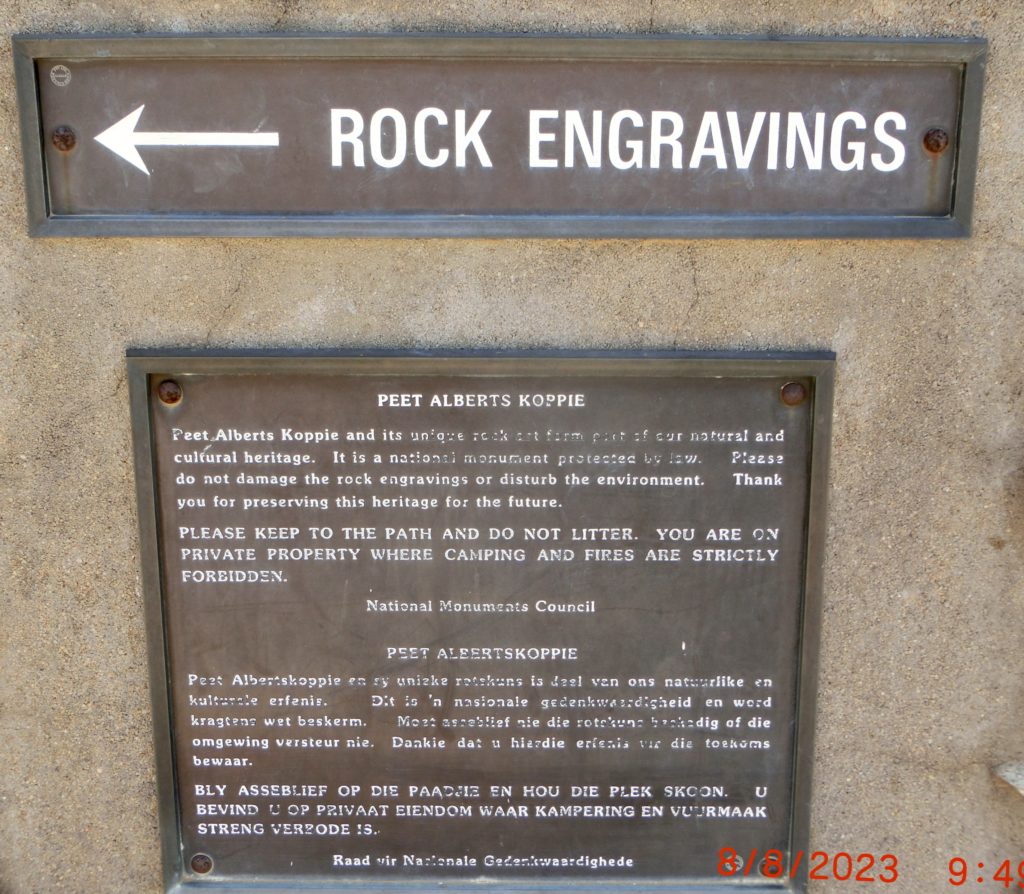 The track took us up through very jagged rocks. It was quite a hike up the very rocky path. White arrows had been painted on the rocks to point us in the right direction. We found the engravings scattered all over the rocks. Mainly they seemed to be animals. Zebra and Giraffe and other less identifiable beasts.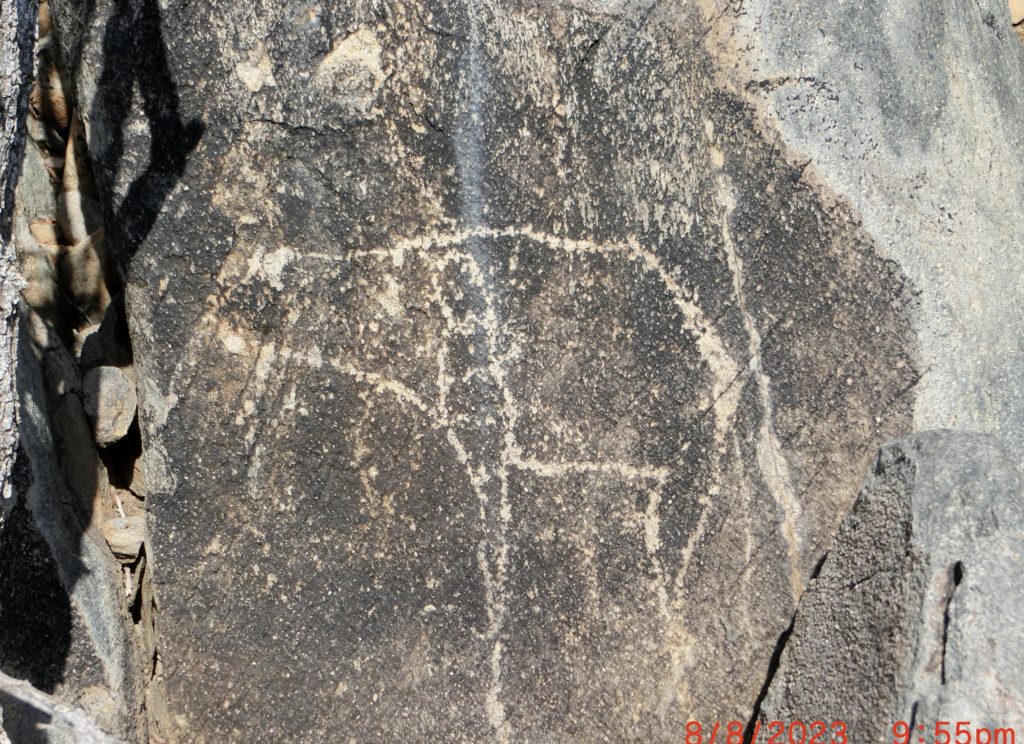 As I was climbing on a large flattish rock to my horror a long, skinny greenish/cream snake was slithering around my feet. I jumped and landed on the tail end, cutting about 10 inches off the horrible reptile. After that I was very careful where I put my feet. Dennis was laughing as he thought the remaining wiggling and writhing 10 inches was the entire snake. It was well over a meter long, or had been.
The rest was as thick as a man's thigh…:) You should have heard the scream!!!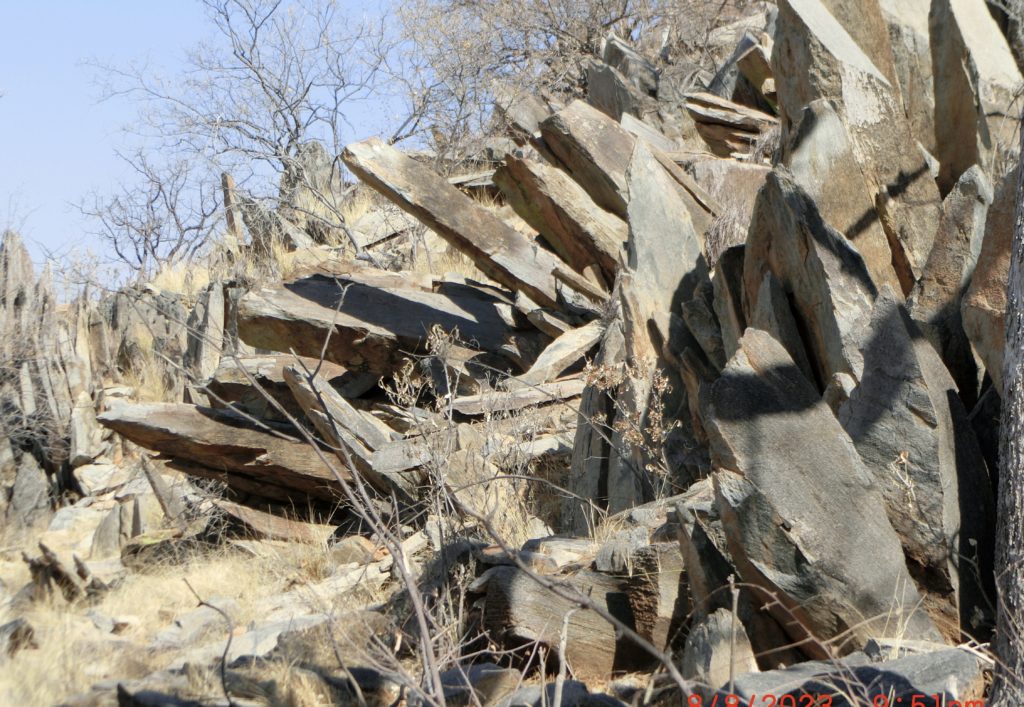 Returning to Oppi-Koppi we returned the key and had a mid-morning coffee/hot chocolate while we waited for the manager, who was going to photograph us with Poki. This was to add us to their album of Overlanders.
I asked one of the staff if she knew anything about snakes. She didn't really, but thought it was probably just a grass snake and not poisonous. I had looked on Google but couldn't find anything that looked similar. It showed things like Puff Adders, which are very venomous. It would appear it can't have been harmful, or I am sure I would have found a picture identifying it.
On the road to Etosha
At about 12noon we set off for the Southern entrance to Etosha National Park. The road was tar sealed, straight and the scenery boring. But anything would have been an anticlimax after my snake experience.
As soon as we could find a short cut via a gravel road we took it. Dennis likes driving on the gravel more than the boring tar seal.
The scenery all the way was of a dry, parched sun burned landscape. Small trees and shrubs, many with blackened trunks and branches from previous fires. Their leaves all brown and shrivelled to a crisp. The only feature of interest being the abundant ant hills. Different colours, depending on the type of soil, and all shapes and sizes. Some like mini volcanoes, some phallic shaped or like Pinocchio's nose.
We wonder if there are anteaters. Many of the anthills appear to have holes at the bases as if they have been raided by something. Google tells me there are Pangolins and Aardvarks in Namibia, both ant eaters. I would love to see one.
Tonight's camp.
Camp for tonight is about 10 kms South of Etosha. There are numerous lodges and campsites. Erica, whom we met in Aus, and who kindly recommended places we should visit or stay, picked Eldorado Lodge and Camping as a good place to overnight before visiting the National Park. Also mentioning they have cats. Cheetahs, Lions, Leopards etc.
Etosha is probably the largest, most well known National Park in Namibia. As it attracts so many tourists, inevitably the pricing is more expensive. Apparently camping inside Etosha is seriously expensive. It is better to camp outside and then buy a day pass to visit. We will do this tomorrow.
Eldorado is still quite pricey for camping, but to do a tour to see the "cats" was even more expensive than the camping. We thought it was too much. I am disappointed though.
We are now ensconced in the bar, Dennis with a large beer and me with a gin and tonic, as I write. The sun is going down and soon we will cook some dinner in Poki. I feel an early night coming on.
Yellow Billed Hornbill in the camp.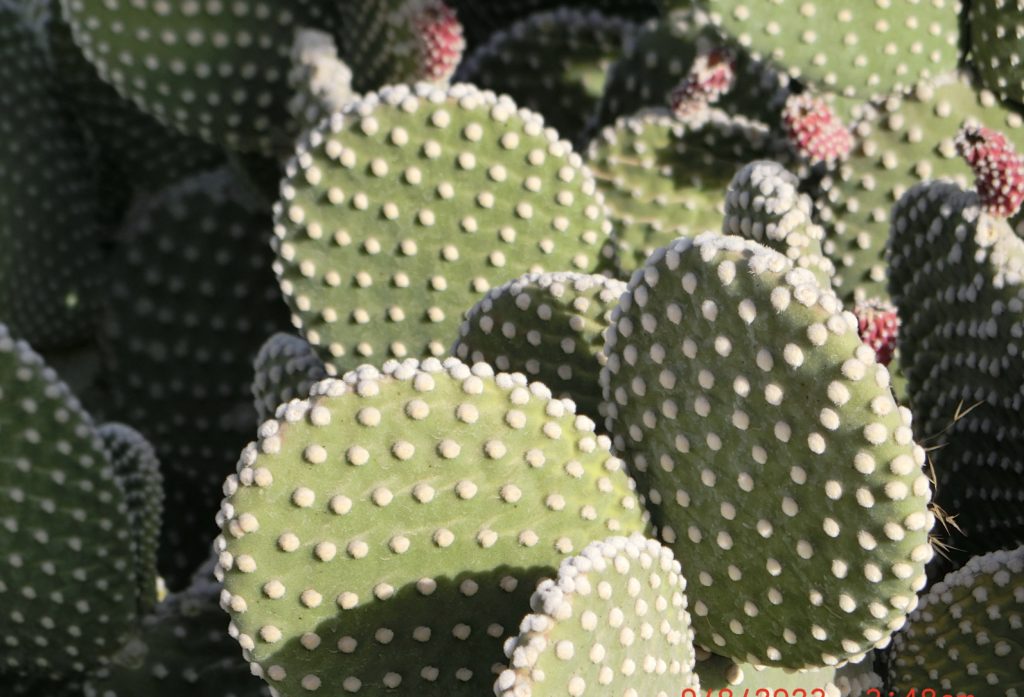 Interesting cactus.
Hits: 71