Another wonderful camp site. Our own ablution block complete with BBQ area….and a lush grassy pad to pitch the caranex on. At N$400(NZ$38) not cheap, but with it's own security and excellent wifi, well worth the $.
I had a brilliant sleep. You'll need to know that..:) It was a beautiful starry night when we went to bed at around 10.30pm but overcast and much cooler by dawn.
We were packed and ready to head out at 10am, only Poki wouldn't start! Well, not easily. The same symptoms that plagued us all the way through Europe and Russia. Jeff at TuneServe in Durban had been keeping in touch with us and we were working through diagnosis. However, it was clear that we needed to get it sorted before heading into the sparsely populated north western part of Namibia.
First though we visited a branch of Standard Bank. Jen mentioned yesterday, our issues with having a ATM fail to deliver debited funds. Who knows how long, if ever, before that problem is solved. They are going to have to wait to see if the cash machine has $3000 more than it should have, which could take a month!!
There seem to be very few Land Rovers in Namibia, compared to South Africa but we were very fortunate to find a brilliant garage and the staff at Vineta Shell Garage. They soon had a Hawkeye computer analyser on the job and found that the flywheel crank sensor, was the problem.
This is the same sensor that had been troubling us and was reputedly repaired in Norway, Russia and UK. The repairers had taken a shortcut by shrinking a cable joiner on the two wires. The wires had worked themselves apart inside the shrink wrap. So, this time they have been soldered and wrapped. The mechanic also removed the cam cover and chemically washed the wiring harness to the injectors. It seems oil can find it's way between the copper wire and insulation, causing a short circuit. After degreasing the whole motor and washing it off, we have a squeaky clean engine and compartment. The mechanics also sprayed the Mass Airflow sensor with contact cleaner to eliminate that as a source of trouble.
Once finished, Poki started immediately and in an hour and a half, we were under way again. I can see the Toyota and Isuzu owners smiling smugly…:)
Heading for Cape Cross
The drive up the coast was interesting. We passed the wreck of an Angolan fishing boat that foundered in 2008, about 50m offshore. No lives lost. Perhaps the skipper lost his job? :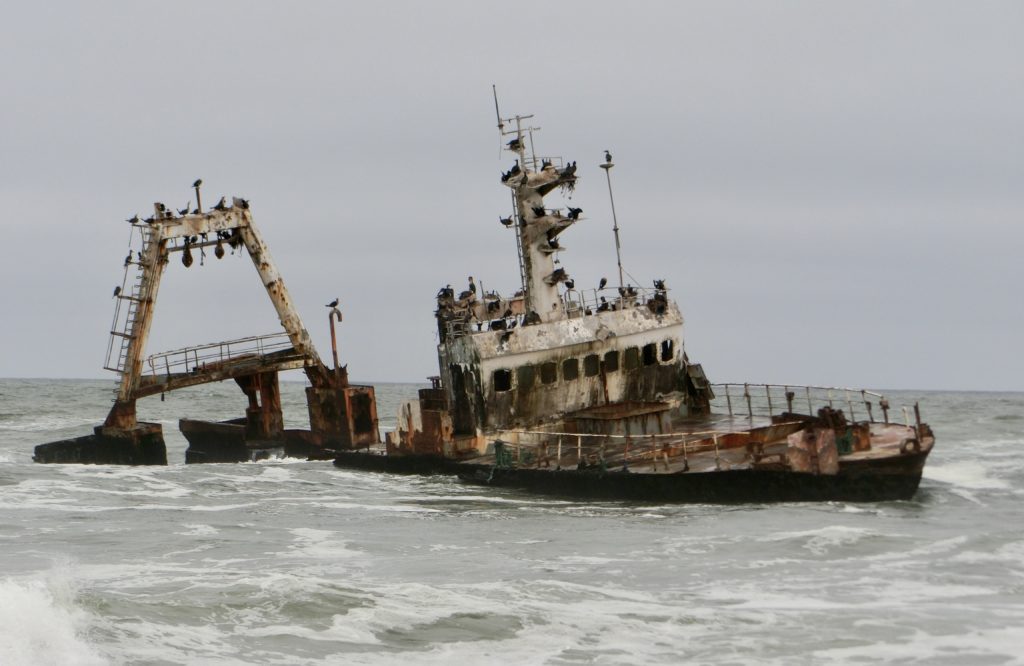 Already breaking apart.
Note the birds nesting in the superstructure
The name Skeleton coast comes from the more than 1000 vessels that have come to grief off the coast. Fog and or sand storms being culprits. The coast is 500km long and 40km wide. Almost completely barren. Sailors died after abandoning their stricken vessels. Hence, the name and for the bones of their vessels. Very few have left any visible trace.
Our objective for today is reach the Cape Cross Camp site. Cape Cross has a fascinating history. Once a huge source of Guano, then, seal skins. Being so remote, and only visited by ships in the past, the settlement was affected by outbreaks of scurvy and smallpox. Today it is an oasis for campers and travelers heading further north along the Skeleton Coast. Oasis is probably a poor choice of description as there is no vegetation. Just a cluster of luxury accommodation blocks and a campsite.
Spacious well equipped campsite.
Tonight while enjoying a drink by a lovely open fire, we got talking to Greg & Heather, from Vancouver. They have hired a camper and are enjoying Namibia too. We hope to see them in NZ in February next year. They are also long distance cyclists.
We were told to be aware of a Brown Hyena in the camp. Here is a pic of a Hyena skull. Powerful looking beast.
Can you see any sign of decay, Alexandra?..:)
Hits: 71