This morning we were late leaving and last to leave the campsite, as usual. However, we were not late waking. At 5am Dennis was on the computer uploading photos to his blog. Last night too many people were using Wifi, so the pictures wouldn't load. Dennis maintained 5am was a good time to get better Wifi. My comment, when woken, "No sane person would be awake to use Wifi at 5am".
Our first stop today was at the Cape Cross Seal Colony. Another National Park, so more entry fees. There are thousands of the critters. Seals are the most inelegant, awkward, cumbersome creatures on land. There were as many in the water as there were smothering the rocks. Here though they are sleek and elegant. However, I have to say they stink to high heaven. We didn't stay long. The smell was simply awful and quite overpowering.
Maybe someone can decipher the German inscription?
Fur Seals, grunting, barking, biting and defecating.
Once on the road North, there is nothing but emptiness. Apart from the occasional diversion.
Our first stop was to look at a wreck. We met a young Belgian couple in a hired 4×4. They said the wreck wasn't really worth seeing. Just a few bits of metal. They had also got stuck in the sand. We decided not to bother. Too lazy to let our tyres down, so we wouldn't get stuck too. Apparently although there have been over 1000 ship wrecks on this coast, few are now still visible. Broken to pieces, or covered with sand.
Next stop was a wrecked oil rig. The remains of a failed drilling venture, from the days before the Skeleton Coast National Park was declared. Slowly breaking up and decaying in the desert. The receptionist at the Cape Cross Lodge had mentioned to me, that we may see baby jackals hiding in the structure. No such luck today. We decided it was time for a lunch stop. Some crow like birds would have liked some too, until the Belgian couple drove up and frightened them away.
Oil drilling project that foundered.
Later we came across an abandoned diamond mine at Toscanini. In it's heyday it was apparently quite productive. I looked for some forgotten stones, but didn't find any. Earlier in the day I had bought a decorative chunk of white crystal. There were lots of little stalls, with an honesty jar, selling bits of rose and white quartz. I really wanted pink, but it was very crumbly and I didn't think it would survive the rigours of storage in Poki. Not sure the white bit will either!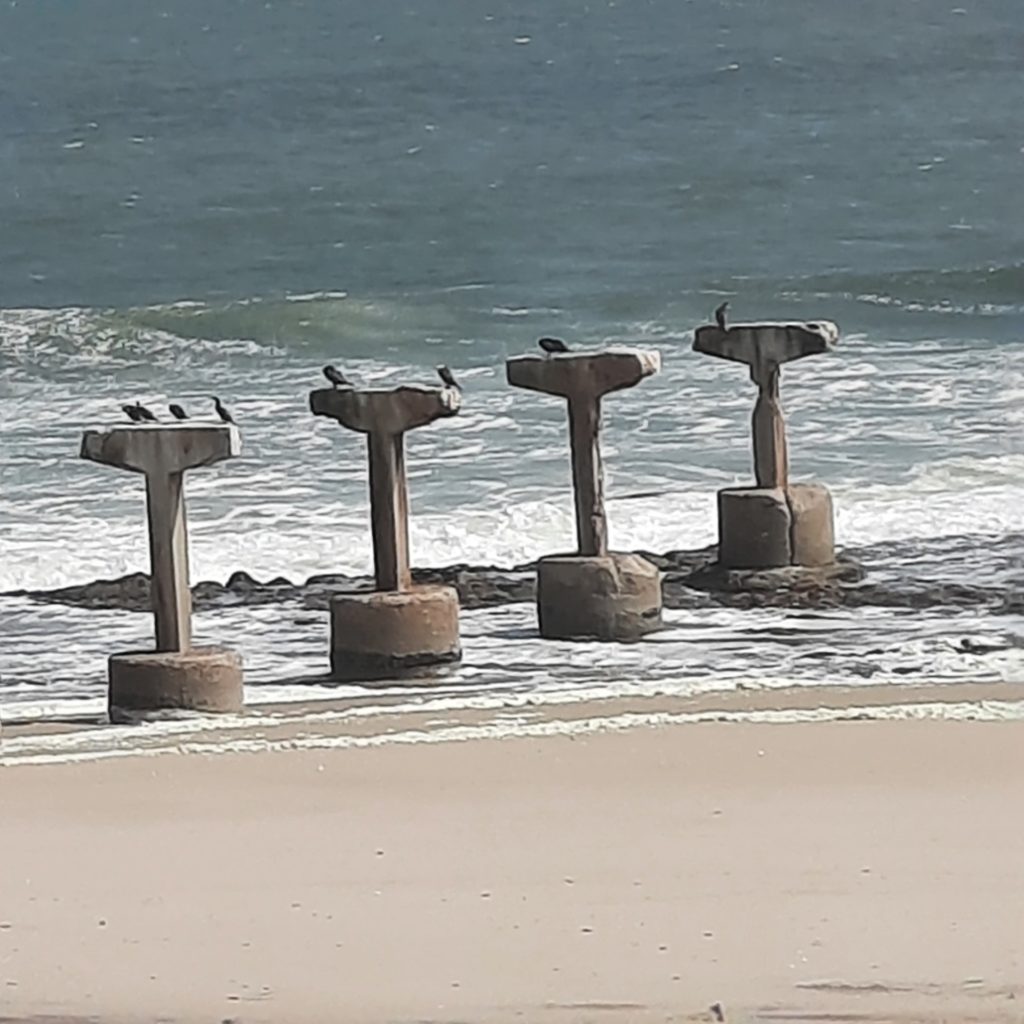 Apart from a few crumbling walls, this is all that's left of the diamond mining operation. No diamonds either…:(
The scenery for well over 200 kms was totally barren nothingness. Either dunes with blowing sand, or flat charcoal grey, coarse sandy, gravel wastes spreading as far as the eye could see. Despite the lonely, emptiness it still has a beauty of its own. The only thing that allows anything to exist is the damp sea mist.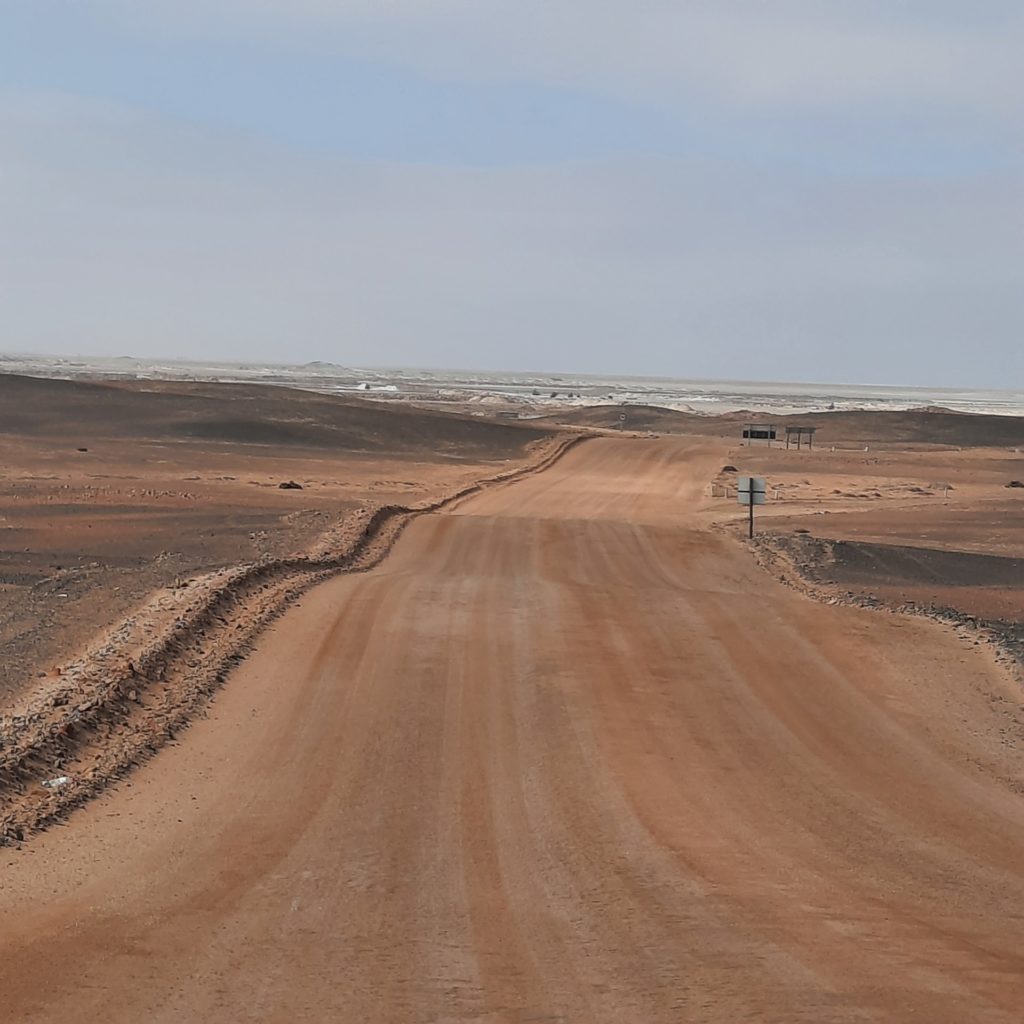 Once we turned inland, after exiting the Park at the Springbokwasser Gate, the scenery changed completely. Deep red mountains and patches of greenery. Obviously some remaining underground water from the Springbok river, which appears, like all other rivers, to be dry. We said goodbye to the Belgians, who had another 2 hours to drive to their campsite for the night.
At soon after 4pm we decided we would camp in the wild, rather than driving another 100 kms, or so, to a campsite. The evening is very warm, but there is still a wind. The ground is rocky too, so we have not put up the Caranex. We are parked on top of a bit of an incline. Amazingly in the middle of nowhere, we have a much better Wifi signal. I might even get some photos uploaded, at a reasonable hour 🙂
Camping in magnificent solitude. No need for the caranex.
Hits: 86