We had hoped for a good night's sleep. When we retired it was still and peaceful. However, during the night the wind came up. We must have been parked at an angle which allowed the wind to blow down the side of Poki and caused the ropes securing the Caranex to flap against Poki's sides. The constant rapping was very annoying and kept us awake.

Not feeling like getting up, we were later getting away. About 10.30. The drive to Swakopmund along the Trans Kalahari Highway was pretty boring. A straight, tar sealed road with arid desert to either side. Little in the way of scenic interest. We passed a large uranium mine not far outside side of Swakopmund.
We are going South to Walvis Bay, but will return North to Swakopmund this evening to camp. The towns are only about 30 kms apart. The road to Walvis Bay is right beside the ocean, with nothing but sand on the land side.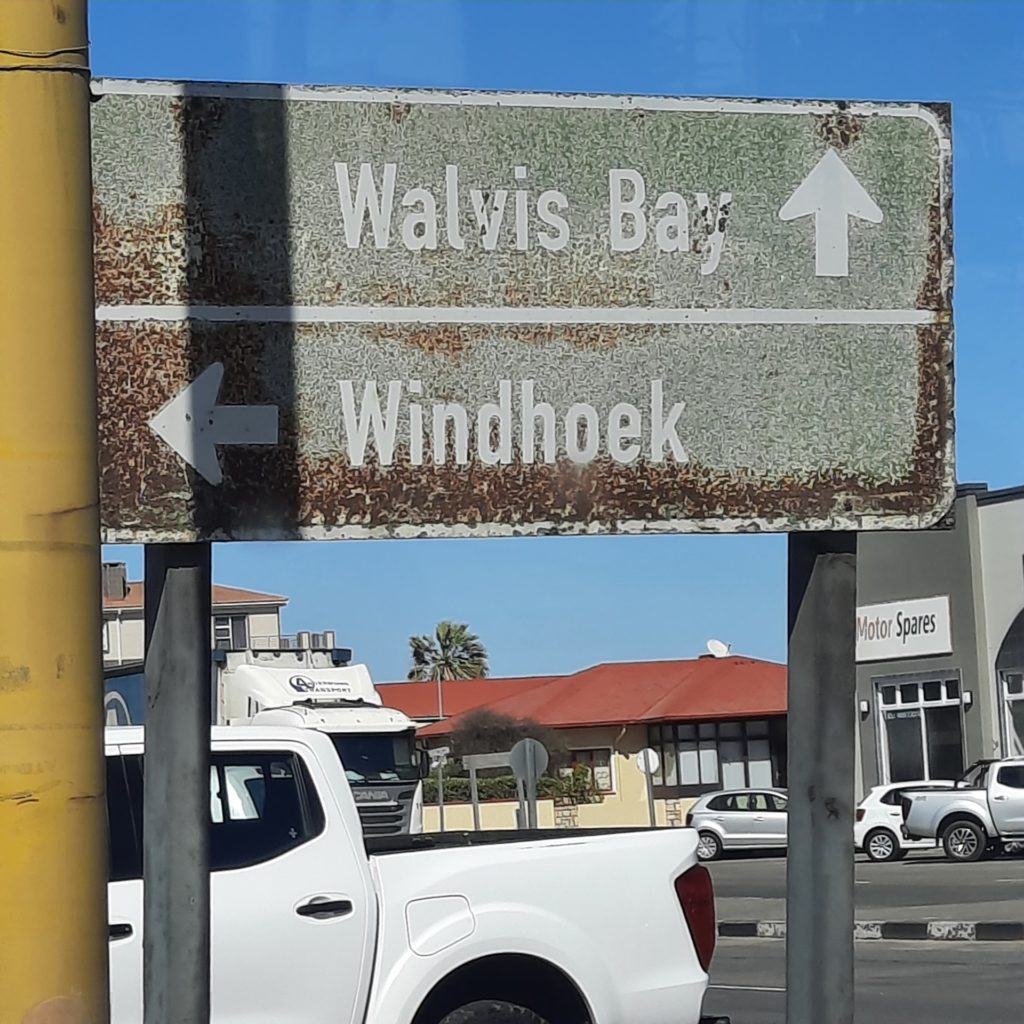 Entering Walvis Bay from the North are beachside properties. Either holiday homes or for rental. We passed through the town and along the Southern beachside, which has lovely houses and smart hotels. Beyond this are salt pans. These pans concentrate salt from seawater, with the aid of evaporation. We stopped to watch salt being harvested. Truck loads were being transported to a processing area. This area supplies more than 90% of South Africa's salt.
Evaporation salt works.
The shallow lagoons are full of birds. Gulls, oyster catchers, cormorants, pelicans and thousands of flamingos. I think flamingos are my favourite bird. On several occasions we have visited places where there are supposed to be many flamingos, only to find a few. This time I wasn't disappointed.
There are two types of flamingos here. Greater flamingos are white to light pink with whitish beaks with a black tip. Lesser flamingos are a deeper pink with dark red beaks. Flamingos are excellent fliers and have been know to migrate 500 kms overnight in search of crustaceans and algae.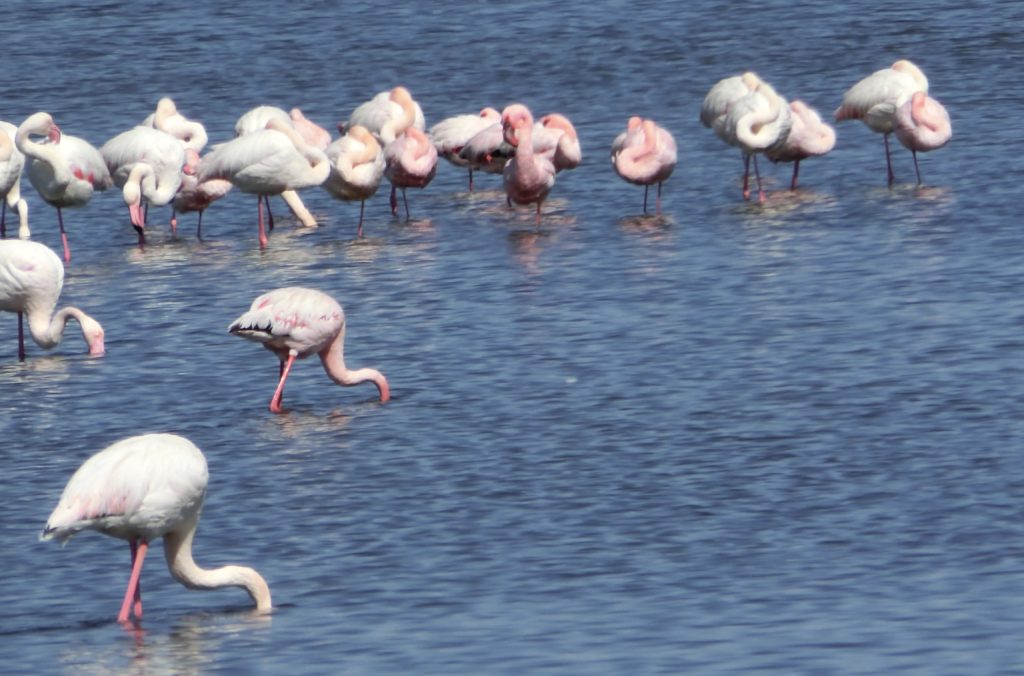 We stopped and had lunch at the end of the road, deciding not to venture further in the sand. To do so we would have needed to deflate our tyres and we decided against it.
Heading back into Walvis Bay we passed a large shopping centre, the Dunes Mall. We saw it had a DisChem store. They sell large bags of nuts, which we haven't been able to buy anywhere else. We headed for their car park. Conveniently an outdoor park and not a height restricting underground parking,
Having stocked up with large bags of cashews, walnuts and raisins, I wanted more cash so we stopped at a Standard Bank ATM. Disaster. The machine told me it was giving me 3000 Namibian $ and gave me a receipt to this effect, but gave me no money. There was a phone number to call for assistance. The call centre advised they could not help me check whether my account had been debited, as it was an overseas account. I needed to go to a local branch office.
We looked up the nearest on Google and Google Maps took us there. It turned out to be just another ATM, this happened twice. The third time we located a branch, but it was closed,
Trying to call my bank in the UK was equally unsuccessful. My Namibian SIM advised I had insufficient funds for the call and my UK SIM couldn't locate a network. Frustrating. I will have to try a branch office in Swakopmund tomorrow.
Accommodation for tonight.
We arrived at Alte Brucke Holiday Resort at about 5pm. It is a very regimented site. Quite Germanic, a hangover over from Namibia's German past, perhaps, or maybe German owned. Sites are close together, but we'll equiped with private ablution blocks, barbecue, and kitchen area. Also sheltered, so hopefully no flapping tent tonight. Despite being busy, at 9.30 pm while I am writing this, it is dead quiet. I think everyone is already in bed.
Hits: 56