Our night in the luxury B&B allowed us to update the blog also have a big bag of washing done and nicely folded. Getting in at around 3pm yesterday, and being a nice sunny day, I managed to do some work on Poki in the secure car park.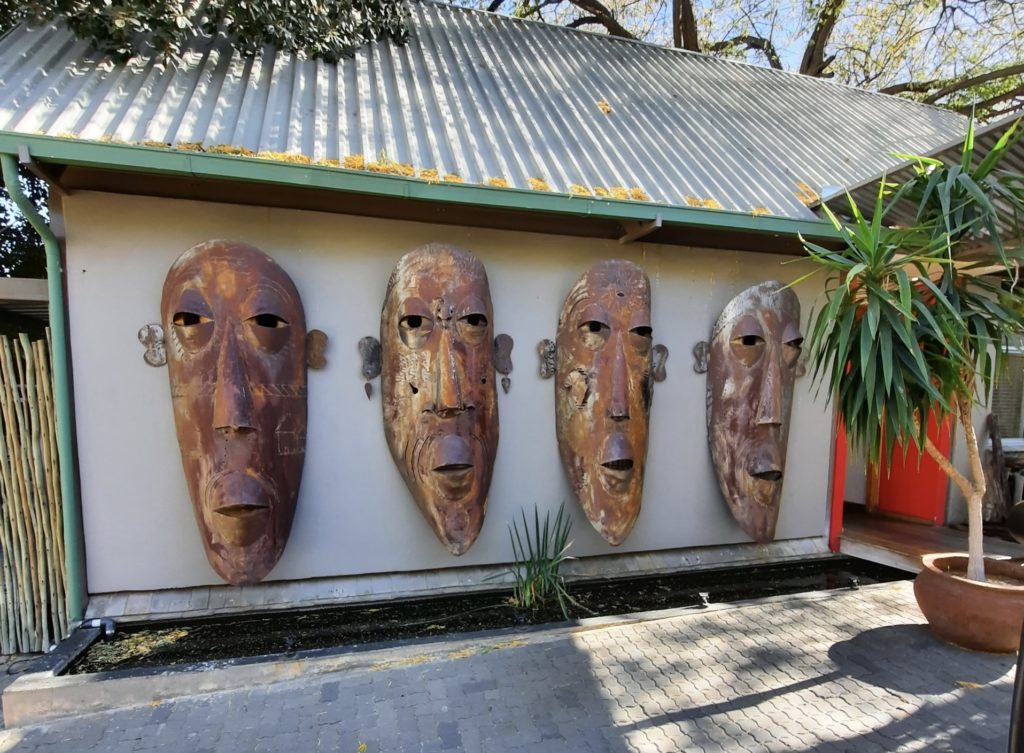 Not long after arriving in Durban from Lome, Adam took us to a 4×4 camping shop in the outer suburbs of Durban. I found an LED strip lamp about 300mm long that I thought would improve the interior lighting in Poki. So, yesterday I decided it was time to wire it in and mount it above the rear door. This will also allow us to read in bed.
Despite the lovely suite, a portable generator went all night long outside the warehouse next door. I'll be looking for a good night's sleep tonight.
Once in-house breakfast was over and Poki packed, we checked out and drove straight to a nearby mall. Rural Namibian settlements have very little in the way of food that we like, so we shopped up big for the next leg of the journey. The mall was massive.
Windhoek
Windhoek is a hilly city and at 1600m above sea level, the air is very dry. Humidity is at 10% and our hands are starting to feel like they are covered in scales. The population is 477,000 with white's making up only 7%. The city is neat, clean and run efficiently. No doubt German influence is still present. We drove past a vast housing settlement with row upon row of small attractively painted houses of the same design, that have been built affordable for the black population. Excellent to see.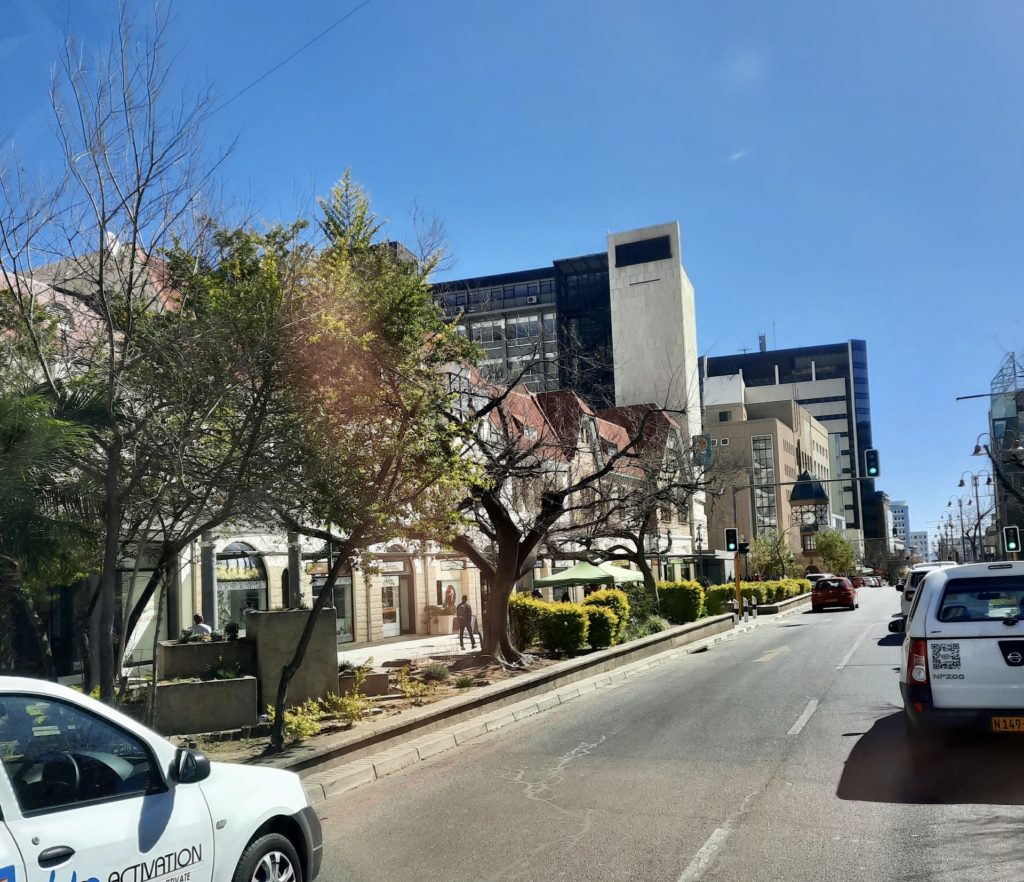 A main city street in Windhoek.
After setting a course for Walvis Bay, out of the city on a beautiful double carriageway we were stopped by a police roadblock. I edged past the stop sign to be in line with the policewoman and she remonstrated with me for not stopping exactly behind the line. Threatened to have me locked up…:) This is the only time in Africa or anywhere else for that matter, that I have had to show my international driving licence. My NZ one did not impress her..:) "This is Africa", she said. I decided not to respond.,,:) She then asked me if I had any NZ currency, I was tempted to ask her if that was a bribe, but kept my mouth shut. It doesn't happen often..:)
The dual carriageway only lasted for about 70k's before becoming a single lane, well maintained road. Speed limit 120kph.
The distance to Walvis bay 290k's and not leaving till after mid day, called it quits at the town of Usakos but had a devil of a job finding the campsite. It's called a Guest Farm but the only animals we could see were of the wild variety. Giraffe's, many different kinds of antelopes, ostrich, crocodiles, and a white rhino.
Note the elevated feeding trough. Nothing else can steal his food..:)
After making our camp about 200m from the farm house I decided to grease the driveshafts. Once that was done we headed back up to the farm house, a lovely open vaulted thatched roof builing, to watch the animals being fed. Later to sit down to a drink and chat with a young German couple who are touring in their rented Toyota camper.
The day has been warm and sunny. For the first time since arriving in Namibia, the air is still warm and it's now 9pm, as I write.
We have just had an update from Adam. Boy, what an interesting time he is having! He has since fwe left him, flown back to France, then by a train to Amsterdam, to obtain a temporary visa to enter Rawanda. It seems he was denied entry at the border. They also denied there is any Ebola in their country, which he refuted. Having secured the correct visa is now about to fly back to Entebe in Uganda. All this to get to Goma in Democratic Republic of Congo. Lets hope we can hear more of his experiences when we get back to Durban. I am sure he in enjoying being back in public service again, putting into practice, his knowledge and experience.
Hits: 45