It's a special day today. Dennis's birthday. His last year in his 70's. He says, next year goes back to zero 🙂
We have been very lucky with the weather. It is two weeks since we left Durban and we have had 12 lovely days and 2 rainy ones.
We were up early this morning, leaving our Camps Bay apartment soon after 0800. It has been a great place to spend 3 nights and to see sights in Cape Town. We rose early in order to be at Table Mountain before the crowds. Or, so we hoped. Yesterday had been a perfect day without a cloud in the sky. Today was not quite so perfect with some cloud. The mountain was still clear though.
On arrival the car park queue, which snakes up the roadside towards the cable car station, was almost as long as yesterday. This didn't bode well. When we walked up to the cable car station, though, the wait was no where near as bad as yesterday. We were on top of the mountain within 20 minutes.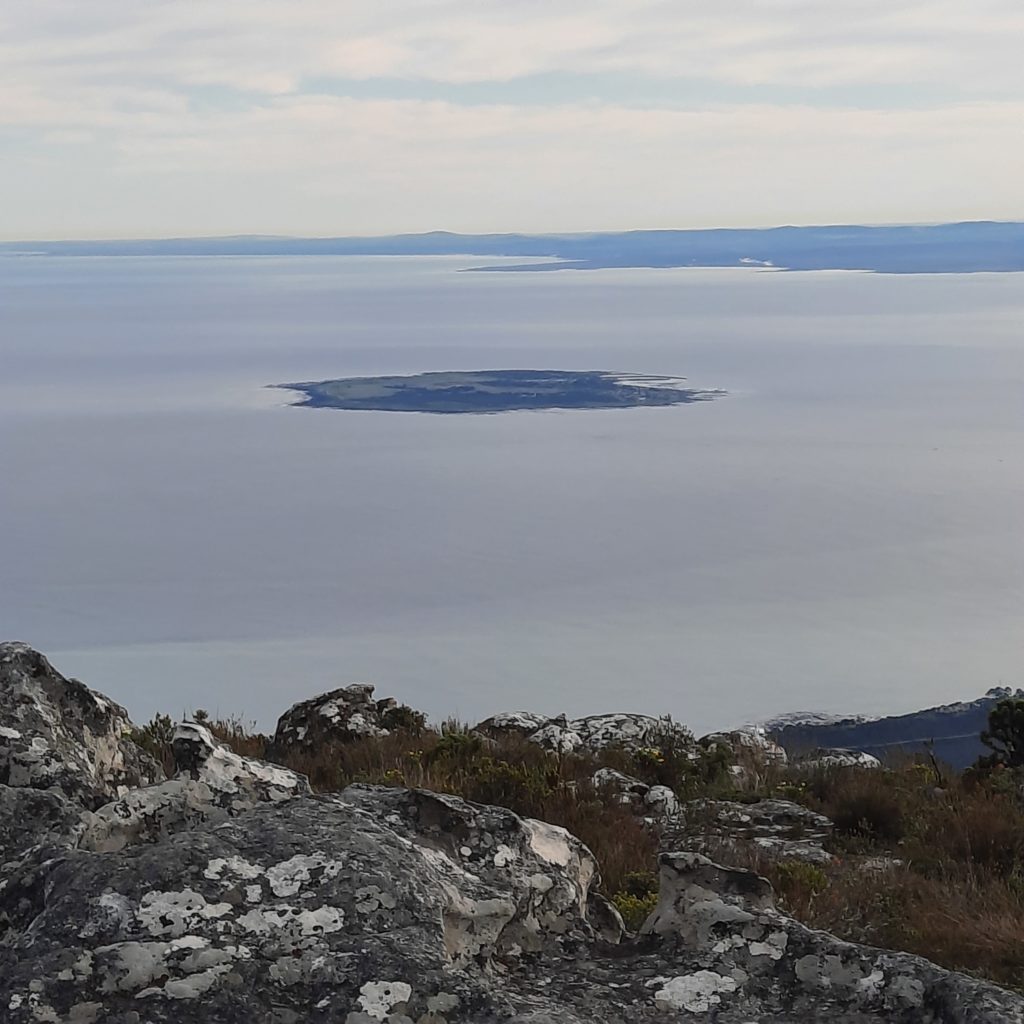 Robben Island. Nelson Mandela imprisoned here for 18 years!
It was bitterly cold. Not windy and beautifully clear now, but decidedly chilly. On looking over the first viewing point on a tiny pinnacle were a group of small animals. We later learned these are Dassies. They secrete a solution on to the pads of their feet to allow them to grip on to the rocks.
Four cute little Dassies huddling against the cold.
Despite the inhospitable climate, the summit is covered in flowers. Mostly tiny, heather like blooms. On the way up the mountain the lower slopes are covered in large flowering Proteas.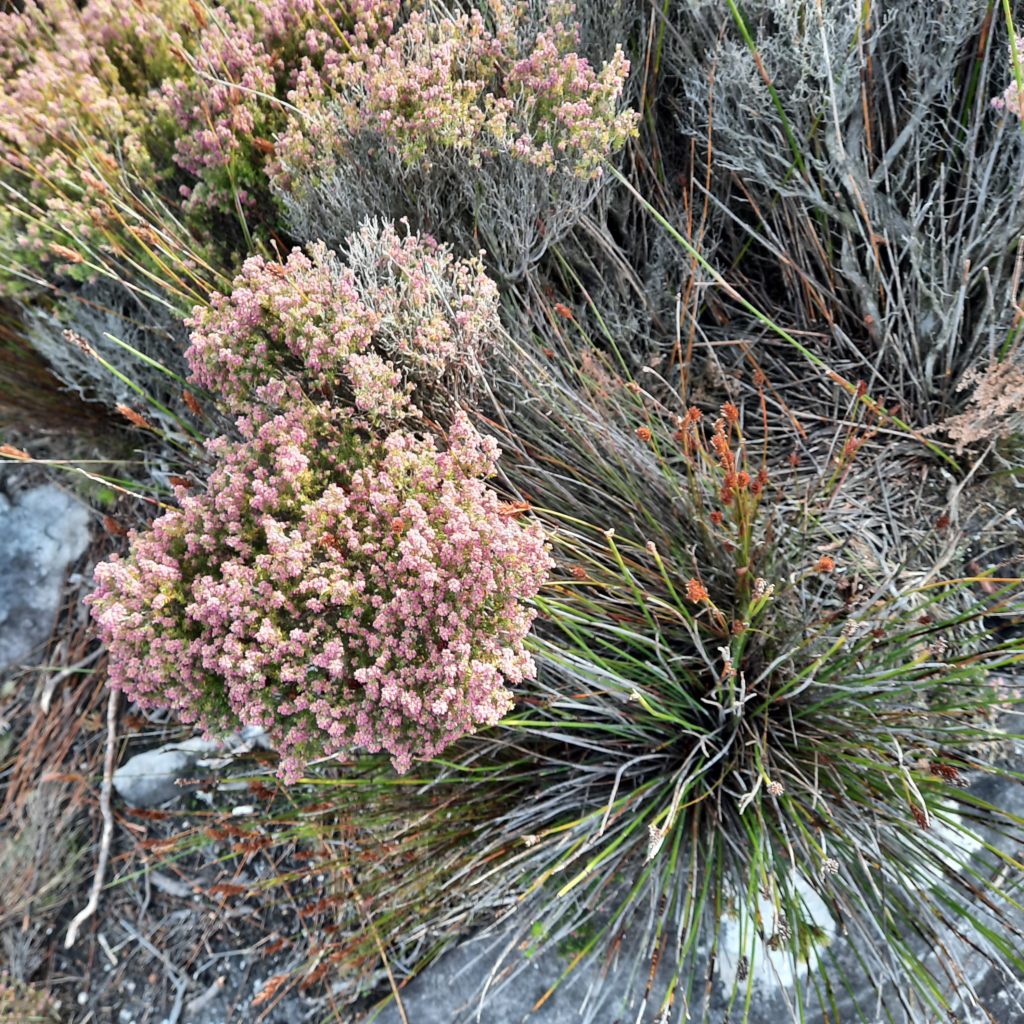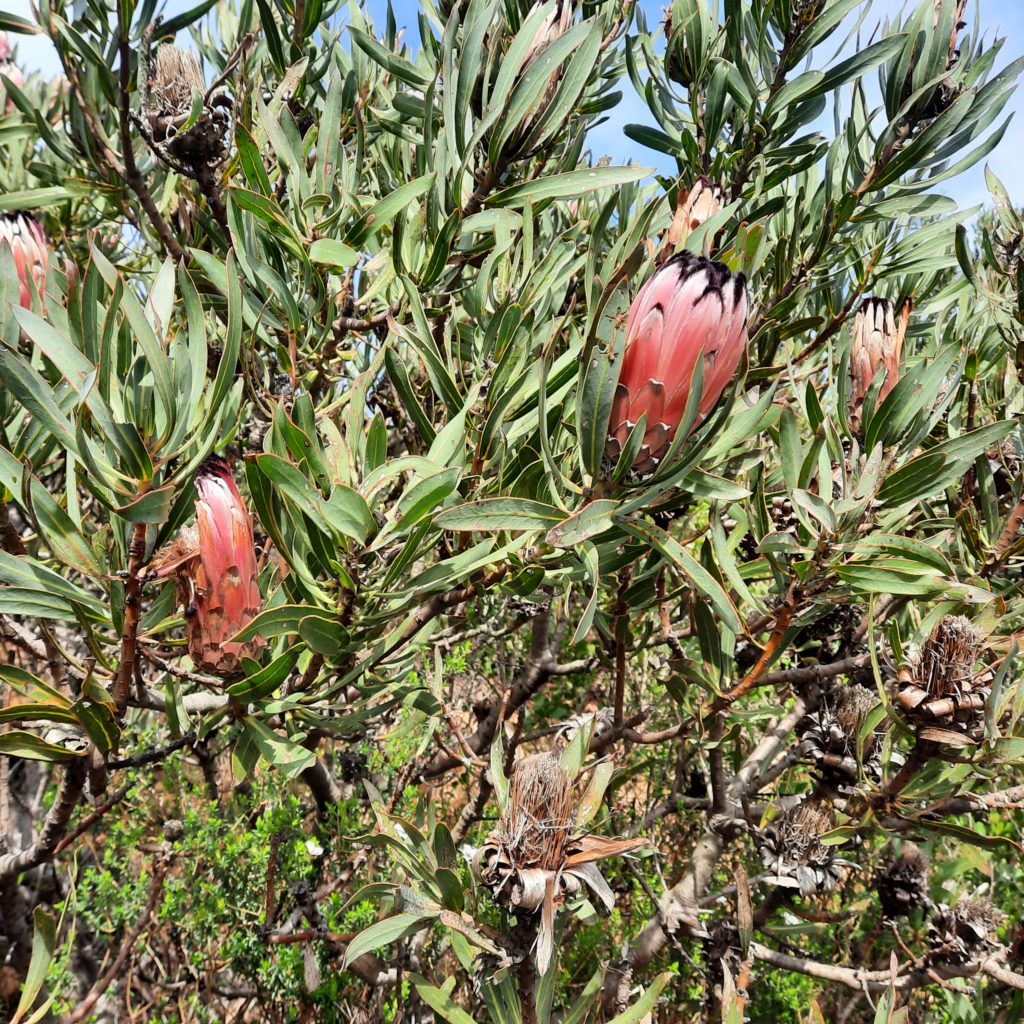 While we were wandering around the summit my phone rang. It was a FaceTime call from Dennis's sister, Liz, in New Zealand. I think she was rather shocked to see us warmly wrapped up in our hoods and anoraks, with the views overlooking Cape Town behind us.
After a circuit of the mountain top we made our way back to the cafe for a hot chocolate to warm us up. I hoped for a nice cafe with a view. It was more like a rugby scrum. Queuing for service with the staff turning out orders as fast as possible. I hate to think what the crowds must be like in the summer, if it is this busy in mid-winter.
Can you see Poki down there?
Back to the cable car, the descent seemed very rapid. We walked back to Poki and headed for a Checkers supermarket, to stock up before we set up up the West Coast, towards Namibia.
South African supermarkets are so well stocked and stylish.
The road, once we had passed the outskirts of Cape Town, was straight, flat and the scenery just low lying scrub. We decided we would camp early and dry out the tent. It had been put away wet. I had found a campsite beside Berg river, but the coordinates must have been incorrect in the iOverlander App, as we came down a dirt track to a locked gate with a "private property" sign.
We went on a short distance and came across a farm advertising, chalets and camping. The owner advised us they only had glamping tents and chalets with their own ablutions and no facilities for campers like us. She advised there were two campsites back in the direction we had come from. We retraced our steps and this time found the correct turn off for Kliphoek River Resort, the place I had originally wanted to find.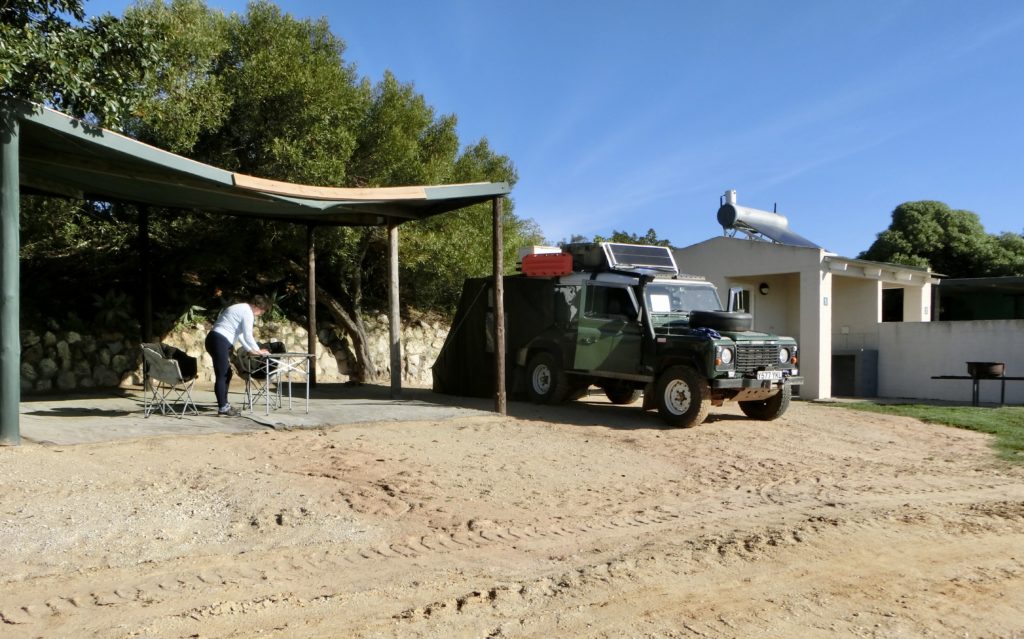 Tonight's camp site.
The campsite is expensive, compared to most. Rand 450. However it is beautifully located and each site has an area covered by shade cloth and its own private ablution block. As soon as we had parked and spread out the tent to dry, a lady turned up with cleaning gear and equipped our bathroom with soap, toilet paper and fluffy mats for the floor. Out side we have our own sink for doing dishes.

There are all sorts of birds. Herons, moorhens, coots, cormorants and pretty birds, similar to humming birds, hovering amount the flowers. It seems amazing that in winter there are so many flowers. I asked if there were flamingos as we had seen a few close to the campsite. The answer was positive, but we are next to the deep river. The Flamingoes are located in the shallower pools beyond the river. We needed binoculars to see them properly.
When we arrived it was beautifully warm and we sat out in the sun. However, as soon as the sun started to go down the temperature dropped dramatically. Once again the sun has set with a gorgeous red sky over the river. Hopefully, another lovely day tomorrow.

Hits: 83