On Thursday 23 March we made our first visit to the shipping agents in Lome, Togo. Three months ago.
Yesterday morning at around 9am we received a call from our agents telling us to be at the container depot in 15 minutes. It's a 30min drive and we had the meeting time changed to allow us to get there for an 11am meeting. On arrival Lucian the shipping agent representative met us and said that the Customs officer had just gone as he had forgotten to bring the paperwork!
It's 12 twelve days since the vehicles arrived in Durban and costs for demurrage (container storage fees) of approximate US$100/day, continue. Today again Adam, Jen, Sebastian, Alexandra and I drove to the depot where we were told we would meet with Customs at 9.30am to have the vehicles inspected. Excitement that at last we were making progress slowly diminished as the day went on.
Today we learned that customs who arrived at around 10.30am, for the 9.30am meeting were not allowed to break the container seal as the Police had placed a Stop on it. That meant Police had to come and open it first.
A police van with 6 Policemen/women pulled into the depot at about 11.00am suitably armed, but they were not able to break the seal either. That was the preserve of a "special VIS" (vehicle inspection service unit). A call had been placed for them to attend. Two officers duly arrived at around 12noon and proceeded to remove the seal and open the doors.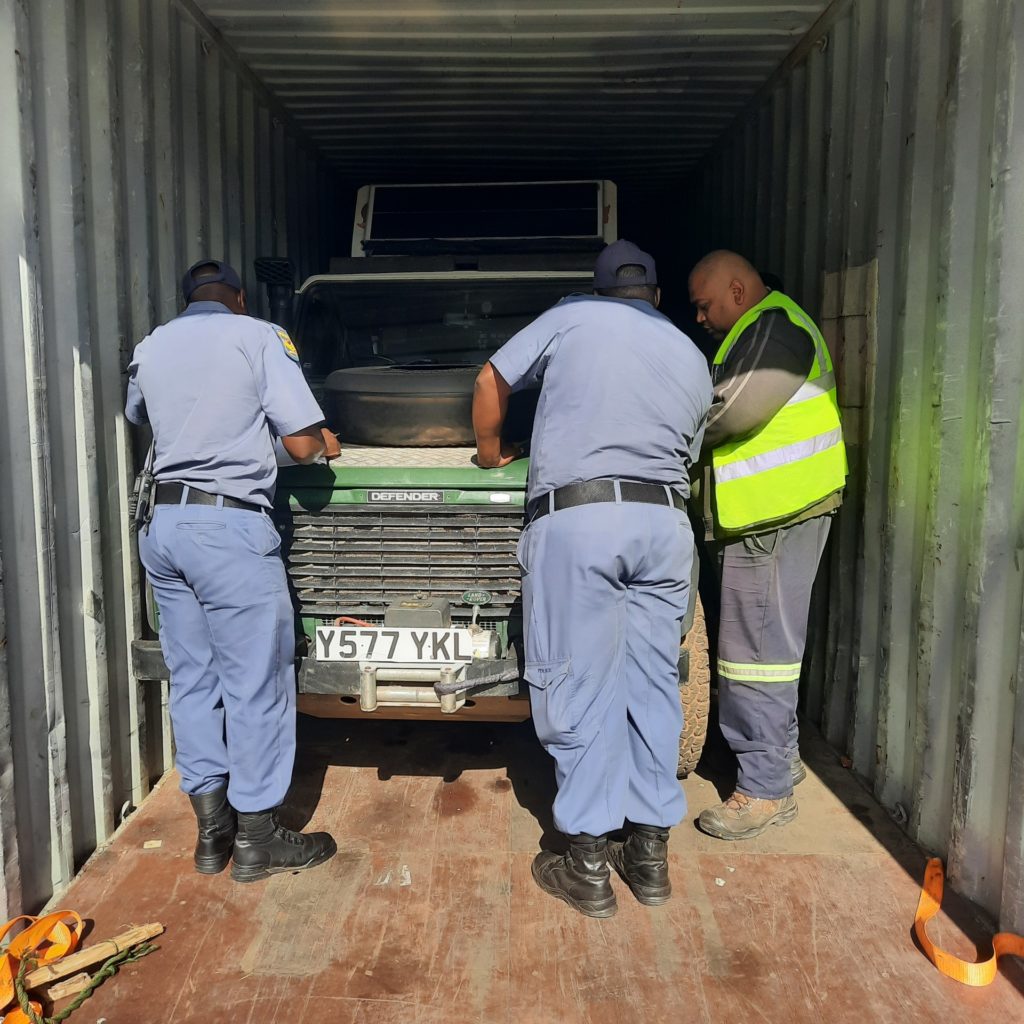 Police and OneLogix investigate
The big moment had arrived. The first thing we found was that the strong tie-down strap holding the front of Poki to each side of the container tie-down points, had snapped. This had allowed the front to slide sideways into the side of the container, denting the driver side front guard.
Resultant scars
Amazingly, other than the dent, the vehicles were in great shape. Dusty but no mould or mildew anywhere that we could see in a short inspection. Sadly, the battery in Poki was dead flat and she had to be pushed out into the sunlight where the solar panels could slowly recharge it. Adam's battery was flat also, despite being disconnected. An attempt to jump start Poki from our rental car battery was unsuccessful as the car battery is too small and not enough power from the alternator to do anything other than make a clicking sound from Poki's starter.
Meanwhile Alexandra and Sebastian had been waiting patiently to be taken to OneLogix head office to uplift their motorbike's Carnet. At 1.30pm while waiting for further developments at the depot we shot back to OneLogix office to pick up the Carnet's, before office closing as they had booked their flights back to France tomorrow Thursday and did not want to leave without them. Then returned to the depot.
Being unable to start either vehicles we were obliged to push them back into the container and a new seal was applied to the door. For how much longer?
Scary!
On the drive back home traffic was slowing on the motorway, there was a full blown fight going on between five black males on the median strip between the lanes. A motorist ahead of us pulled to the roadside and crossing the two lanes fired a bullet from his revolver into the ground beside, and very close to the group. That certainly got their attention and the fight ended abruptly. The motorist simply walked back through the traffic to his car and joined the flow.
What next?
It's now Friday 23rd. The SARS (South African Revenue Service) computer was updated last weekend with new software. Today we were told that there are issues with the new software and would we please be patient while they rectify the matter.
This is turning into a nightmare with four agencies involved, the shipping company, SARS, SAPS (South African Police Service), and OneLogix the shipping agents, and nobody seemingly able to resolve the matter.
As soon as we get clearance, we now have an emergency jump starter pack (below) that will get the engine running. The watch is for scale. Can you believe it!
I uplifted some items out of Poki including my treasured, unchargeable Casio camera and the charger for Jen's Nikon camera. I think I had mentioned camera problems earlier in West Africa. That is now a distant memory as Adam managed to find and buy a generic battery charger locally and we now have both camera's operative again. This Casio camera is like Lazarus being bought back from the dead…:)
Update.
Our shipping agent has just advised us that we are not alone in waiting to clear our shipment. It seems there are ships, and trucks stuck at ports and land borders unable to pass, clear or discharge their contents. All as a result of a computer software upgrade. Who is responsible? When will it be resolved?
Hits: 187