Dennis had improved overnight and was well enough to drive a short distance. We decided we would head over the border into Togo and to the mountain town of Kpalime. 
Our bedding had been soaked in sweat, so before we left I washed our pillow cases and sleeping sheet and hung them out to dry in the sun. By 10am they were dry and we set off.
We decided to head for a remote border post. For two reasons. We had read on iOverlander that this border would issue a transit visa for CFA10,000, instead of the multi entry visa which costs CFA35,000. Also we hoped it would be speedy with few people crossing here.
First we arrived at the Customs Office. Adam had a TIP, Temporary Import Permit, which needed to be cancelled and we needed to get our Carnet de Passage stamped. The two girls in the office managed to sort Adam's TIP out but didn't have a clue about our Carnet. After telling them what to do, we managed to get the necessary stamp and were on our way to immigration.
Here we had to complete the same forms that had been completed when we arrived in Ghana. Only this time we completed them ourselves, rather than the officials completing them on our behalf. Much quicker! We were then stamped out and free to pass through the gate into Togo.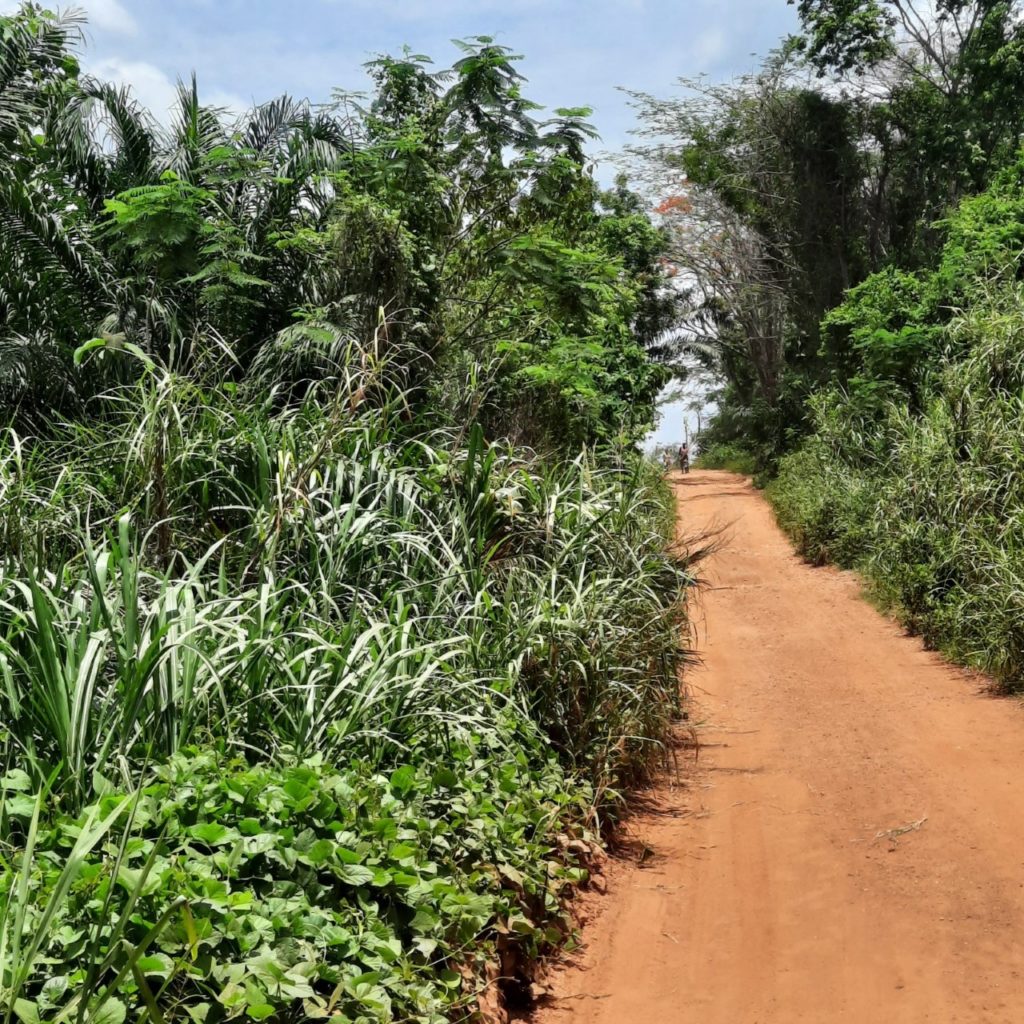 We travelled on a red dirt track for a short distance before we were stopped by a rope and wooden constructions across the track. Next to this was an ordinary house with goats and chickens and a woman cooking in the back. Two young men approached us and said they were "military". There were no uniforms or any signage to say so.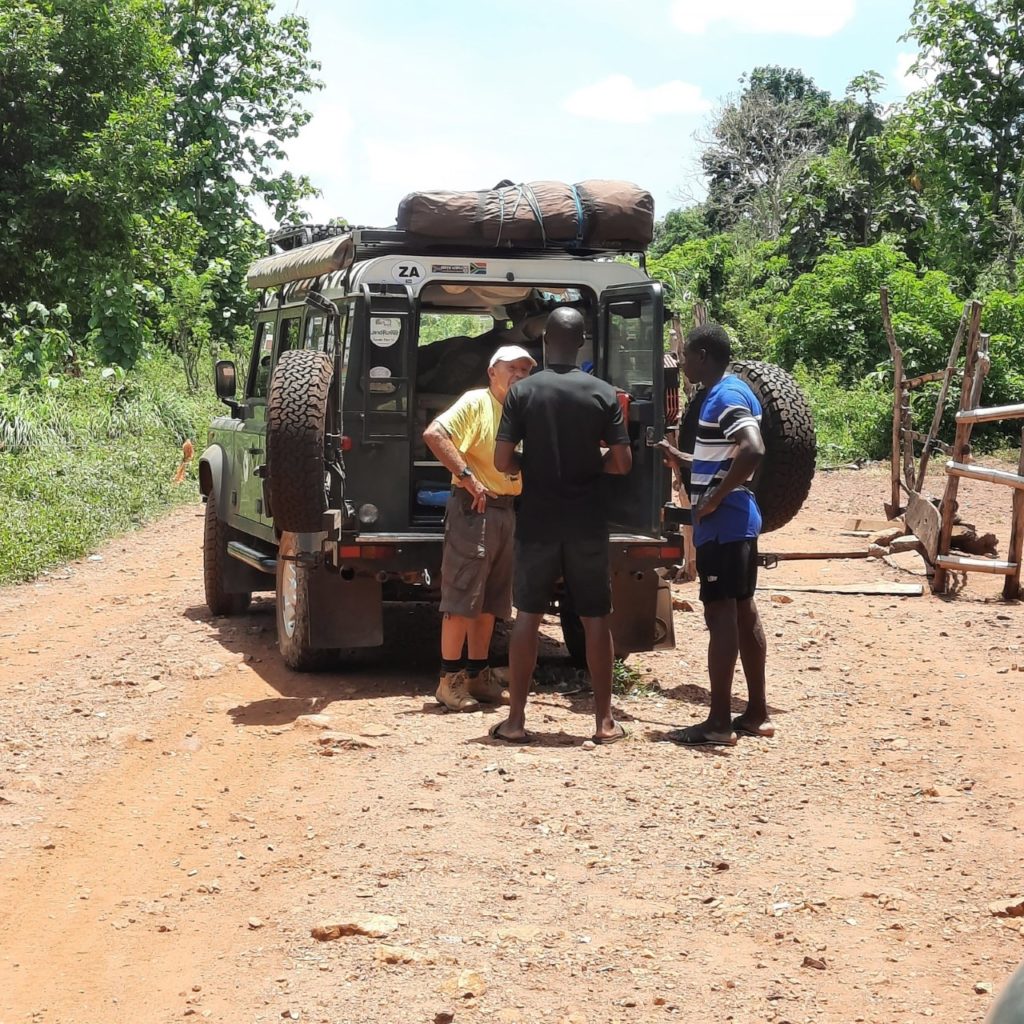 A protracted discussion took place with Adam in French. They wanted to know what we were doing, where we were going and to search our vehicles. Adam humoured them at first but discussions went on and on while we sat in the hot sun. Eventually Adam showed them his South African Reserve Police card, as they were getting difficult. This seemed to do the trick. They removed the rope and we drove on.
It was several kilometres down the dirt track before we came to Togo Immigration. A shack. The immigration officer was friendly though, but advised he could only issue us with the CFA35,000 multi entry visas. The problem with information on iOverlander is, not that it is incorrect, but there is no consistency. In Africa rules don't seem to apply in the normal way. They can be changed by the interpretation of the person you are dealing with. One immigration officer will tell you one thing, and another officer something different.
It took a very long time to issue our visas. The most elaborate creations of several stuck on stamps, handwriting and ink stamps. Dennis sat in Poki in the shade under a tree while Adam and I waited. Then we had to go to the other side of the shack to have all our vehicle details recorded.
Still not finished, another 5 kilometres or so down the very rough track to Customs. Here Adam needed a Laisser Passer. Why some countries issue a TIP and others a Laisser Passer, makes no sense. The Customs lady, who was lying on a bed asleep when we arrived, roused her self, invited us to sit, put on a big fan and disappeared. She returned a bit later with a Laisser Passer book.
Again there seemed to be a lack of knowledge regarding how to complete the paperwork. The lady telephoned her boss who came from another office across the road. He took one look at the Carnet I was holding, took it from me and promptly stamped it. He also must have told the lady what to do with Adam's Laisser Passer, as she managed to produce it for Adam.
We then set off for the town of Kpalime and the Geyser Hotel. It didn't exactly meet up with the write-up online, but we decided to stay anyway as we were tired and hungry. Adam wanted to sleep in his vehicle, but we had an air conditioned room, with a warm shower. The air conditioning wasn't working well, so the manager also bought us a fan.
It was extremely humid and clouds had been building. Soon we heard thunder and there was a heavy rainstorm. It cleared the atmosphere. We were pleased it had not happened earlier when we were driving on the rough dirt track through the border posts. We would quickly have been in mud and deep puddles.
We ordered dinner in the restaurant and were pleased with the outcome. The best meal we had had for some time. After which we retired for an early night.
Hits: 102