Breakfast at Hotel Berah was underwhelming. Bread and croissants with strawberry jam and tea/coffee. Too much bread. We seem to have bread with every meal. It is giving me a spare tyre. Especially as we are doing little exercise. Got to stop!
It was overcast and humid this morning. Most mornings have started off cooler, but since we have been having rain, it has got really sticky. It doesn't suit me. Yesterday when we checked into the hotel it took an age as the credit card machine wasn't working. No wifi. Standing at the reception desk in the sweltering heat the sweat was pouring off me. Embarrassingly the receptionist handed me a roll of loo paper to wipe my dripping brow
Yamoussoukro might be the capital city, but it is very quiet. Lovely wide, two or three lane boulevards. Our drive to Abidjan is all on motorway. It is a toll road, but the tolls are very little. Traffic is quite heavy with many buses and trucks. If only all the roads could be like this.
We pass plantations of all sorts. Some very large banana plantations with the bunches of bananas protected within blue plastic bags. I think these must be for export. This leads me to wonder what the main exports from Cote D'Ivoire are. Google advises that the top three are cocoa beans, rubber and cocoa paste.
We also pass many rubber plantations and palm plantations. We presume these are for palm kernel/palm oil. It is difficult to pick out cocoa. I think because the trees are not tall and are very leafy. The pods grow on the trunk and so aren't easy to see in among the foliage.
As our journey progresses, the type of vegetable available changes all the time. At the moment there are avocados and tomatoes a plenty. Also an ugly, unappetising looking root vegetable which we think is manioc. Apparently this is also more widely known as cassava. Cassava apparently has to be prepared and cooked in a particular way to avoid cyanide poisoning. I don't think we'll be trying cassava any time soon. I also learn today this is what tapioca is made from.
I wish it would rain as it is desperately hot and sticky. We are progressing beautifully and I send Adam a message to tell him we are about 70ks away and will be at the Abidjan hotel in a couple of hours, as we intend to stop for lunch before we get to the city.
Mechanical issues
A few minutes later Dennis says something is wrong, we are losing power and soon come to a full stop on the side of the road. We put out the obligatory triangle behind us as a warning and Dennis investigates under the bonnet. We are joined by a young local guy from across the road, who comes to "assist". Quite frankly he's in the way, but he hopes he is being helpful enough to earn a few shekels.
Nothing untoward is found in the engine. Dennis is already laughing at my mechanical ignorance, as I try and clarify the problem with him. He thinks it must be a fuel issue. No fuel is getting through. So, he thinks he knows the answer and climbs on the roof to find a replacement fuel filter. While we are stranded Sebastien and Alexandra come past. They stop to see if they can offer any assistance, but we assure them we will be fine and we will see them at the hotel in Abidjan.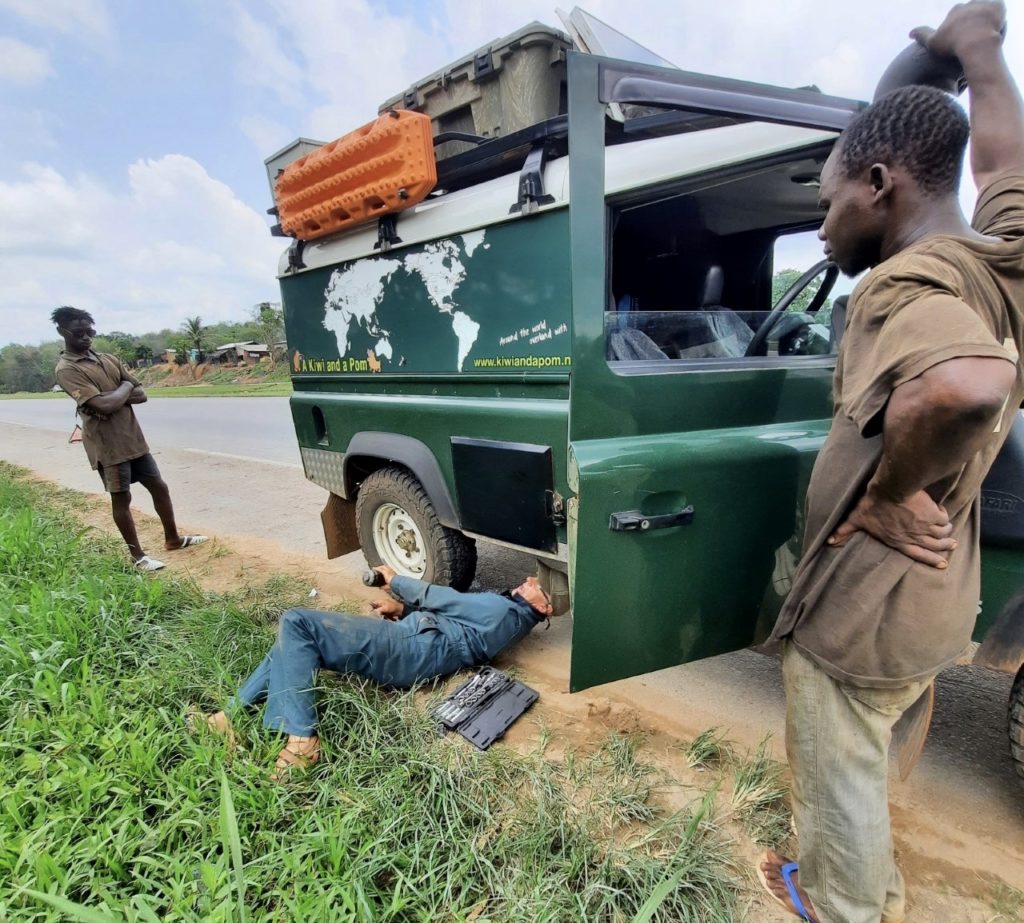 I try to keep us hydrated with water as sweat is liberally flowing. It didn't take long to change the filter and with a quick bit of help from Google to check the restarting process, Poki sprung back to life and we were on our way again.
Stopping soon after for lunch in a lay-by, we were soon joined by a small bus which pulled in behind us. The passengers, all young men, piled out and began singing, while the driver effected some mechanical repairs. Bus mended, the singing stopped, they all pushed it to start, jumped back on and were off again.
Arriving in Abidjan
Abidjan is a huge city. 5.6 million inhabitants. It is the country's largest city and the commercial hub. As we reach the city the traffic becomes horrendous, but we manage to keep moving. Slums are all around us. It is supposed to be a city of contrasts. Extreme luxury neighbouring extreme poverty.

All the surrounding country's embassies are here and we need to visit several of them next week to try and get visas, or find out the procedure for getting visas, for Ghana, Togo, Benin and Nigeria. We also need to visit some shipping company offices to find out shipping possibilities, if it isn't possible to get into Nigeria.
When we reached the hotel, Adam had met a lady from Namibia, Nitta, who said she had a good contact in Ghana who can give us a letter of invitation, to assist with our visa application. She has taken all our details and sent them to her contact. We wait to see what happens. We spend sometime trying to fill in the Ghana e-visa application form. It is somewhat complicated.
Restocking the larder.
Next we decide to visit the Casino supermarket which Sebastien tells us is just a few minutes walk away. Casino is a French brand. It is very well stocked, but as everything is imported the prices are hefty. We get a bit carried away and then realise we have to walk and carry everything back to the hotel. Dennis has packed a box which he rushes back with and then comes back to help Adam and I. Adam isn't doing very well as his carrier bag handles have all broken!
We relax for a bit, then join the others in the bar. After which we adjourned to Poki and cooked chicken and veggies for dinner, followed by fresh pineapple.

Hits: 99