Journey to Bubaque
To be honest I had never heard of the Bijagos Archipelago until this trip. A group of 87 islands. several of which are protected reserves sheltering various species of wildlife, including Orango, which is the home to rare salt water hippos. The islands belong to Guinea Bissau and are scattered off the coast from the capital, Bissau.
We travelled to Dakosta Eco Resort. Our accommodation, which was in two large glamping tents, was organised at the last minute by the Manager of Residence Almagui, where we stayed last night and where we left Poki during our island trip. We were advised because of Carnival, which is currently taking place in Bissau, this was the only accommodation left on Bubaque.
Up early to get to the port for the boat departing at 1000. In the taxi Els and Lars, who accompanied us, laughed and joked that it was like going on holiday with their parents. We corrected them, saying more like grandparents. They are young, only in their 20's. Adam decided he would remain in Bissau.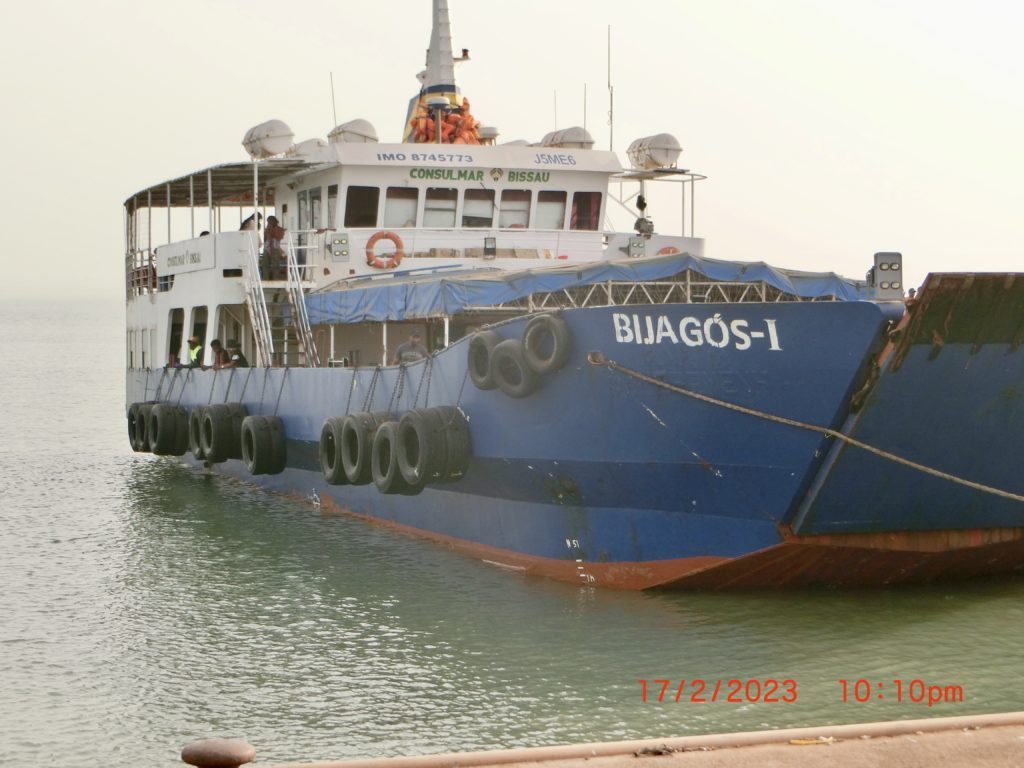 Tickets for the boat were 4 times more expensive for "foreigners". Return tickets cost us CFA65,000, 100 Euros. The journey time to the archipelago's largest town, Bubaque, on Ilha de Bubaque took 4 hours.
It was very hazy and a young French guy chatting with Dennis advised it was due to dust being blown from the Sahara. It was rather disappointing, but it did seem clearer one we approached Bubaque.
We passed a fleet of very large Chinese fishing vessels. We counted at least 6 with their huge nets totally depleting the ocean. What on earth are they doing fishing in these waters we asked?
On arriving at Bubaque we were greeted at the dock by a group of drummers and dancers in National Costume. A very spirited performance. We weren't sure if this was a greeting for all arriving passengers, or just because it was Carnival.
We had been advised we would need to get a tuk tuk to transport us the the Dakosta Resort. Fighting our way through the crowd we approached several tuk tuk drivers. They were asking ridiculous prices to take us to Dakosta. We declined them all.
Starting to walk, we thought one might come after us with a better offer. We found one parked at the side of the street and a fare of 11,000 was agreed. Sitting on the bare bars on the back of a tuk tuk, wasn't very inviting. Some volunteers quickly picked up a wooden platform which was inserted in the tray of the tuk tuk and we piled in.
Our driver was very young, probably about 14. The journey was very much longer than we thought, Dakosta being on the far side of the island. The journey took the best part of an hour on appalling bumpy tracks with frequent ducking to avoid overhanging vegetation. We eventually arrived at Dakosta with sore backsides and seriously in need of rest and recuperation.
Dakosta Eco Resort
We were welcomed with fresh coconuts. The entrance took us through the dining area, bar and to a seating area overlooking the beach. We passed a magnificently carved dug out canoe, cleverly turned into a dining table. The whole area was framed with beautiful trees, plants and all sorts of local carvings and masks. Overlooking a tranquil beach, with some very inviting thatched day beds, the thought of relaxing for a while was becoming very real.
It was rather disconcerting to be approached by a non-English speaking member of staff who appeared to be asking for payment. We thought this a bit much and managed to agree we would sort out payment later when the owner arrived.
A swim in the beautifully calm ocean followed, although we had been warned to watch for sting rays in the sand. Fortunately the water was clear so you could see where you were putting your feet. We were advised to sort of shuffle into water disturbing the sand, so any lurking rays would be scared off. I am pleased to report no rays were encountered.
After spending some time lounging on a day bed and after a quick shower, we moved to the seating area, ordered some beers and played cards. Lars and Els taught us a game we have not played or heard of before. Not sure if it's a Dutch game.
A large plate of oysters with a spicy sauce were delivered. Sadly not fat, juicy oysters but small, rather dried ones. This turned out to be our starter. We were then invited to a table, not the long carved canoe one I mentioned earlier, as this had been reserved for a Spanish tour group, but our own table in another dining area.
Our main course was fish with rice, some cubed fries and veggies. Desert was papaya. Sadly just a few squares each.
Before retiring we met the owner, Adlino Dakosta, a Bissau-Guinean-American kickboxing champion. We briefly discussed the accommodation costs, before retiring. When we arrived the tent was boiling hot. Fortunately it had cooled down completely. We left the zip slightly undone to allow the breeze from the ocean to waft in and were soon asleep.
Hits: 62