Leaving Dakosta Eco Resort
Dennis was convinced no taxi had been arranged for us. I slept badly, worrying we would not wake up, despite having set an alarm for 05.45. At at 02.30 Dennis said we should get up and walk to the port. I told him not to be ridiculous and to go back to sleep. Apart from the distance, how would we find our way in the pitch dark along a track through the jungle.
At 05 .00 I got up and there were no lights on. I found my way to the toilet by the light of my phone. Soon after I came back to bed, the lights came on. A good sign I thought. We were up for breakfast at 06.00 and tea and coffee were waiting for us. Soon a large bowl of papaya appeared and then "Kosta", as we had been calling him, came and asked if we would like an omelette. Dennis asked if the taxi was coming, Kosta advised it would be here, but I don't think Dennis was convinced.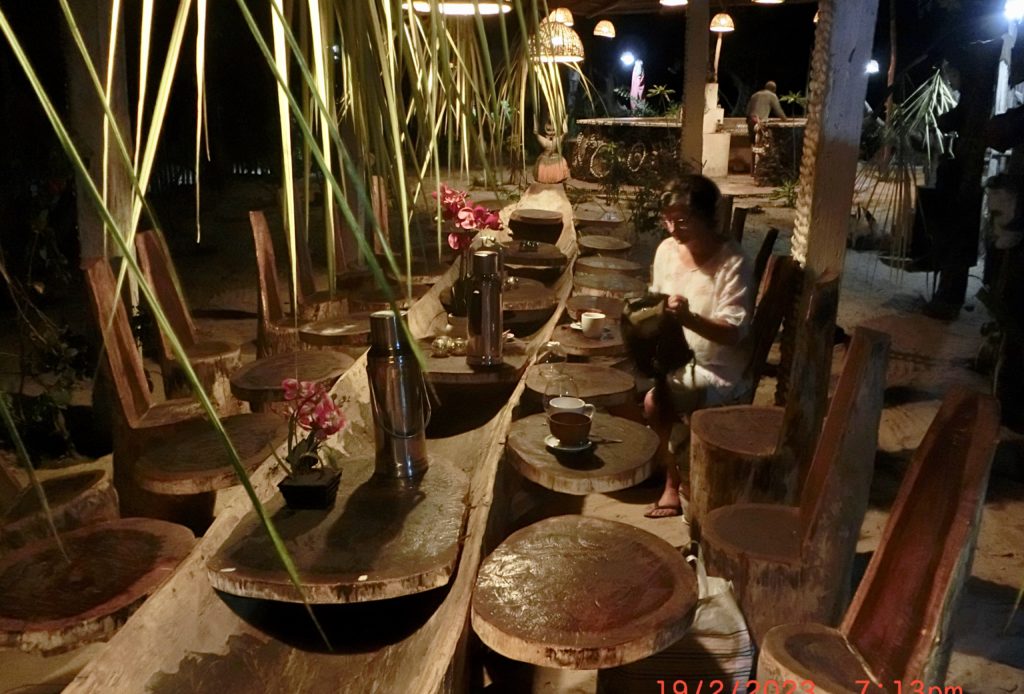 After finishing our omelette the 06.30 deadline for the taxi came and went. Dennis disappeared to the toilet and as soon as he had gone I saw the lights of the taxi approaching. By 06.45 we were on board but the tuk tuk taxi wouldn't start! This was a luxurious proper tuk tuk taxi with padded seats, not like the, what Dennis tells me was a motorcycle truck, we came over on. Two of the resort staff then joined us and with Dennis's advice the driver managed to get the taxi going.
We roared off through the dark jungle path at a considerable rate of knots and arrived into the port in great time at 07.35. By now it was daylight. Buying tickets was easy, despite the commotion from a squealing pig which was being picked out of a wheelbarrow with both front and back feet tied together. It was being loaded onto the boat and obviously didn't want to go. I thought it was going to escape and knock me flying.
The boat left on time and the journey was spent sharing Dennis's book, The Last Overland. Each reading a couple of chapters, then handing it over and dozing for a bit. The journey seemed to go much faster than the outward crossing.
Once back in Bissau we headed for the ATM which we knew was just outside the port. We seem to have spent comparatively vast sums of money in the last few days. We then bought bread for lunch, found a taxi and headed back to be reunited with Poki. The traffic was light and we were back quite quickly.
Adam was still in situ but surrounded by other new arrivals. The 2 French motorcyclists we first met in Ziguinchor, the Dutch couple in the short wheel base Defender, who were also in Ziguinchor and the the French/Belgian couple who are friends of Lars and Els. By the end of the afternoon another Toyota with a Swiss couple and another Defender with two Germans also arrived. Now we are 5 Defenders and 2 Toyota's with a multinational selection of adventurers.
After a swim in the pool – a luxury which has not been on offer anywhere else we have stayed, we spent most of the rest of the afternoon catching up with correspondence and the blog. Not having any wifi at the Dakosta Resort we were way behind. I quickly managed to do some washing, but we still have a large pile. Keeping up with the laundry is a nightmare.
We had another pasta dinner together with Adam. Adam has been checking things out in Bissau in our absence and now knows where we have to go for our Ivory Coast visas, a good supermarket and where we can renew our vehicle insurance which will expire at the end of the month. We will sort these things out tomorrow.
Hits: 80