Much warmer this morning and a cloudless, beautiful day. While we are having breakfast Adam realises he has left his fuel cap behind at the last refuelling stop yesterday. He decided to drive back for it. Aziz, the campsite host, tells Adam there is a new road he can take back to Ouarzazate, which is quicker. The petrol station is the other side of Ouarzazate. It is a long way back, 160k.
We agree to meet later at a campsite in Tata. While Adam is away, Dennis does some work on Poki. There is a problem with some bearings, but I'll let Dennis explain the technical details. While Dennis is doing this, I take the opportunity to clean the fridge. Dennis also does some sorting out of his box (we each have a box for our clothes and personal possessions). In the process he also looks behind the seats, where various bits and pieces tend to gather. What does he find. His missing camera. It's not lost after all. He is ecstatic.
It is late before we get going. 12.40. The drive is easy, though. Ochre coloured hills and green oases along the way. Where there is a river and water the date palms are flourishing. We stop in Foum Zguid for some vegetables. We have passed few shops today and fresh food stocks are running low.
We are now on the N12 which is taking us towards the coast. The road borders the desert and we see a few camels. It is more rocky desert than sand here. It is an easy drive to Tata where we have arranged to meet Adam. Hardly any traffic and a good, sealed road. It is definitely getting warmer.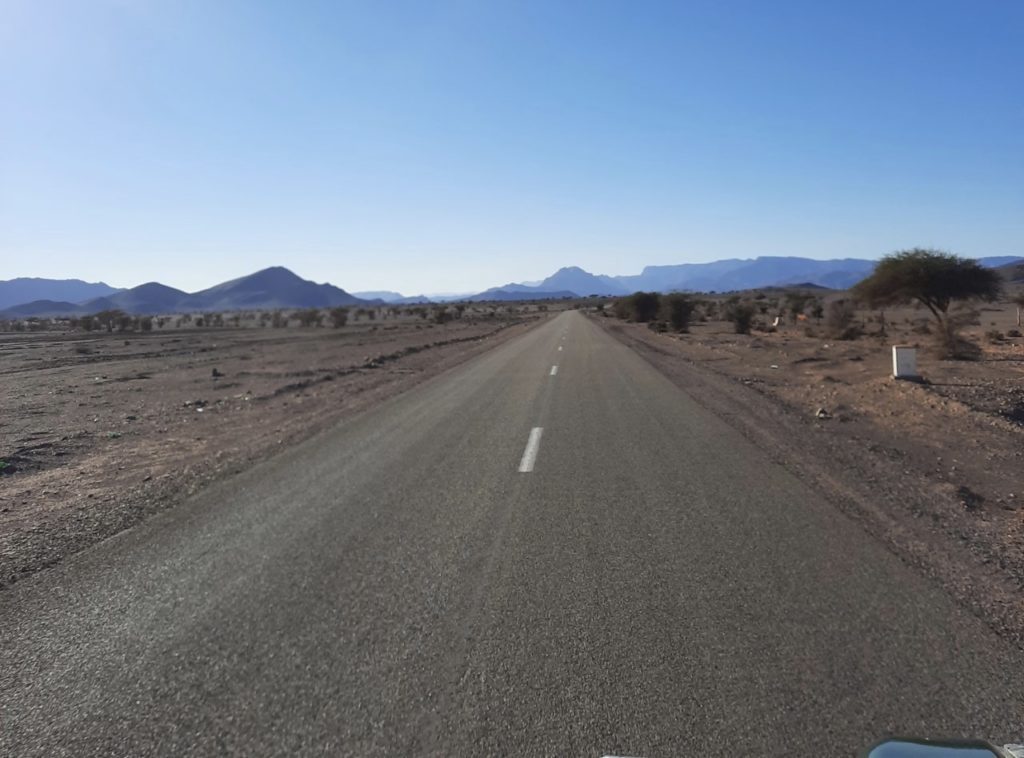 Campsite in Tata.
We find the campsite, Camping Le Palmier, easily and turning into the gates we are shocked to find it full to the brim with camper vans, mainly German. Fortunately there is an overflow site. Not perhaps so attractive, but nice and quiet.
We set up camp on a beautiful, warm sunny evening and I set about preparing a pasta dinner. We have no idea what time Adam will arrive, but anticipate he will be tired and hungry, so I cater for 3.
Perfect timing, Adam arrives while the pasta is cooking so we dine together and discuss his experiences in retrieving his fuel cap, which with a lot of effort he has achieved. Apparently the new road advised by Aziz took him to an as yet unbuilt new development. To get to the main road to the fuel station was rather a palaver, crossing through fields.
We have made a sad discovery. We have lost Luci. Luci was the plastic, solar lamp Sarah and Tim gave us when we were in Mexico. She was a solar charged lantern and gave a lovely defused light. We had put her on the bonnet to charge in the sun and obviously drove off without retrieving her. Very annoying. We are going to have to get more organised and check we have everything before we leave.
I was tired and wanted to sleep, but Dennis wanted to use the campsite WiFi to download pictures in the blog. Earlier the WiFi had been very slow as everyone was using it, Later on it was better. He also wanted to watch a YouTube video about how to remove the drive belt. I fell asleep.
Hits: 40