The camp last night had wifi. Hooray! The only problem was there must be 50+ French & German camper vans on the site and I think everyone was connected. However, we managed to download several days journeying and photographs. Jen was berating me for waking her at around 1am frantically loading photos while most people were sleeping and the normal 10minutes to load one photo, was down to around 3min.
There is a marked rising in temperatures as we have descended to under 1000meters and further south west.
Departing Tata
While camp was packed up by around 10am, it took us an age to clear town. Stopping to buy food, look for more Croks for Adam and a cash machine to obtain more Dirham's. Item prices are hugely inflated in this town. Europeans are everywhere. Occupants of camper vans and the locals have adjusted prices accordingly. The exchange rate is around D11 to a Euro. Diesel is approx D14.3/L much better than European prices. The challenge is to find a petrol station that takes a card. The trick is to minimise the local cash you have when crossing borders.
Driving today has been splendid. Long unpopulated, recently sealed roads. Sun shining. I'm back into shorts and T-shirts. Poki and Zikit whispering along at around 90kph.
Passing through towns, there is a gradual transition from Arabic nationals, to African.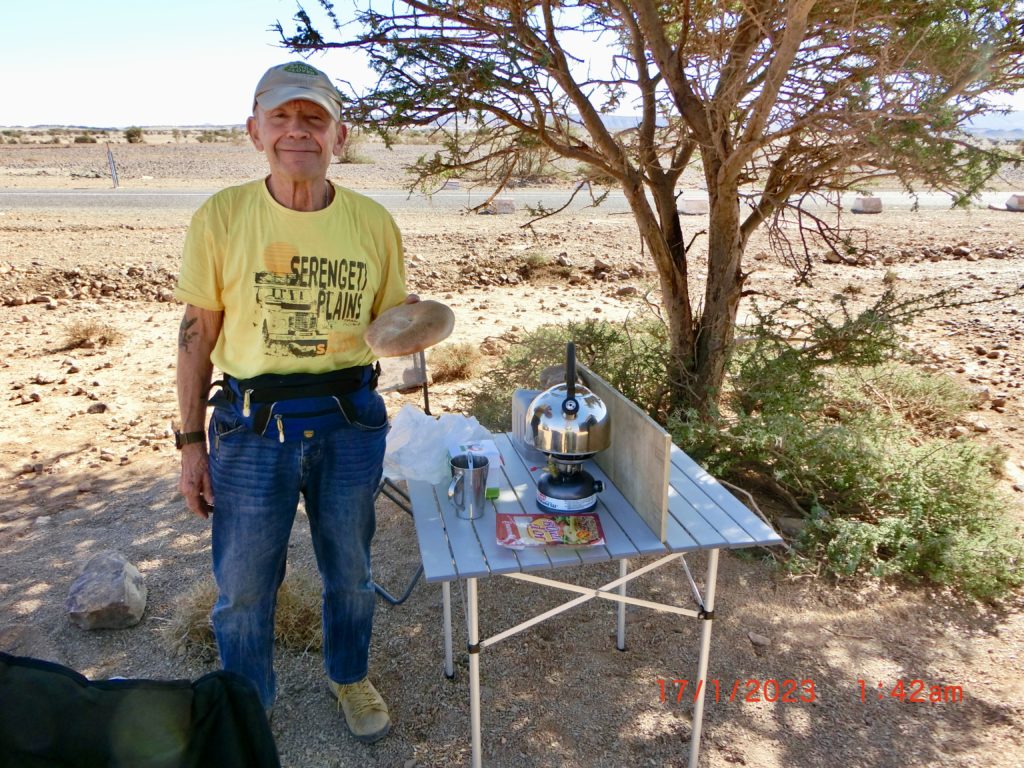 This is the first day we have had to take shelter from the sun, beside the main road, under an Acacia tree. Table up to boil the kettle on and chairs out too. This more like it.
Our original hope was to reach the coast 470k's away. However, the late start and constant stops to buy bread etc. and take pictures, meant that by 4pm we were 120k's short.
Bou-Izakarn.
Bou-Izkarn
This camp is a very friendly, hospitable one, about 600m off the main road, down a rocky track. Well laid out and the sites nicely divided with plantings. Facilities, meagre but clean and most services working. The camper vans are nearly all French occupied. Very sociable people. All campers wee invited to take tea sitting around a table. There was not a chance for us to contribute to chat as everyone else were French.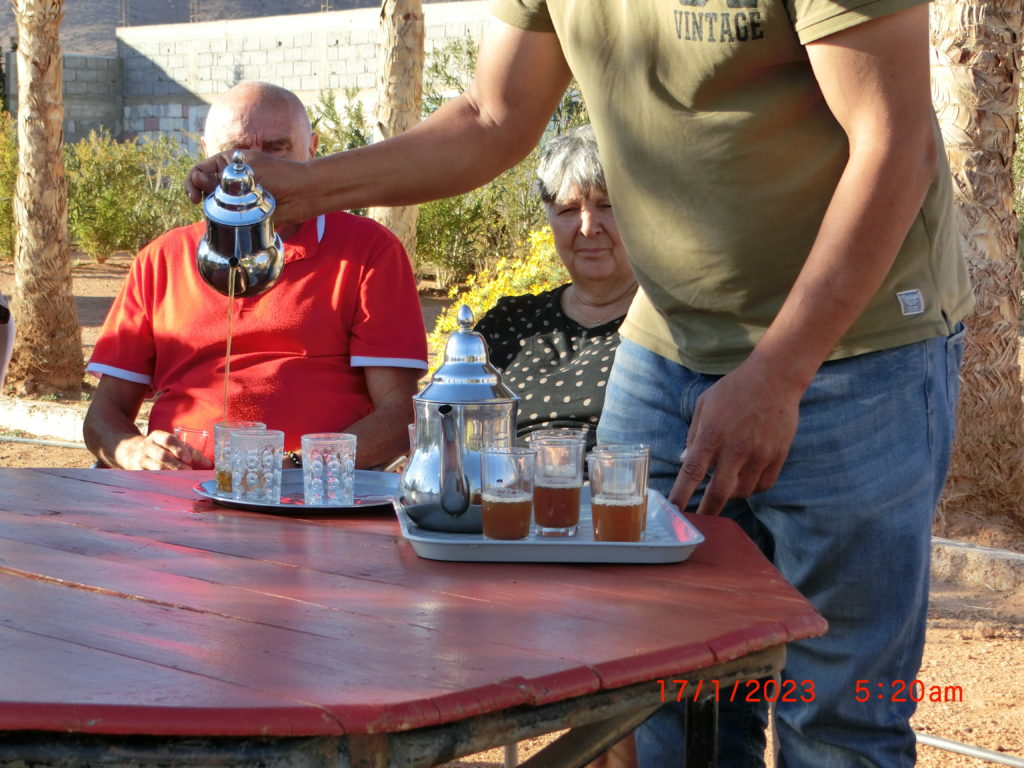 Mechanicals
It's clear that the two idler bearings on the engine drive belt are less than optimum. Once warmed up they are silent but for a few seconds there is a squeal on start-up.. A small shirt of WD40 onto the shaft quietens them immediately. When we get another day off I'll remove them, drill a small hole in the slinger of each and inject some grease in then seal it with silicone. While they are out, will measure them and try and source some new ones locally.
I have to say that the combination of Li-ion battery and Redarc management/charging system is proving brilliant. We are never short of power and can keep camera's, fridge, lights, computers and radio transmitters charged and operating without concern for supply.
Oh! As Jen has mentioned, I've found my Casio camera, but now lost my new Croks. As Kelvin said, I'll have to careful not to loose my ……:)
Hits: 43