An interesting night
The wind had subsided over night. The sky was ablaze with stars.
The sun didn't appear over the horizon till around 8am casting a pink glow.
The rock in this area has been eroded by wind blown sand and has become filigree.
The desert beautiful. Still and peaceful. I was worried about being covered in a film of sand by morning, due to the roof vents being open, but it wasn't so. They must have been above the level of blown sand.
Not having to pack the tent this morning allowed us to get on the road by 9.15am.
It took us an hour and a half to reach the Moroccan border with Mauritania. Getting through it though was another matter. Mindless gross inefficiency in layout and cooperation with different services. There must have been ten big trucks ahead of us in the queue.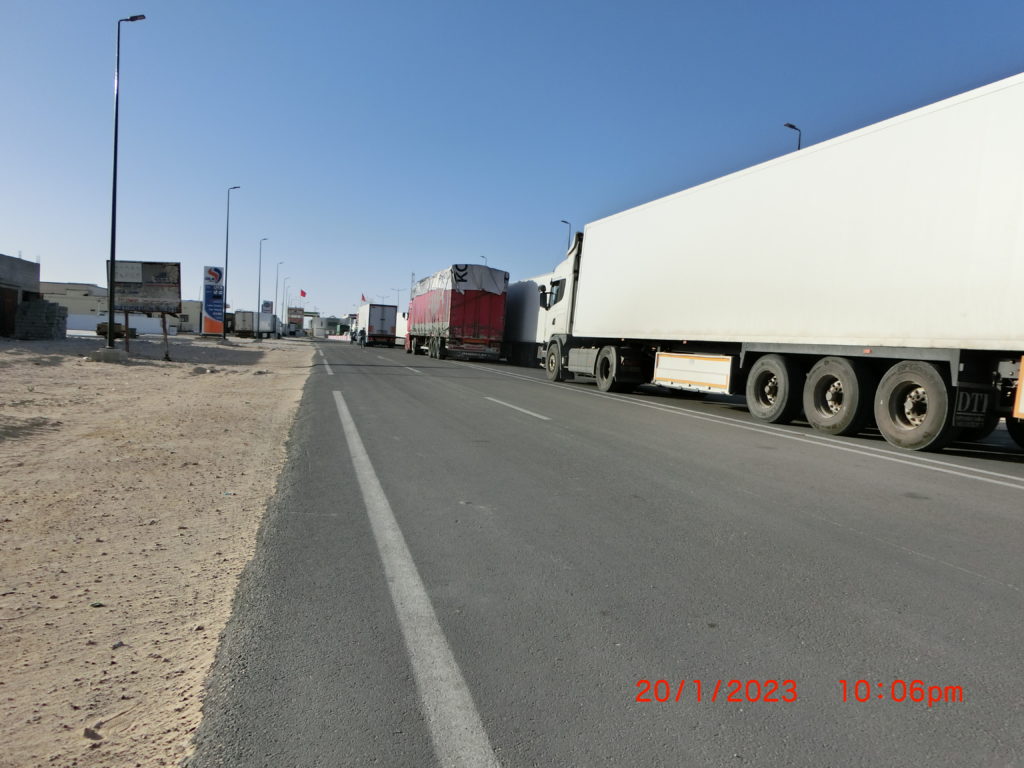 Again we were scanned by a mobile scanner then had to find our way through the minefield of different officers. Once formalities were nearly over, we were directed to park amongst the trucks. An officious officer demanded our vehicle card and wandered off to talk to another official. Adam came to the rescue again with his sharp intellect and fluent French.
It seems the official was incensed by the tiny line on our map dividing Morocco and Western Sahara and was trying to think of a way to punish us for our gross ignorance and insult to his country…:)
Adam was able to point out that these people were from the other side of the world and ignorant of such matters. The official, looking quite the part with his immaculate uniform, peaked cap and aviator sunglasses returned our card with a wide condescending smile and bid us adieu. That was nearly the end of formalities except for two more officials, each requiring to see our passports before completing the transition to no-mans-land. It must have taken us three hours.
Mauritania
There were "enablers" waiting outside the Moroccan border waiting to "help" the tourists negotiate customs on the Mauritanian side. Adam has been through before and negotiated a price of €15 for each car to help us through. If the Moroccan side was chaotic, it's nothing compared with the Mauritanian one. Thankfully our "fixer" skillfully guided us through rooms with computers covered in dust and with a new SIM card we were on our way in two hours.
The next three hours saw us in another world. Small tumbledown shacks in the sand..
Another desert camp
Time again is advancing and there are not signs of a suitable place to camp. We have set the sat-nav for Nouakchott, the capital, 450k's away. Again we are getting desperate we can't agree on where to stop so I make the decision and drive out into the desert and set up camp about a kilometer away from the road.

The wind is blowing hard and sand laden. Once again we decide not to erect the Caranex. Once the sun had gone down the wind subsided and it was bliss. Camels and herder pass.
Hits: 78