Dakhla
Dakhla is located at the end of a long narrow peninsular. After our late arrival and not very successful camping, we decided in future we must try to stop by 4pm and will wild camp rather than stay in scruffy locations with no facilities. Most of the camper vans and trucks parked near us were windsurfers. It appears windsurfing is the reason for most visitors to this part of the world.
As yesterday had been such a long day, we decided to have an easier day today. So, we packed up at our leisure and decided to go into the town of Dakhla, which is located at the very end of the peninsular. It is a town under expansion, like many in Western Sahara. Streets lined with palm trees, fountains or sculptures on roundabouts and elaborate street lighting.
We have been amused by the lighting. It is the first thing to be installed and most towns have areas of street with beautiful lighting, but nothing else. We have discovered the reason for the large amount of spending on roading and infrastructure in the Western Saharan towns. The funding isn't coming from China, as we thought it might be, but from the US.
Apparently an agreement was reached between Donald Trump and the King of Morocco. In exchange for Morocco's agreement to co-operate with Israel and allow an Israeli embassy to be established in Rabat, the US would provide Morocco with financial support.
In order to colonise Western Sahara, it appears most funds are being spent here rather than in the north. To the consternation of some. Apparently tax breaks are also being offered to entice settlers down into Western Sahara too.
While we are talking of political matters, we heard the surprising news that Jacinda Arden, the New Zealand Prime Minister had resigned. The reason given, "burn out". There will be an election in October. The Labour Party, which Jacinda leads, has become extremely unpopular due to it's divisive policies. Has Jacinda resigned as a new leader may have a better chance of winning the election? Or, are there other reasons, yet to be revealed.
We did some shopping in Dakhla and stopped for a coffee before setting off back up the peninsular.
Onwards towards the border
Onwards to the border
We were quite late getting on the road south and it was still over 300k to the Mauritanian border. Another day of long, featureless roads. Lots of nothing. Western Sahara is one of the world's most sparsely populated countries. The occasional hill or glimpse of the coast line. In the afternoon the blowing sand meant that even these views were blotted out. A bit like being in a blizzard.
Time was getting on and our stopping by 4pm rule was already broken. We decided to push on so we would be closer to the border for an early crossing tomorrow morning. We were also looking for an ideal wild camping spot. Difficult in surroundings which are dead flat with nowhere to shelter from the wind or be private.
Adam thought if we could find a track to the coast, if we were camped close to the sea, we would escape most of the blowing sand. Eventually we found a track which would take us to the sea. Or so we thought. We went ahead and after a short distance got stuck in the sand.
Dennis got a chance to deploy the tyre deflators he had brought from New Zealand. This allowed the tyres to be rapidly deflated to a predetermined pressure. With wheels spinning, he reversed out. Then, however, it took a while to pump the tyres up again.
By now it was after 6pm so a camping spot was becoming urgent. We soon found a rocky sand ridge which we were able to shelter behind. Even here the wind was severe and the sand blowing everywhere. In your eyes, mouth, hair, all over. Quick decision. We would not put up the tent. It's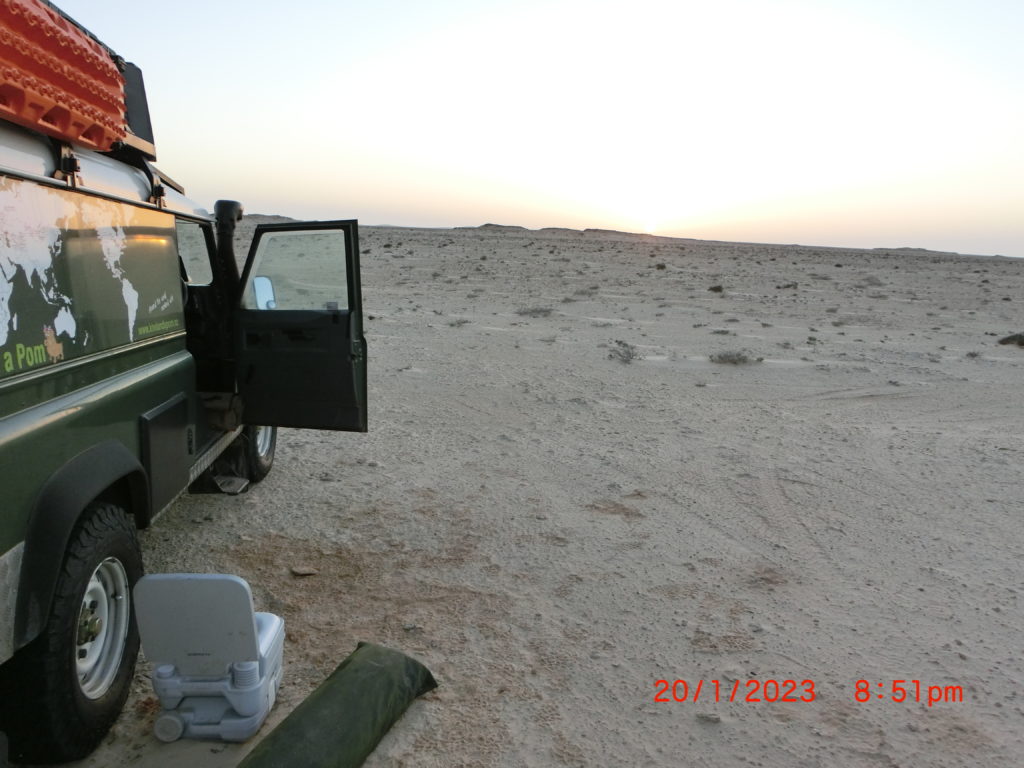 not easy to cope with us and everything we normally store in the tent, being inside Poki, but can be managed. As the daylight departed, we snuggled up in Poki, cooked dinner and retired.
Hits: 77