Leaving Bellevue Camp near Moulay-Idriss
Hallelujah. It's a lovely morning. A beautiful blue sky day. Poki is filthy after all the rain, spray and mud so Dennis spends time cleaning her. We then try and get some of the dirt off the Caranex tent and dry that out too. Finally on the road just before midday.
Before we left a gentleman came along selling his wares, very persistently. I am now the possessor of a colourful Berber hat, which I will never wear! Adam also has a wooly hat, which he thinks might be useful in cold weather in the mountains.
Meknes
We are 20ks from Meknes, a sizeable town, where we stop to let Adam try and find some shoes for showering. Unfortunately he has lost the pair he had, leaving them to dry on the back of Zikit, forgetting they were there and then driving off. Being different nationalities, we sometimes talk different languages. Adam calls them thongs, Dennis calls them jandals and I call them flip flops. Misunderstandings could arise if we're not careful!
Leaving Meknes we are heading for the Mid Atlas Mountains. We pass shepherds with their flocks of sheep grazing beside the road. What is noticeable is the appalling amount of litter everywhere. Strewn all over the verges and grazing areas and in the rivers. The small villages also tend to be very dirty. The towns, however, are much cleaner and more modern. An enormous amount of road building has gone on recently and is still continuing. At the entrance to towns there are police check points. We are just waived through with a smile.
Azrou
We stop again in Azrou, a pretty town, for cash from an ATM. Climbing out of Azrou we enter cedar forests. Here there are monkeys. The truck drivers in front of us throw them something edible. They are obviously quite tame and expect to be fed. We stopped for lunch in what we thought was a quiet spot. In no time at all, sellers appeared. Pots of honey and polished stones. We also see storks nests on lamp posts and any sort of tall pillars.
The countryside has been mainly cultivated up until we reached Azrou. Olive groves are particularly prevalent. As it's winter most fields have been ploughed, many using horses or donkeys and we don't know what crops will be planted. There are small, black donkeys foraging all over the place. We think they must be wild. The area is also a fruit growing one. The trees are bare so it's not possible to tell what they are, but the area around Midelt is famous for growing apples.
We are heading for a campsite 20ks north of Midelt, Ksar Timnay. We stayed here last time we came to Morocco in 2016.
Wednesday, 11th January
This morning we awoke to terrible news. Dennis's sister, Liz's husband, Chris had suffered a heart attack and died. Chris was the most loveable man. Always willing to help, able to put his hand to anything, full of fun and laughter. Chris was only 71 and will be greatly missed by Liz and all the family.
Still chilly early on. Today we are heading to Er Rachidia, for another look for Adam's "thongs", then on to Goulmima, where we hope to camp. It took much longer than anticipated as we stopped several times to take photographs in the Gorge du Ziz.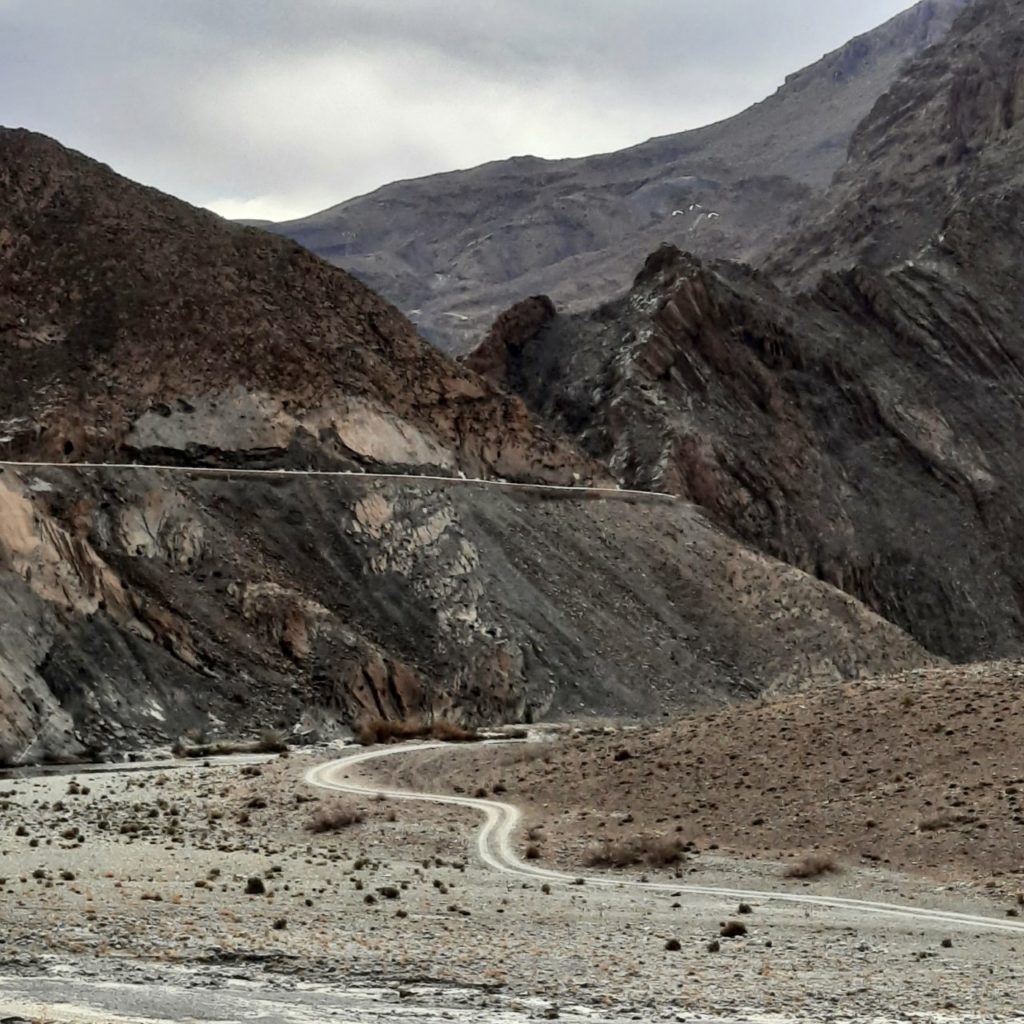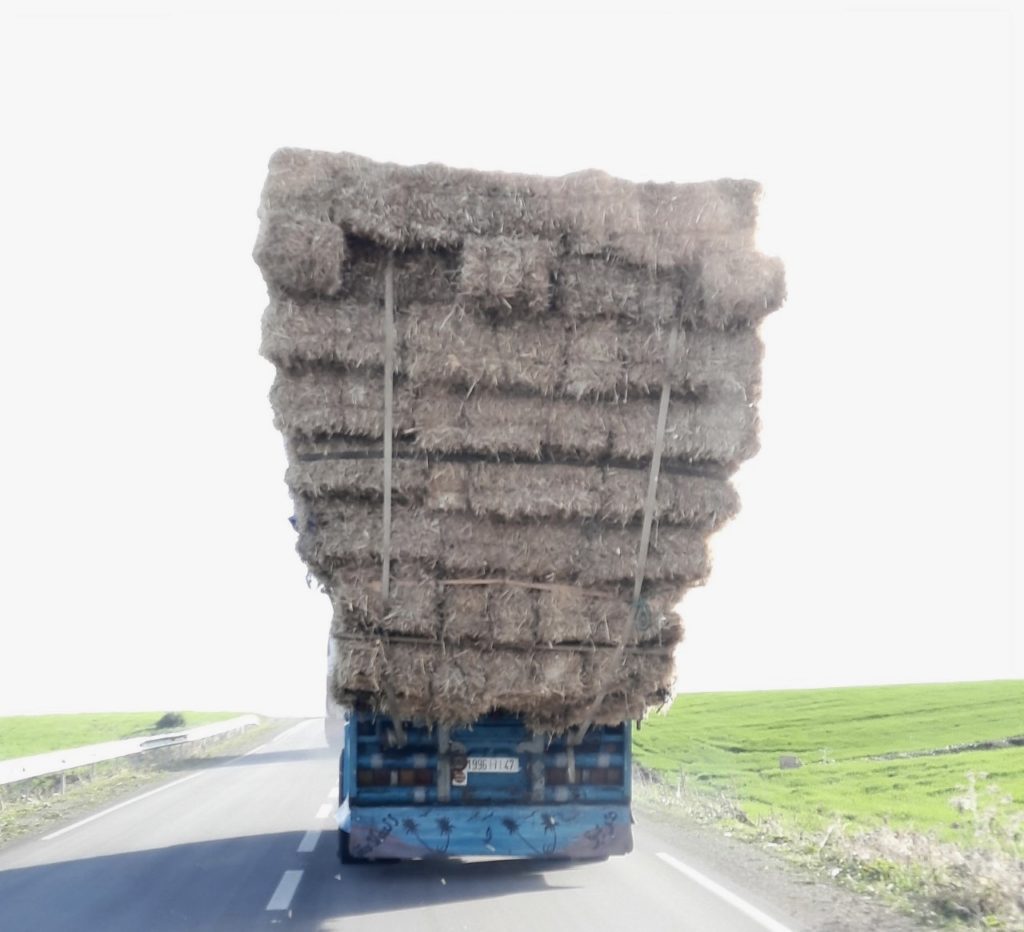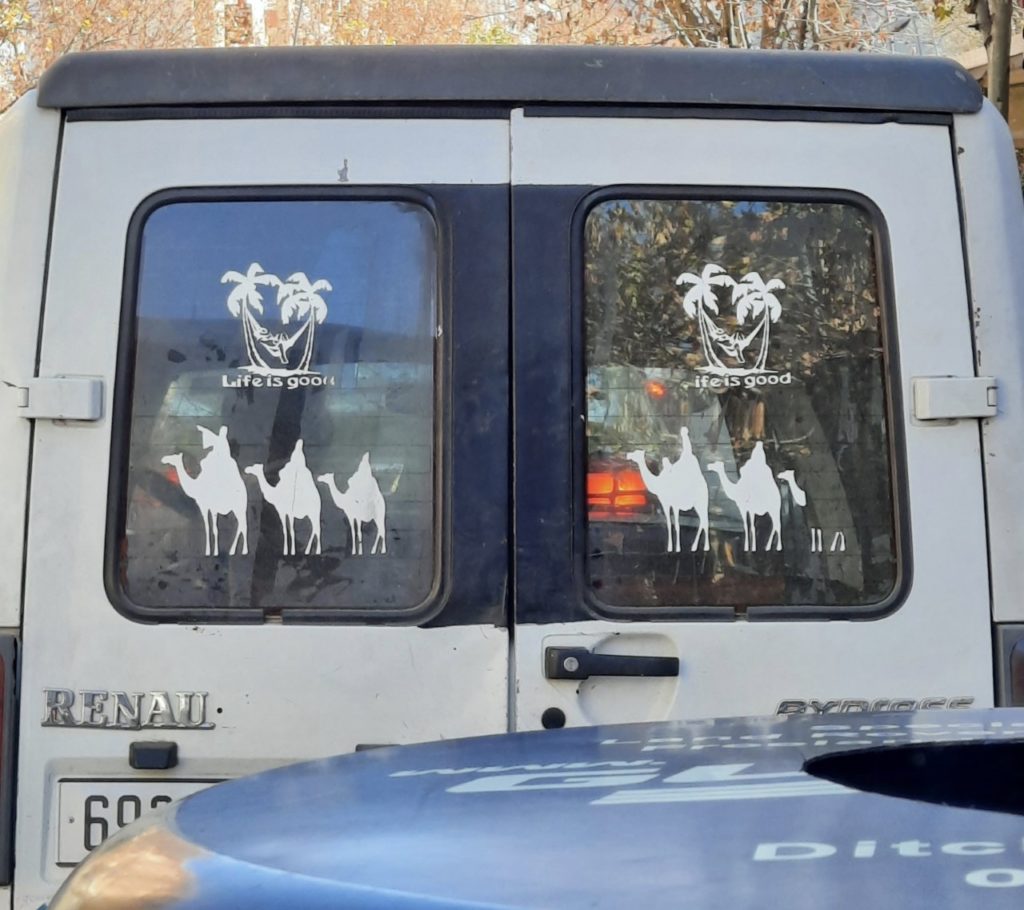 At our lunch stop a small boy came to sell us some camels woven from reeds or flax. He also had an amazing amethyst. An egg shaped black rock with fabulous purple crystals inside. We said we would buy it for EUR 10. I thought Adam and I would share it. It was broken into 2 parts, but Adam insisted he buy it for me as a gift. He is just so generous. Adam also bought a camel, in exchange for allowing Adam to take photos.
We searched the streets of Er Rachidia for Adam's thongs. In the process of jumping in and out of the Landrover to ask shop owners if they had any for sale, Dennis managed to lose his camera. Not the best of days today.
The road from Er Rachidia was quiet and remote. Arid and surrounded by mountains. We descended into the oasis of Goulmima and through back streets. Here we met several shepherds bringing their flocks home for the night. It didn't look promising as a location for camping.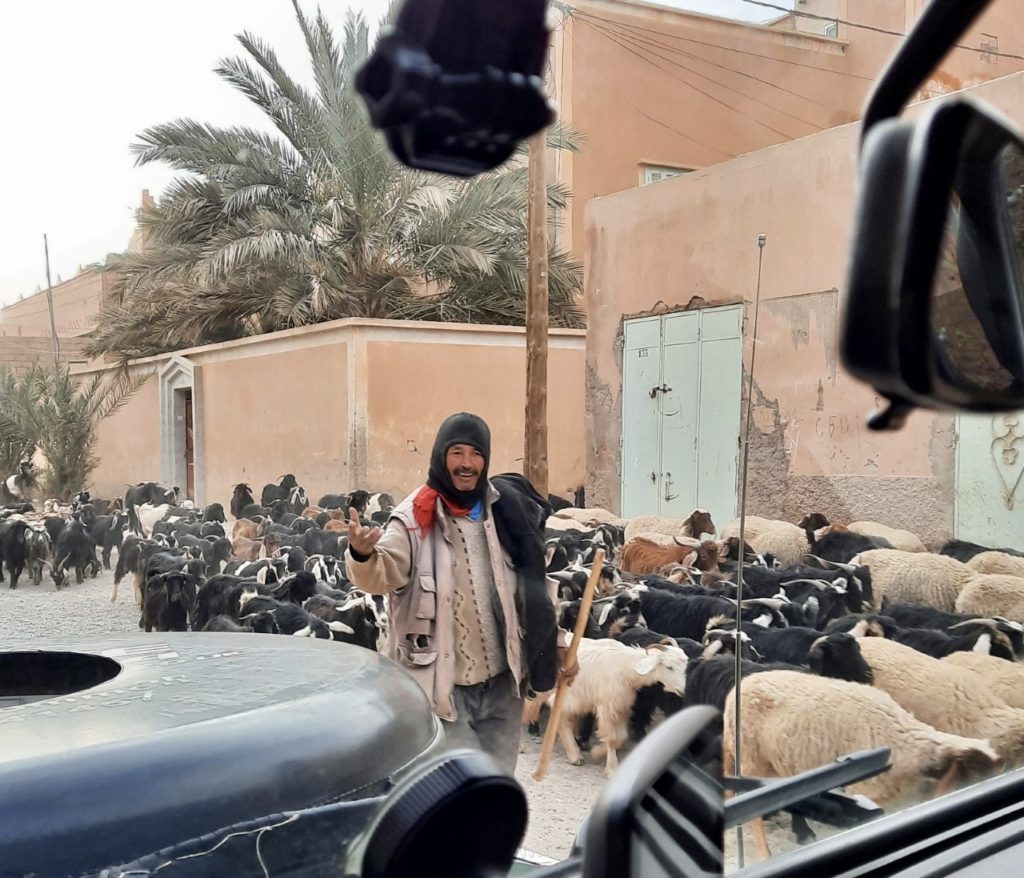 However, we came to large gates displaying the campsite name, Camping les Tamaris. They were firmly closed and the place looked deserted. We thought we were out of luck and wondered what we would do as it was late in the day. As we pondered, the gates opened and we were ushered in. The camp owner was very welcoming. He is most helpful and speaks both French and English. All was well.
There were only 2 other vehicles on the campsite. We set up and cooked dinner. Sitting chatting until about 8.30 we decided to go over to the restaurant/reception area to get some wifi. Unfortunately, the camp owner had gone to bed and everything was locked up.
I had purchased a SIM card in Tanger which we thought was for data only. This is what was asked for. However, it only had a small amount of data and this had run out, so today we were without wifi. Not the end of the world, but one gets used to being able to communicate constantly. We are going to have to get used on occasions, to only having wifi at camping locations or accommodations.
Hits: 79