The African odyssey has begun.
It's 6.15pm and we are camped in the dry at last, in a lovely camp close to Moulay Idriss. Which is about 20k's from Meknes. If you have read 'White Gold' Giles Milton, Meknes is where many of the Europeans were enslaved, Snatched from their coastal villages in the South of Ireland, England, France and the high seas by Barbary Pirates to be enslaved by North African Emir's to build their Palaces. The subject of the book, a young chap who managed to escape and find his way back to England, was the great great grandfather of William Wilberforce who was largely responsible for the abolition of slavery in the UK.
Departing Spain
Back to our departure from Alegeciras, There was some anxiety with Adam. In 2019 drove up from South Africa with his twin brother Mark to set up a European sales office for their African Safari business. Bureaucracy convinced them that it would be more trouble than benefit so Mark shipped his identical Defender back to South Africa. We have written about that sad ending in an earlier blog. Anyway, Adam had remained in France due to Covid, long after his vehicles permit had expired. He was anxious that officialdom would catch up with his vehicles overstayer status. Senseless worry and there was not the slightest interest from the departure from Spain or entry into Morocco.
Morocco
The crossing was uneventful but customs on arrival had both vehicles scanned by a mobile scanner donated by the USA, from the eagle crest of the US on the side of it.
There is clearly a trade for parts of push bikes and every other piece of junk you could imagine. Moroccans bring their vehicles to Europe and take the stuff back for sale. Seeing all this stuff spread out on the ground around their vehicles went a cold shiver through us as having to explain bear sprays and baseball bats and other stuff if we had to stop everything out of the Landy's, could have been difficult. Especially all the professional drugs and medical stuff Adam has stashed away. The only check we were subjected to, was a drug sniffer dog who poked his nose in the back and walked away uninterested.
It was bitterly cold queuing for a TIP (temporary import permit) for Poki and Zikit Insurance, a Moroccan SIMM card and some cash. By the time these were achieved it was close to 4pm and our camp site for the night at Chefchaouen, was still 126km away and starting to rain.
Chefchaouen
Jen and I visited the place in 2016 but there have been massive changes since, not all for the better. New buildings now dot the hillsides. Adam was the only one that could find the camp site with electronic means. Neither the sat-nav nor MapsMe would, both wanting to take us in the completely wrong direction. What was once a winding narrow road is now being widened and sealed. Massive costs going into the roads construction. I wonder who is funding it?
Wet & miserable
Not only was it nearly dark but very wet and unpleasant when we arrived at the camp. The rain continued for much of the night, though I had the best sleep for weeks. Woken around 6am by the call to prayer for the locals. It's interesting hearing different voices coming from a range of minarets, far and near.
After packing a very soggy, dirty Caranex we left the vehicles in the camp and wandered down into the town. What's amazing about Chefchaouan is the unique blue colour of the buildings, also the range of small shops and alleyways.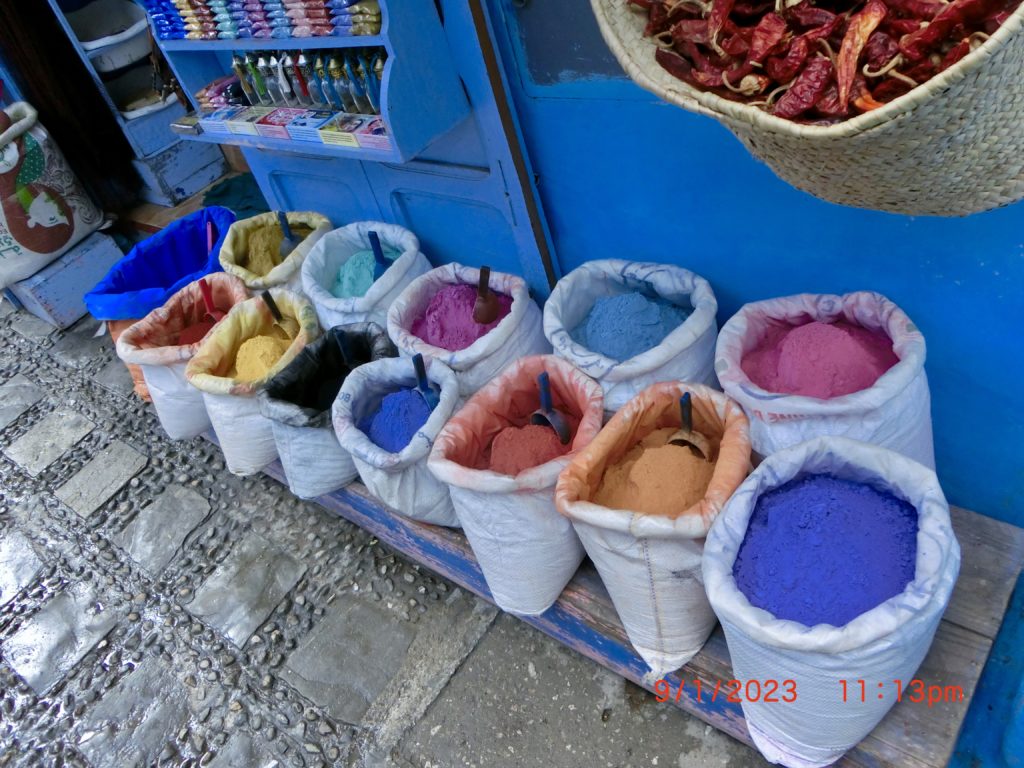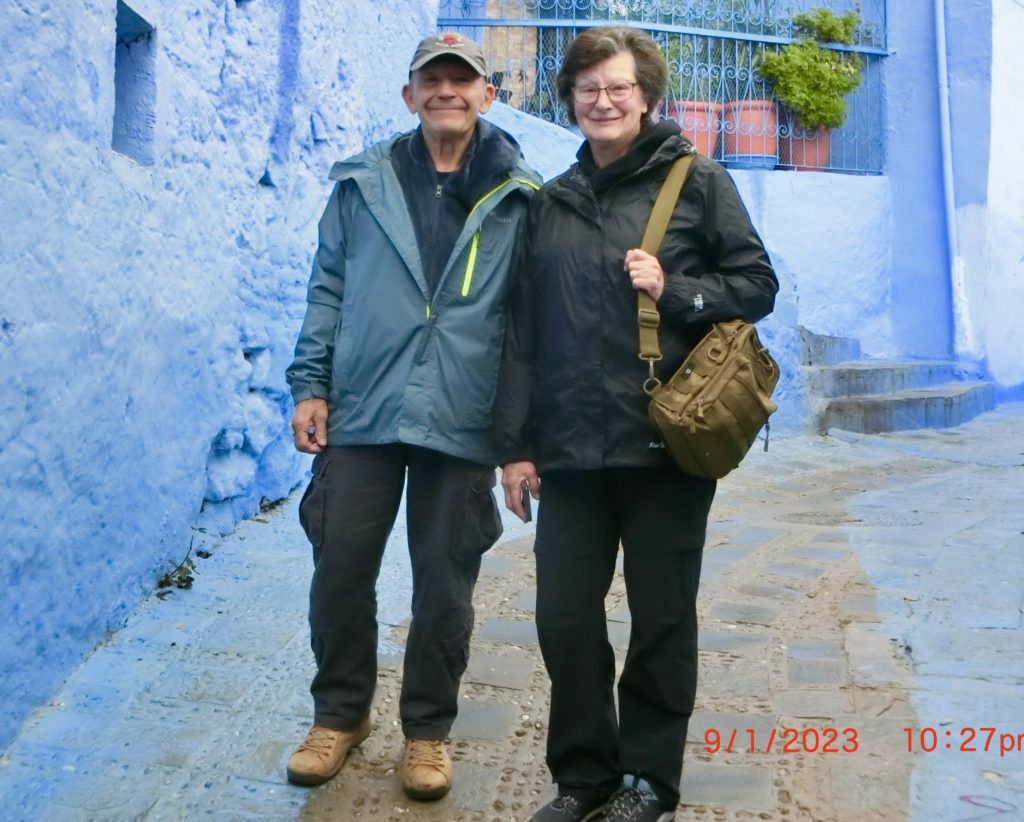 After looking for a metric threaded adept hose tail for the new tap we bought in France, unsuccessfully and buying some tiny tomatoes in the amazing market and taking some photos, we departed for Moulay Idriss.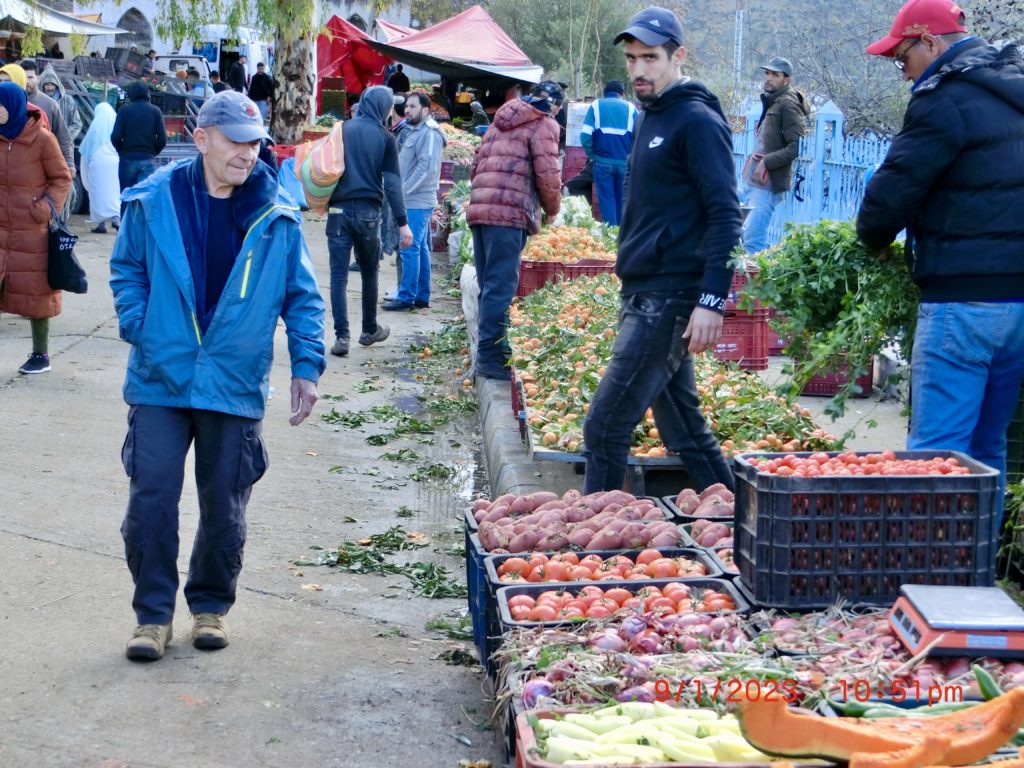 Hits: 77