Earlier in the summer we had considered a trip to Somerset and on to Devon and Cornwall. This didn't materialise as we discovered this part of the country was packed with UK "staycationers" and because of various Covid restrictions.
However, we felt we still had time for a quick visit to Somerset to stay with Bill and Penny, my son James's wife, Sarah's parents. At this stage James and Sarah and their 3 little ones were going to Sicily during the school half term holiday. This plan couldn't happen due to the increase in virus numbers in Italy which meant quarantine for 2 weeks would be required on their return to the UK. Instead they decided to go glamping (sophisticated camping) in Devon. As it was our last opportunity to catch up with them before our return to NZ, we booked a hotel near them so we could spend a day together.
While staying with Bill and Penny we made a visit to Taunton Castle, the home of the Museum of Somerset. The Castle began life as the fortified residence of the bishops of Winchester. The museum proved to be well presented with many fossils and bones of fish, dinosaurs and animals (species you would not expect in this country like oxen, bears and rhinoceros) which were preserved in the peat. Somerset is well known for its low lying wet lands and peat was harvested here, in earlier times.
Also many Roman remains including mosaics and hordes of coins were on display. Another interesting exhibit was in the actual dungeon where a number of the local participants of James, Duke of Monmouth's army were held. This was after James made an attempt to gain the throne of England and many Somerset men joined his cause. James was the eldest illegitimate son of Charles 11 and felt he was entitled to the throne. They were defeated and very harshly treated by Judge Jeffreys, many being beheaded, hung, drawn and quartered. As if this wasn't enough, their heads were boiled in oil.
We spent a lovely 2 days with Bill and Penny, leaving early on Thursday 22nd to head south to Devon and join James, Sarah and the children. Meeting at a riding stable on the edge of Dartmoor, where Jasper and Anna were having their first riding lesson. Horrible pouring rain on the drive down, it fortunately stopped in time for the children's ride.
Next we headed to Tavistock and a wander around the town. Unfortunately, because of the current Covid regulation permitting only 6 people from 2 households to mix and we were 7, we could not sit together either inside or outside a cafe or restaurant. A bit of ingenuity was required for lunch on a showery day. We bought Cornish pasties and cakes and headed for a walk beside the river. Finding a grassy area with a covered bandstand, this made an ideal dry space for a picnic.
Luckily the weather cleared up and we enjoyed a sunny afternoon. It was agreed a walk on Dartmoor should be next on the agenda, so we headed up to Cox Tor. We climbed to the top of Cox Tor, without too many grumbles from Anna (age 3). James was carrying Siena (1 year old), so was getting a double work out. Once at the top of Cox Tor, we decided to head down and then climb the neighbouring Staple Tor. Making our way back at the vehicles James, who had been measuring our route, declared we had walked 2 and a half miles. Much of it uphill. Anna had done really well.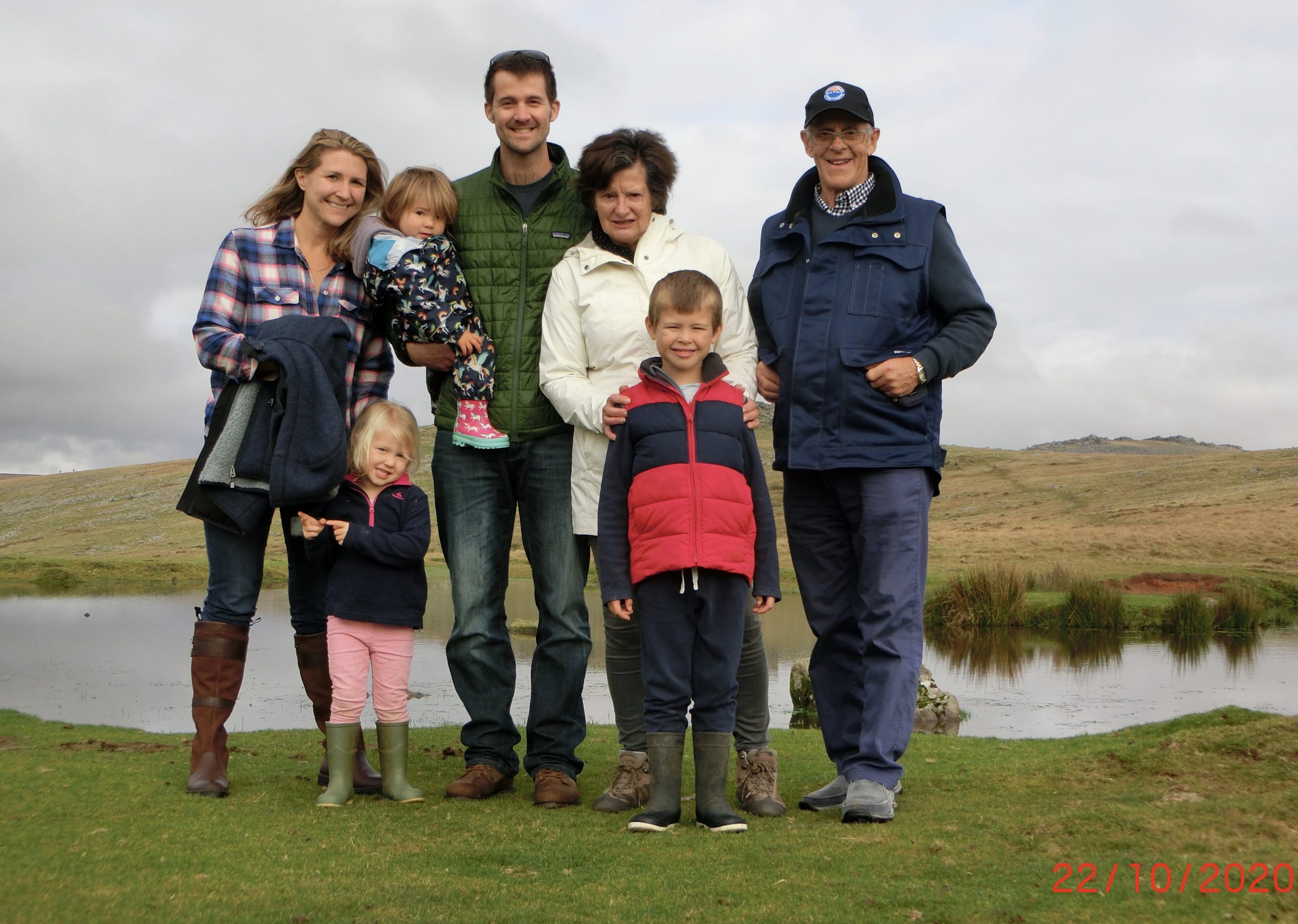 We decided to head back in the direction of our accommodation taking the road across Dartmoor. The light was fading, as it was late afternoon by this time, but still light enough for us to appreciate the scenery and the famous mid-moor village of Widecombe in the Moor.
Having crossed the moor, we stopped in Bovey Tracey for a discussion on what to do about dinner. The same problem with the not more than 6 people issue. One cannot picnic in the cold and dark, so what do we do? Sarah remembered there was a good farm shop, Darts Farm Shop at Topsham, with excellent fish and chips. It was conveniently close to our hotel and the farm where they were glamping.
After purchasing boxes of cod and chips we set off to find a parking spot so we could all pile into Poki to devour our deliciously smelling feast. Close by we found a ship yard with a slipway beside the River Exe. With James and Dennis in the front seats, Jasper and Anna sitting on pillows on the storage boxes in the centre of Poki and Sarah and I, with Siena on Sarah's lap in the back, we all tucked in. Jasper and Anna thought it was the best fun and apparently the next day asked James to buy them a Land Rover like Poki.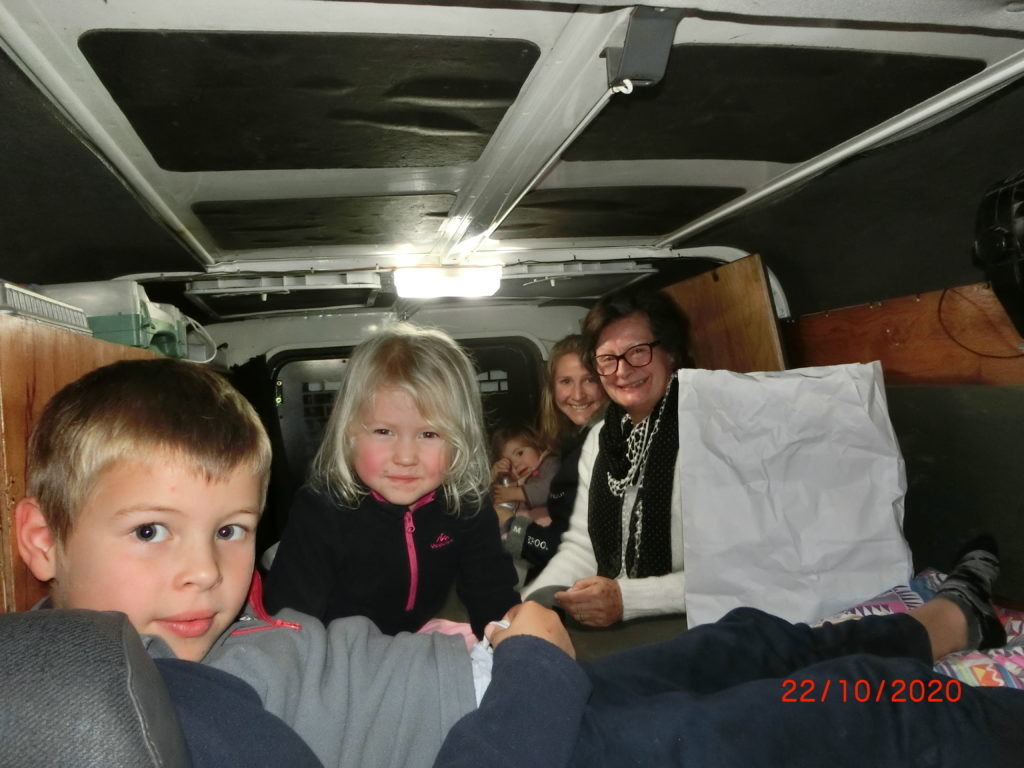 Then it came to the sad part. Saying goodbye. We expect to be back in the U.K next April, but who knows what is going to happen that far ahead. Life is no longer 'normal' and simple travel arrangements are now anything but.
While staying with Bill and Penny we had another hiccup with our travel plans. I had a call from Singapore Airlines advising us we needed a certificate from the New Zealand authorities confirming our quarantine had been arranged and approved. We did not have this document and Singapore Airlines would not board us without it.
We had known for months that we had to go into organised quarantine. A couple of weeks ago Dennis's brother, Ash had advised us we might need to book our quarantine. We checked online on the NZ government site, but could find no mention of a requirement to book.
Further investigation revealed we do need to book and on finding the form online it required our passport details, including issue and expiry dates. We did not have our passports with us. Panic stations! We would not be home until late on Friday, so it would already be weekend in NZ and we are leaving home at 0700 on Tuesday morning. Is it going to give us sufficient time for processing this request?
I managed to find our passport numbers and expiry dates from the information we had already given Singapore Airlines. Sarah suggested we guess the issue dates! This we did and much to our great relief, once we submitted the form, we got an immediate reply with the required certificate and confirmation of our places in quarantine. Such efficiency! Hopefully now there will be no more 'issues'.
On Friday morning we headed back to West Sussex. Taking the scenic route along the coast through Sidmouth and Lyme Regis, a pretty ride.
Dennis wanted to visit Stoke Trister, a tiny village in Somerset where his great grandfather's family had lived. His grandfather borne in this cottage 100 years from his birth date, left here for NZ at the age of 2 years, arriving in Christchurch in 1876. It meant we had to leave the coast, but we took a rural route through tiny lanes and pretty villages.
Saturday saw us back on the road again, in Poki, heading for East Peckham in Kent. This time to visit my older son, Tim, wife, Kate and grandsons Louis and Dan. Louis (16) has been servicing and making some repairs to our bikes. During Lockdown Louis started, on Facebook, a business repairing bikes. As so many people have taken to their bikes he has done very well. If we cannot restart our South American journey next summer, we will probably cycle in France for a while. After saying our farewells we headed back to Wineham.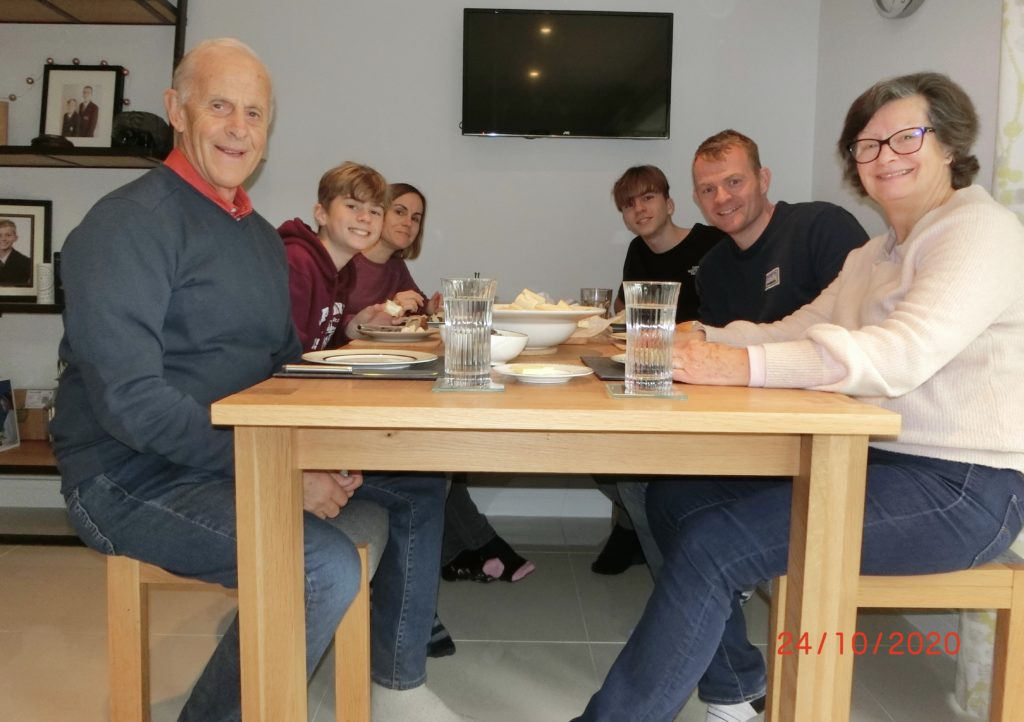 We have to prepare for our long flight back. Dennis has to put Poki in mothballs. The boxes and spoiler will come off the roof and be kept inside. We have bought a new cover to protect her from the elements over winter. I have to try and get into the right frame of mind to cope with 2 weeks in strict quarantine. Am not looking forward to it.
Hits: 468