Time for an update on our unravelling plans.
Getting back home to New Zealand is proving more difficult than necessary. It's completely understandable that carriers are rescheduling and making commercial adjustments to their business plan. To me, what is unacceptable is that their plans are not articulated to those they effect.
I have a bee in my bonnet at the moment and it is over our flagship airline, Air New Zealand.
Perhaps I should explain. Way back in late May, while in Guatemala and the Virus was looking like being not just a "blowing over" event, we decided that the chances of continuing on down through South America were very unlikely for maybe six months or more. Several things had to be considered as to our next move.
Do we wait it out? Or leave 'Poki' in Central America with a view to returning and continuing the journey in the not too distant future?
If we abandon the journey it would be necessary retain control of 'Poki,' and force us to ship her back to the UK. NZ would not allow her entry due to strict emission standards.
Returning to NZ was not an option anyway, as our house was occupied by friends who were house sitting for us and had decided to remain in NZ, rather than return to England, after their flights were cancelled in April. This suited us also.
Flying back to the UK and shipping Poki back here, we needed to be here to receive and store her. This we considered the most sensible move.
Arriving back in the UK on 12th June, we booked a flight with an Online agent to NZ on the 6th October, returning in April next year. Fight schedules out were LHR-FRA-SIN-AKL. The carrier Lufthansa to Auckland.
In August we received a notification of a change of route : LHR-FRA-SFO-AKL with Lufthansa, but using United from San Fransisco to Auckland. Departure October 8th.
Then early September notification of another reschedule. Now Depart 29th October LHR-FRA-LAX-AKL. Using Air NZ as the final leg from Los Angeles. Great, I thought, as Air NZ will honour the booking and we can be sure of flying as we trusted Lufthansa to get us to L.A.
Two days ago and twelve days till travel, Jen was checking our flight status and noted that the Air NZ, LAX-AKL leg had been cancelled. No notification, no apology or offer of an alternative flight. So, I called Air NZ in Auckland. Yes, somebody with an Indian accent answered the phone, even though it was 4am in NZ and confirmed, yes, the flight had been cancelled. Not why, or how we could achieve the final leg home. By cancelling this leg now voids the return flight back to the UK next year! As a passenger with the airline's predecessor, and a frequent flyer since the early 1990's, I am saddened that they feel no responsibility to their customers. I like to think consideration is what sets Kiwi people and business apart. How much more professional it would have been to have received an email from them explaining their situation and offering an alternative, or even an apology!
It's time to stop this nonsense of dealing through agents, so Jen got right on with finding a booking directly with an airline who would take us all the way. Singapore Airlines are offering LHR-SIN-AKL departing on 27th October with a 55minute stopover in Singapore. The fare, nearly twice that of the original return fare, which has now been lost.
Activities
To more pleasant experiences. One of Jen's ex airline friends, Marion, visited us from London recently and we enjoyed a meal in a local pub. Marian is Australian, though lived here much of her life. She is full of amazing information. For instance, it wasn't until 2015 that the British Government finished repaying loans to reimburse slave owners, not the slaves, for accepting abolition in 1834. This had a direct affect on Britain's reluctance to colonise New Zealand.
Several weeks ago we enjoyed a meal in Turnham Green, London with friends and blog contributors, Colin and Victoria. Things in the UK were starting to return to some normality and it was great for us to socialise.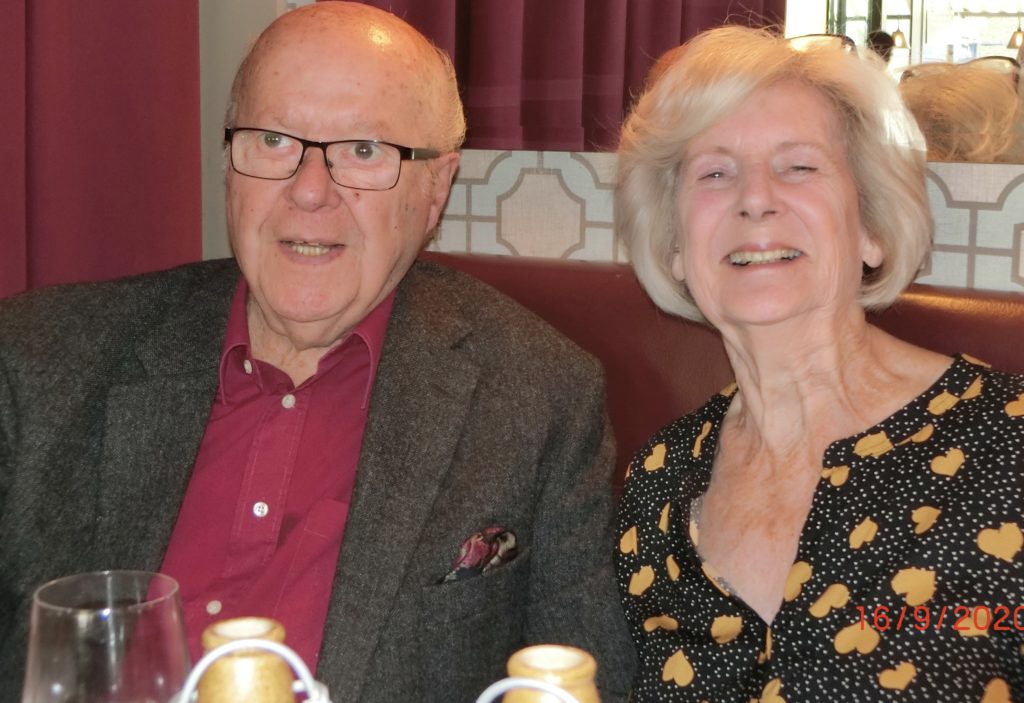 A walk along the nearby Devil's Dyke provided some relief from stuck inside tedium without interacting with too many people.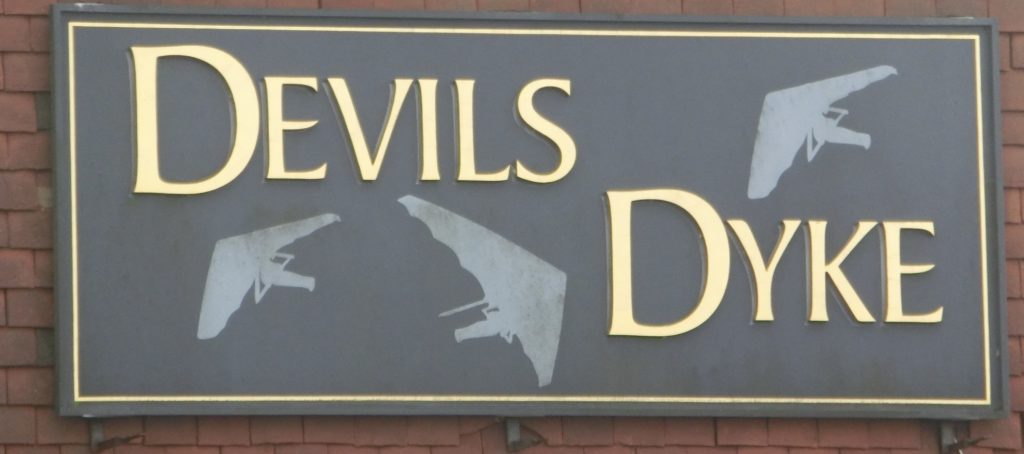 Another enjoyable trip out in Poki, through the steadily autumnal and lovely English countryside to an Inn at Hinton Ampner in, Hampshire for another lunch, this time with John and Fantu. John and Fantu have been on several coach tours of NZ with me and we keep in touch often. John is always on hand with constructive comments on our blog and a foil for my overt political views.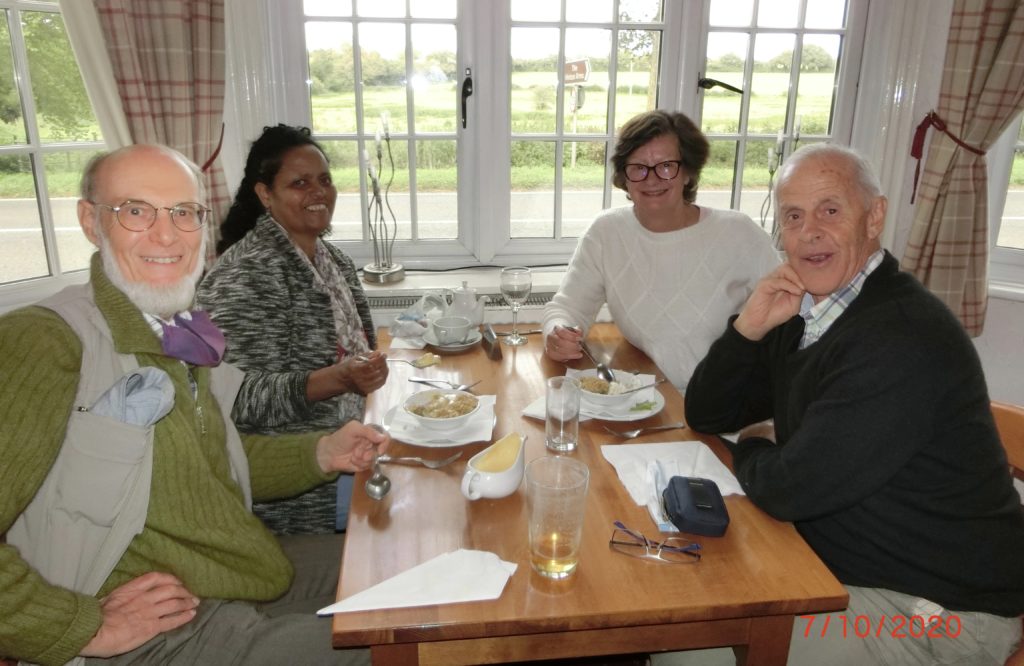 Several weekends ago we joined Jen's sister Caroline, husband Dave and daughter Claire, her husband Rick and son Dylan to watch Rick play his first game of cricket, at Ardingly. There was a wee bloke who wanted us to play ball with him. "Woplay", "woplay" were his entreaties.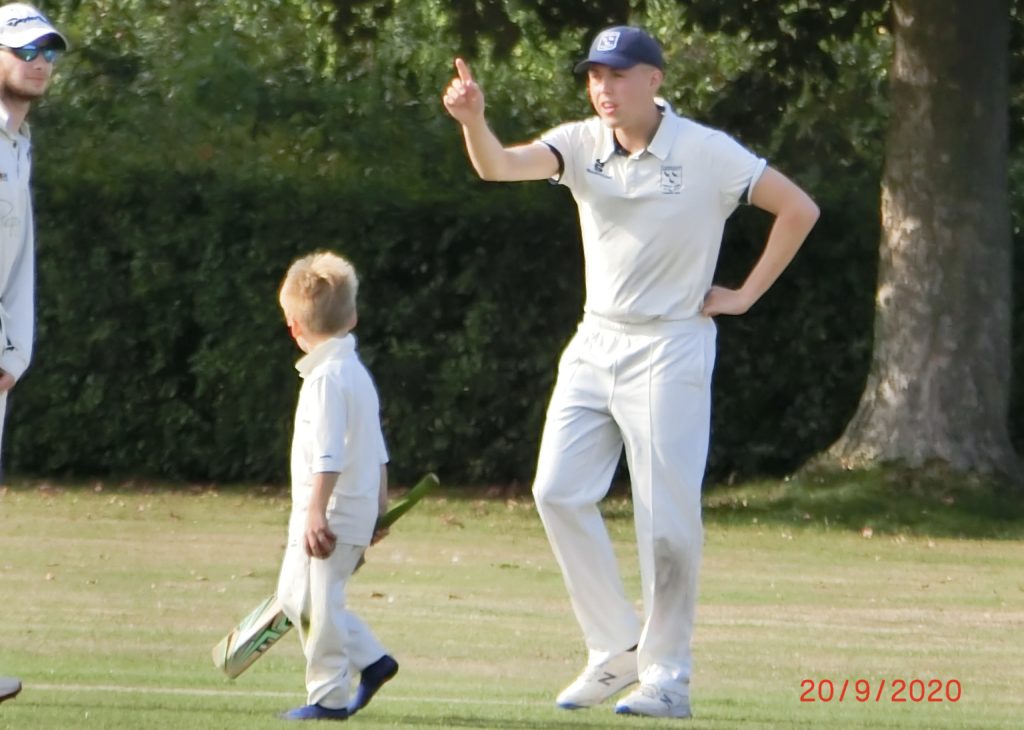 Midweek we met up with Jen's son James and gorgeous daughter Siena at Polesden Lacey, a National Trust property in Surrey. Formerly owned by the daughter of wealthy brewing family. Her father had bought it for her as a wedding present. Nice for some! The husband died soon after and it was then used as a weekend retreat and party house for her and wealthy friends. King George VI and Queen Mary honeymooned there. The landscaped grounds are lovely at this time of year.
Neal sent me a picture of him with two of our friends and former soccer and cricketing buddies from Wellington, who all now live in Perth.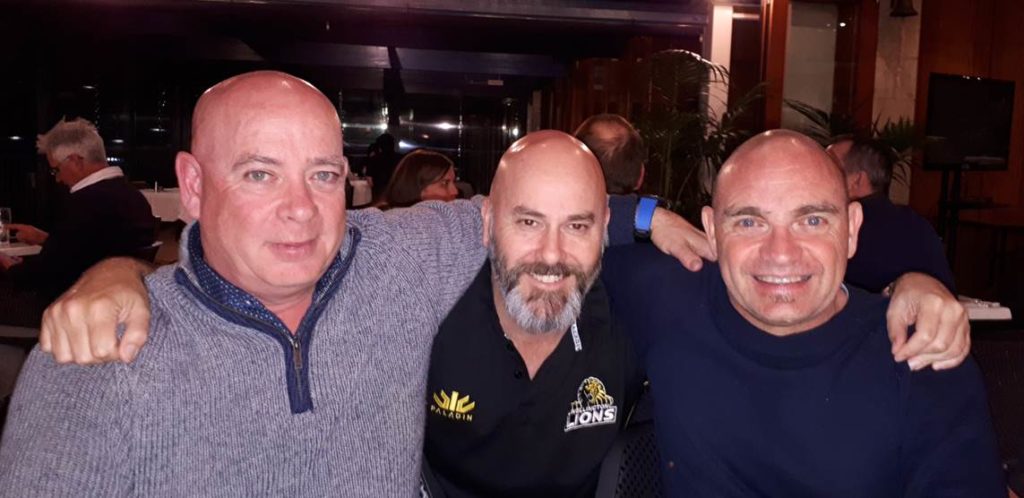 An update from Sarah, Tim, Charley and Jaxon. They are now back in La Paz, Baja (where we first met in December last year) and after spending the last 4 1/2months since we left them, exploring and enjoying Mexico. You can share their experiences on www.worldsafari.ca
Some great reading
Christopher Hitchens. Hitch-22 by Christopher Hitchens
The Missionary Position : Mother Theresa in Theory & Practice by Christopher Hitchens.
The Trial of Henry Kissinger by Christopher Hitchens.
Not in Your Lifetime : The Defining Book on the JFK Assassination by Anthony Summers
How Green is My Valley by Richard Llewellyn
Hits: 494