Well, we survived our second round of 14 days of self isolation. This time it was much harder and I was starting to feel like a caged animal. I did 'escape' twice. Once to walk to the letterbox down the lane to post some urgent documents. I saw no one en route. The second time I walked to the vegetable stall at our local pub, the Royal Oak. We had run out of veggies. From behind my mask and 2 meters away I paid Mike, the pub owner, by tapping my bank card. Again I met no one else, so I don't think my infringement of the rules was too terrible.
After our isolation was over, a small adventure was necessary. As it is so much hassle to even consider venturing beyond British shores, we decided a mini 'stay-cation' was in order. Sussex is a beautiful part of the country and full of history. Despite being born in Sussex, I had never been to Battle. Even though it is less than 50 miles away. Too much time spent overseas and not enough investigating my own country.
So the plan was to visit Battle, Hastings and Rye. Battle to visit the site of the Battle of Hastings, where the English were defeated by the French. Actually Normans, who originated from the Vikings. 1066, the date of the battle seems to be ingrained in every English person's brain. Hastings, a seaside resort and fishing port which has been a bit gentrified in recent years and Rye as it is an old, historic town of cobbled streets and fascinating architecture.
Setting the sat-nav to take us via the 'eco' route, we meandered down tiny country lanes. You would not believe motorways or towns exist in the U.K. when you take these backroads. Glorious countryside and some amazing hidden properties. The only difficulty with small country villages is they were constructed in the days of the horse and cart and not made for modern day traffic. Not that this worried us, we were just taking our time.
The big problem is parking. Especially in popular places. It is even worse with Poki as many car parks have height restrictions and with the roof rack and boxes we are too tall for them. Parking in the U.K. is also expensive.
Our hotel in Battle, the Abbey Hotel, was located right opposite the entrance to Battle Abbey and the battlefield site. Hotels are operating under some restrictions due to Covid-19. No cushions or throws or anything decorative in rooms. The Abbey Hotel staff were excellent, though and we had a very good meal there in the evening.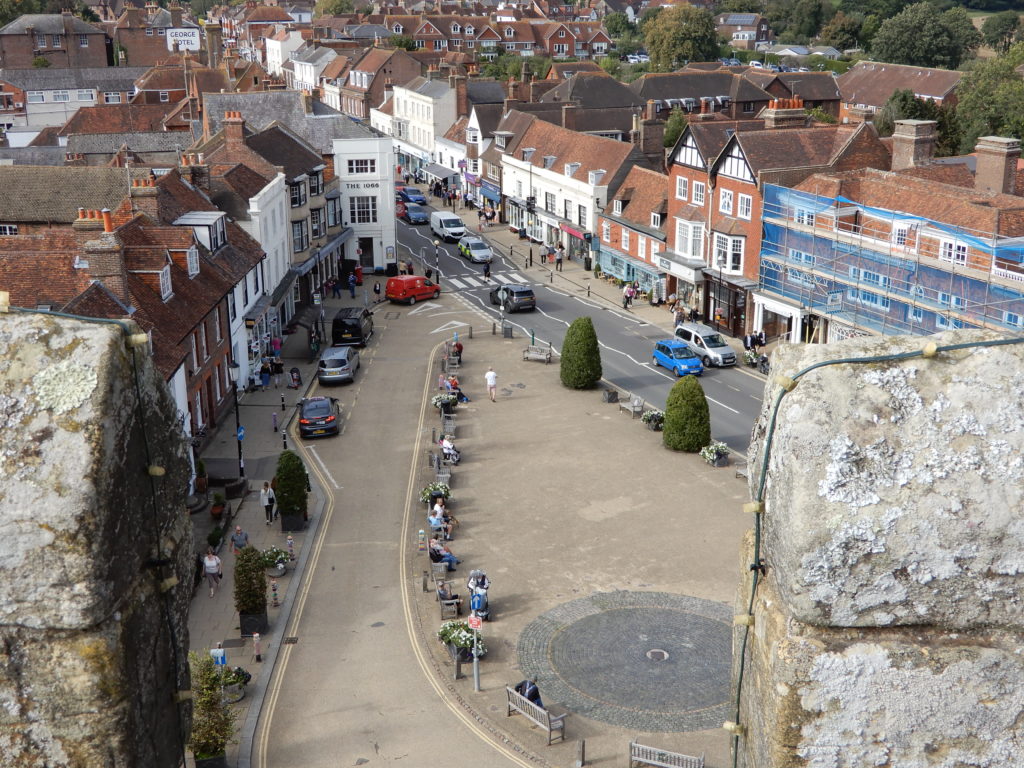 We walked around the site of the battle. The English held the high ground, the French attacking from below. The English thought they were winning when the French feigned retreat, twice. Each time the English charged forward breaking their defensive line, the French turned and slaughtered them. The French, led by William the Conqueror, had infantry, cavalry and archers. The British, led by King Harold had been involved in the Battle of Stamford Bridge, shortly before and had to walk all the way from Yorkshire. They were mainly infantry. Harold was fatally shot in the eye by a French arrow and the English were defeated.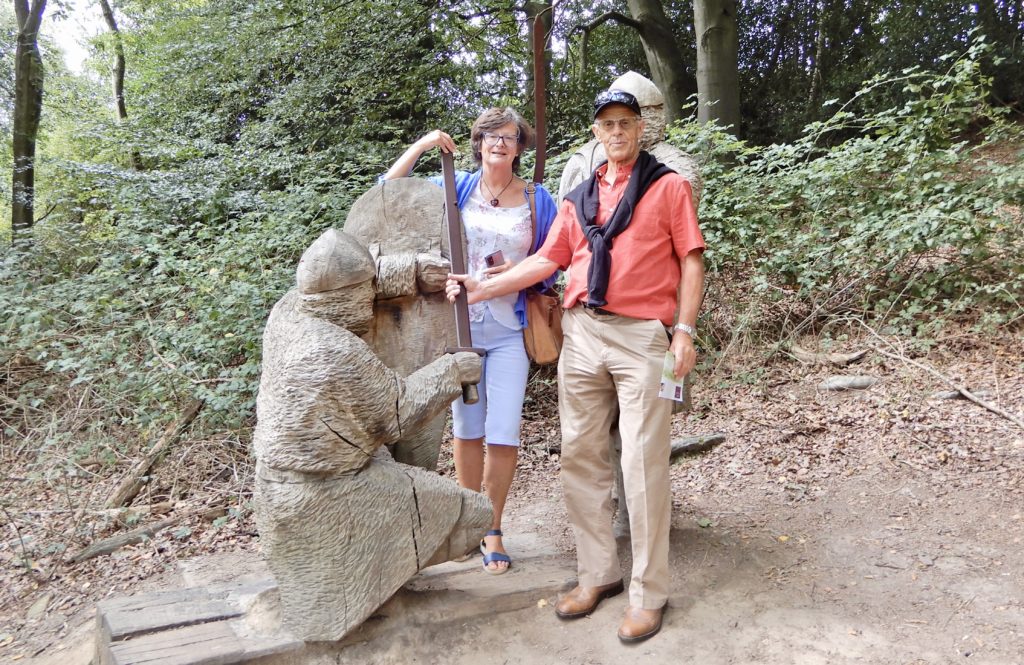 The Benedictine Abbey was built by William as atonement for the loss of life in the battle. It prospered and the town grew up around it. However, In 1538 King Henry VIII's Reformation meant the Abbey was confiscated. Various members of the nobility used part of it as a private residence, but some of the buildings were destroyed. The main
building is now a school.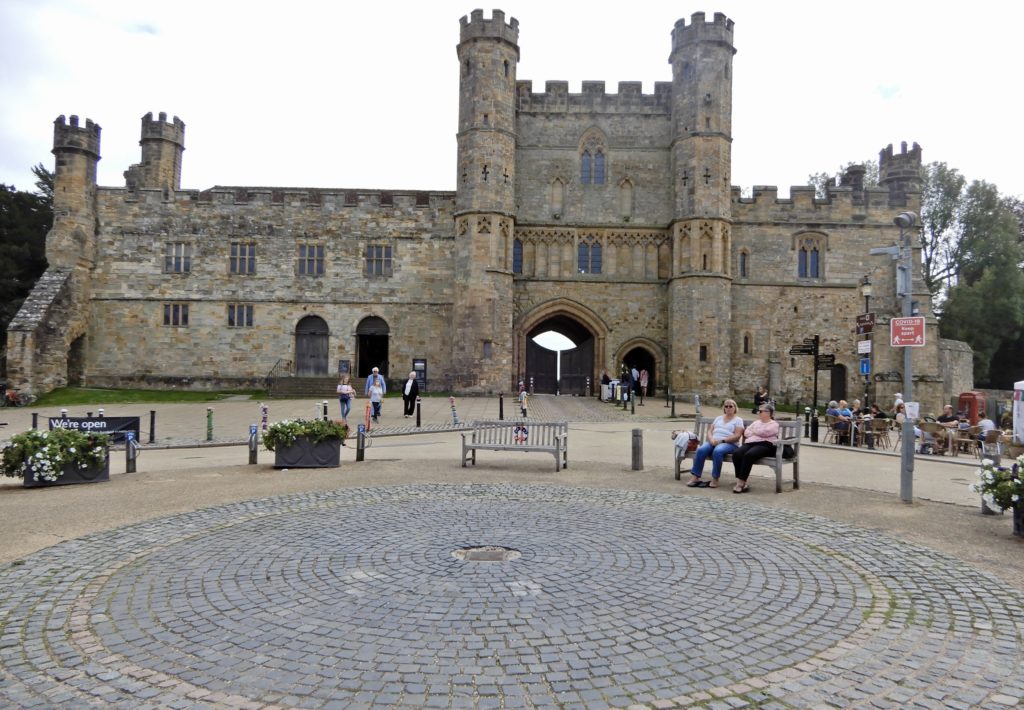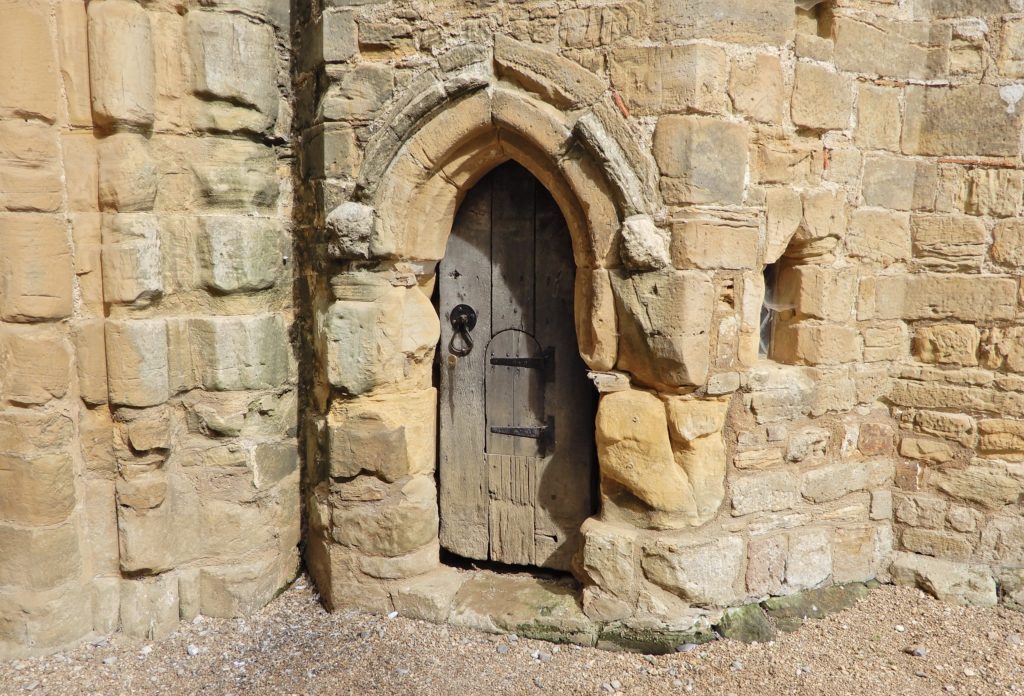 The next day we set off for Hastings, about 5 miles away. Parking on the seafront some way out of the centre, we walked back. It was a beautiful sunny morning and an interesting stroll. Passing sculptures on the beach, a mini railway and fun fair, before entering the old fishing port. Lots of little shacks selling fresh fish and unique 'net shops'. Tall, black painted buildings where traditionally fishing nets were hung to dry. Although nylon nets are now used, the net shops are still used to store fishing gear.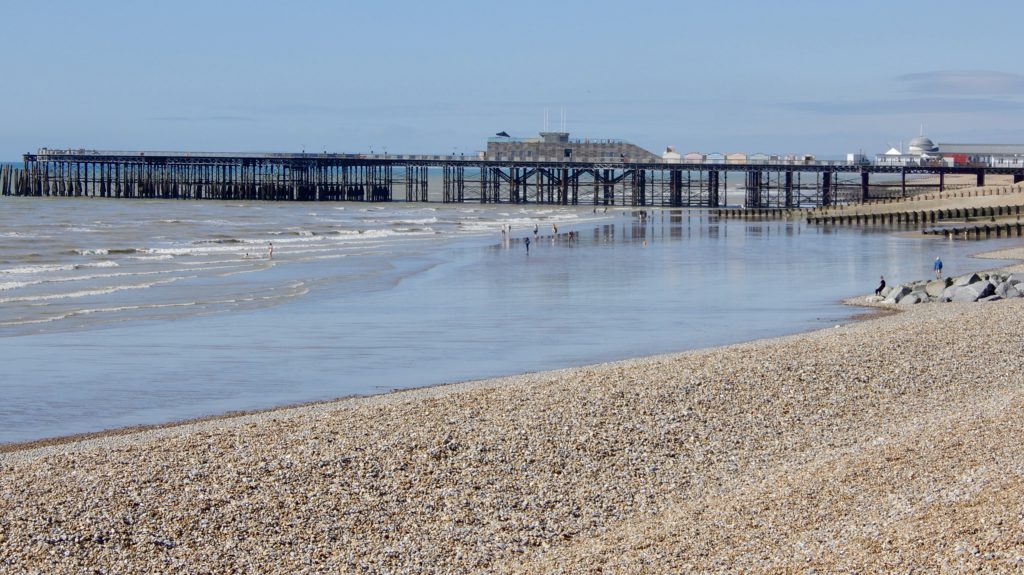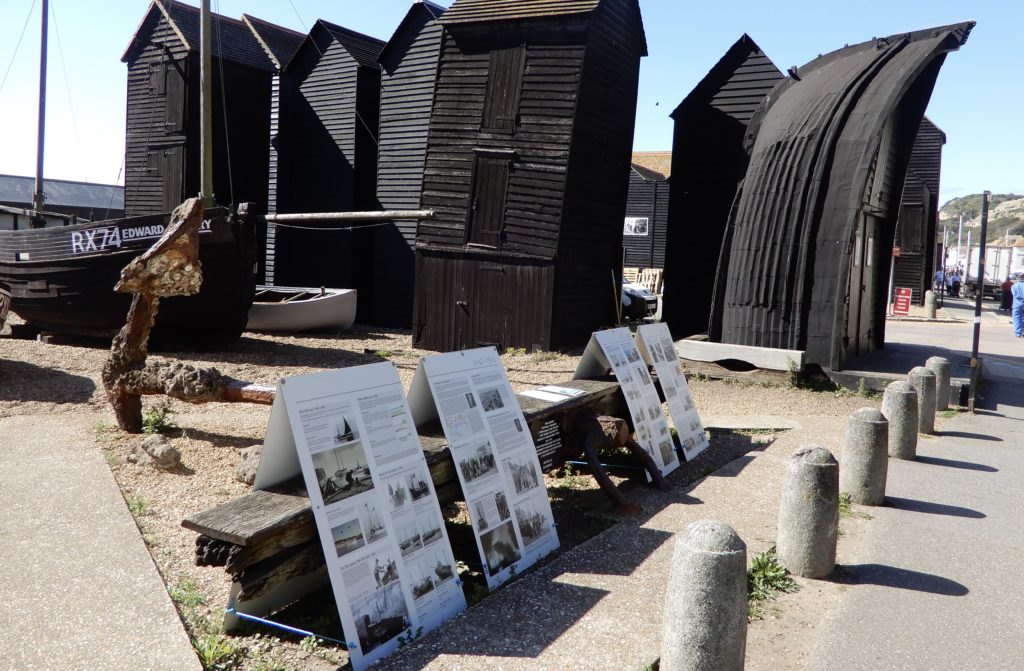 Doubling back into the town, some of these net shops have been attached to other buildings and house cafes, fish and chips shops etc. We wandered down some of the narrow, pedestrianised streets. Sadly several closed shops. Already business is suffering from the effects of the virus.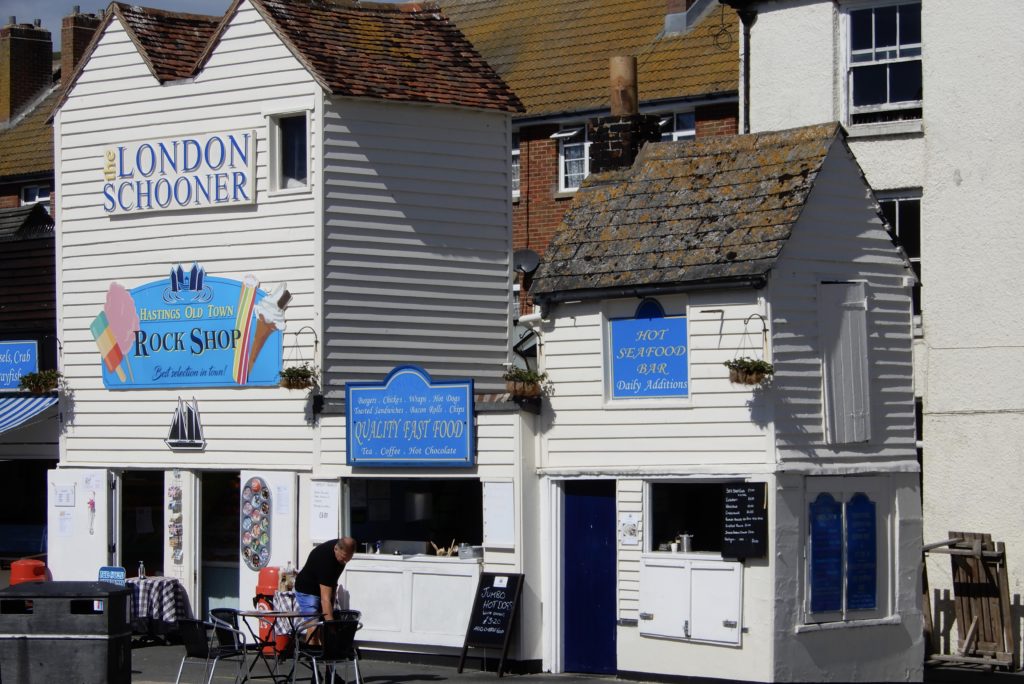 Continuing on to Rye, 13 miles away, we were too early to check in to our hotel so drove on to Camber Sands. Not very impressed with Camber, we returned to Rye and wandered around the steep, cobbled streets looking at the beautiful old houses and the Mermaid Inn. Built in 1156 it was rebuilt in 1420, after being burnt down, along with the town, by French raiders in 1377.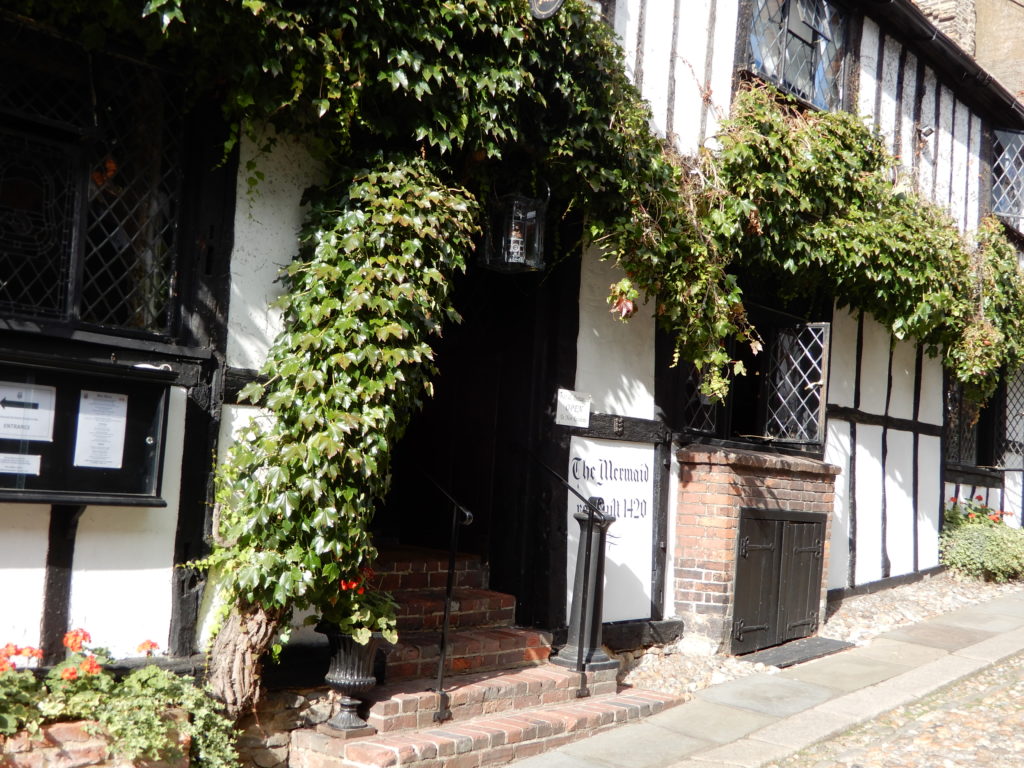 Our hotel's restaurant was closed so we had dinner at the Ship Inn, another historic building. Built in 1592 it was originally a warehouse constructed to store contraband recovered from smugglers.
Next day we ambled slowly back through the Sussex countryside to Wineham. We have beautiful 'Indian Summer' weather at the moment, so are thinking we might just have another stay-cation and venture further to Cornwall.
Our return to NZ has been postponed until 29 October. We booked flights to NZ when we arrived here in June. However, our return on 6 October was cancelled back in August. We managed to get rebooked for 8 October only to learn a few days ago that this was cancelled too. After a lot of aggravation, we are now rebooked for 29 October.
Airlines seem to be cancelling due to lack of demand. As we booked early at a cheap fare, getting rebooked in that cheap booking class is now proving difficult. Airlines are losing a fortune, so trying to sell the highest fares they can. There is very little availability in the lowest booking class. We are keeping our fingers crossed that this date is third time lucky and will operate.
Hits: 474