Going back to yesterday, Dennis advised I would tell you about our unexpected sighting of the Monarch butterflies.
The five of us set off for what was supposed to be a short horse ride. We walked over to the area where the horses were corralled. The guides picked out mounts for each of us. Charley and Jaxon were really excited. Particularly Jaxon, as it was the first time he had ridden a horse.
I went to untie my reins from the pommel of the saddle. The guide grabbed them saying "No". He was leading me on a leading rein. No argument. Not my idea of riding, but still. Tim, being a male, was allowed to ride freely. Woman and children had to be led. It was a steep and very muddy climb. The ponies, they were not very tall, but they were strong and sure footed. So, were the guides running ahead!
Once we reached a clearing at the top of a hill, the guides said they would give us an hour to walk down the path to the area where the butterflies were located. This was an unexpected bonus. Once we found the butterflies hanging in the trees we were gob smacked. At first it looked like huge clumps of brown leaves. Closer inspection revealed it was thousands of butterflies clustered together for warmth. Their wings tightly closed, with the brown undersides exposed.
We had been told they would not fly for 3 days because of the wet and cold. However, the sun was coming up, so we decided to stay and watch. Gradually the clumps most exposed to the sun began to turn orange as their wings started to open. Slowly some started to fly. We stayed for 45 minutes longer and watched as more and more started to fly and settle near us. Not the millions flying one would see on a hot sunny day, but still a wonderful and unexpected spectacle.
We rushed back to the guides and horses who were still waiting for. As they had waited patiently for an extra 45 minutes, we gave them a good tip.
The site is a World Heritage Site since 2008. Every winter in October and November, millions of butterflies from the US and Canada fly south to hibernate in the oyamel fir forests between Michoacan and Mexico State. It is the longest migration of any insect.
They use a kind of internal solar compass to guide them.
Environmentalists are concerned at the impact illegal logging of their forest habitat and the intrusion of tourists is having on the butterflies.
Today we travelled separately. We soon stopped for fuel and as the wifi signal was strong pulled in beside the garage. We spent the next 2 hours updating our blogs and uploading photos.
Setting off again we passed through 2 tolls and then on an outer ring road around Mexico City we were pulled over by the Federal Police. We thought they had stopped us for speeding, as they kept mentioning the word "velocidad". They mentioned 110 kms. We laughed and told them Poki couldn't go that fast!
By this time we were communicating via Google Translate and they said no not speeding, it was another infringement. They realised they weren't going to get us for speeding, so had to try another reason to extort us. Apparently driving in Mexico State, as well as Mexico City, is not permitted for vehicles with a registration plate ending in a 7 or 8 on a Tuesday.
This is a regulation to cut down on emissions. On different days of the week, different
numbers are excluded. We were advised the fine for this infringement was 6180 pesos (515 NZ$)!! If we could pay in cash we could go. if not they would take the vehicle to a pound and we would have to go and get the money from a bank.
We said we didn't have anything like that sort of cash. So how much did we have. Foolishly we showed them. About 700 pesos, some US$ and a $100 NZ.
After an hour of arguing they said we could go. They gave Dennis back a wad of notes and went to walk off. They still had Dennis's driving licence though. He jumped out if Poki and they gave it back. We hit the road but quickly realised they had kept a 500 peso note, the $100 NZ and $50 US. We as been well and truly scammed.
We had to pass through another 2 tolls and only had a very few pesos. One payment is made in US dollars and once again we got robbed. It should have been about $5US but the woman behind the counter insisted it was $14!
We eventually caught up with Tim, Sarah and the kids at the chosen campground. A cold beer was very necessary to calm us down. Sarah cooked us dinner and even though it was getting dark, we had a football match. Tim, Jaxon and I against Sarah, Dennis and Charley. Our team won 3 nil, mainly due to my goal keeping!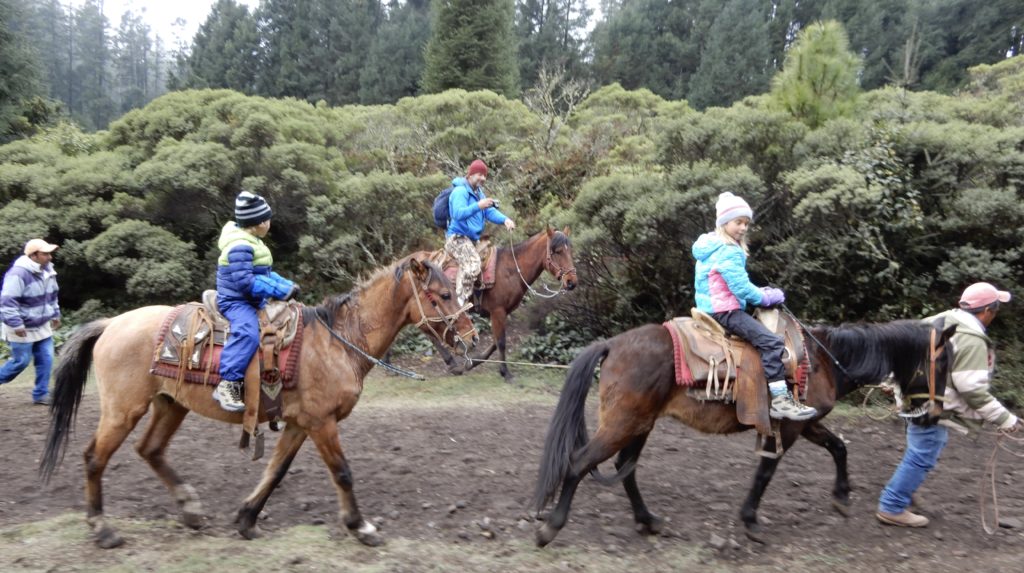 Hits: 33