A lovely night. Cool but not freezing. The sun was up before us and doing it's work charging the auxiliary battery via the solar panel on the roof.
We have been having a little problem with the fridge cutting out, so decided to rectify it and do some other remedial stuff while Jen went for the swim in the hot pools, We missed out on last night.
The high speed centrifugal engine oil filter needed replacing and the drive shaft universal joints needed some grease. Our camp site was on soft green grass so working underneath her was comfortable. Of course the grease gun was empty after the first nipple and I had to get out from under and refill it. Refilling grease guns without a cartridge, is always fraught, and today was no exception. Grease everywhere..:). While back under, the hand brake was adjusted and the grease work completed. Not enough time to fix the fridge.
Because there was a hose nicely coiled up on a post, close to us I took the opportunity of cleaning the "girl". Now she's sparkling again.
So far on the trip we have now done 38,000 miles and "she", (we are still seeking short name suggestions) is going absolutely beautifully.  We were having a little banter with Brian and Julia, the Toyota owners, yesterday. Brian was saying his Toyota has done 120,000 miles with only the oil changes. It looks a lovely vehicle inside and out and I am sure Toyota reliability is second to none. I wonder if he gets to smile to himself when he is driving along?
When we were looking for a vehicle (Land Rover) to do this trip seven years ago, we were warned to be wary of the TD5, and should opt for the 300TDi. Yes, there are issues with the TD5 but once sorted, there is nothing to touch them for smoothness and joyful driving. I can see brother Kelvin and brother-in-law Dave shaking their heads. Be careful boy's, they could fall off..:).
By the way, Jen still missed out on her swim in the hot pool. While I was under and doing boys stuff, she was working away on the computer arranging insurance for Mexico and renewing our personal travel insurance too. It's a team effort to keep the show running.
Check Out time at the RV camp was 12 noon and by 12.30pm we were rolling out. Blogs posted, insurance arranged and "herself", purring.
First stop Baker where we filled up with diesel and borrowed someone's wifi to put some pics on yesterdays blog. Bought some tomato's and had lunch down a side road, before heading across the I15 highway and back out into the Mojave National Preserve, desert. Mr Plod took a drive by to see we were not up to any dope dealing or people smuggling ,but kept going. No doubt knowing he was pretty safe with white hair..:)
Man this countryside is amazing. Home of the Piute Indians. The variety of geology, colours and vegetation is astounding. Somewhat similar in some ways to the centre of Australia. The beauty is the harshness, isolation and scale of grander. 
The sat-nav was set for Kelso where there was an Information centre. Yep, there was, but it was closed Tuesdays and Wednesdays!. We waited nearly 10 minutes for a goods train to cross our path, heading for Amboy. We found a track off the road into the desert. Jen was shaking her head, worried about some nut-case coming along in the night and wasting us. 
Probably 2 miles up the track off the road we found a depression, big enough to accommodate us. Camp has been set up. Now Jen is worried it might rain and wash us away in the night. I think well be fine, don't you?..:).
It's just the most amazing setting as the sun is going down in a cloudless sky highlighting the craggy mountains around us in the distance and the rough rocky terrain and dead looking Honey Mesquite, shrubs.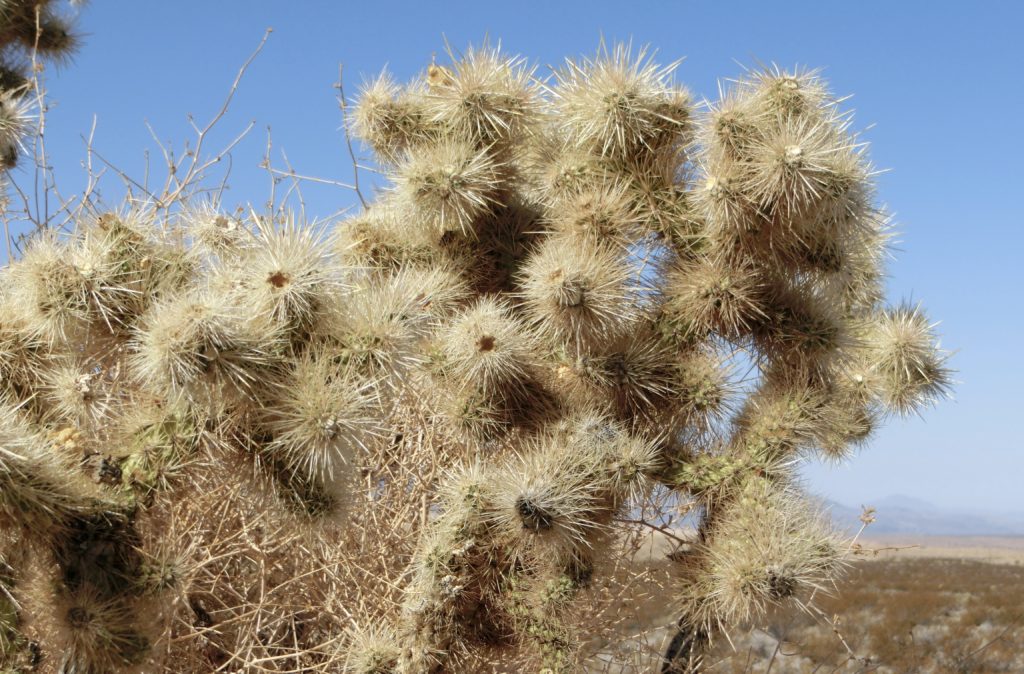 Hits: 39