It was a beautiful silent night in the desert, after the most amazing sunset. Absolutely still with stars brightly twinkling. We were up by 8, but not in the mood to rush. Dennis changed a fuel filter before we left.
I said in my last blog that Death Valley was vast. The Mojave National Preserve and Joshua Tree National Park are really all a continuation of the desert/ mountain lands and the map shows other enormous unoccupied areas, which are used for military purposes. Coming from a little, crowded country like England, it all seems so huge.
After we left our camp the vegetation started to change with cacti, yuccas, Joshua trees and bigger shrubs. Mormon settlers named the Joshua Trees, because the branches stretching up towards heaven reminded them of the biblical prophet, Joshua, pointing the way to the promised land.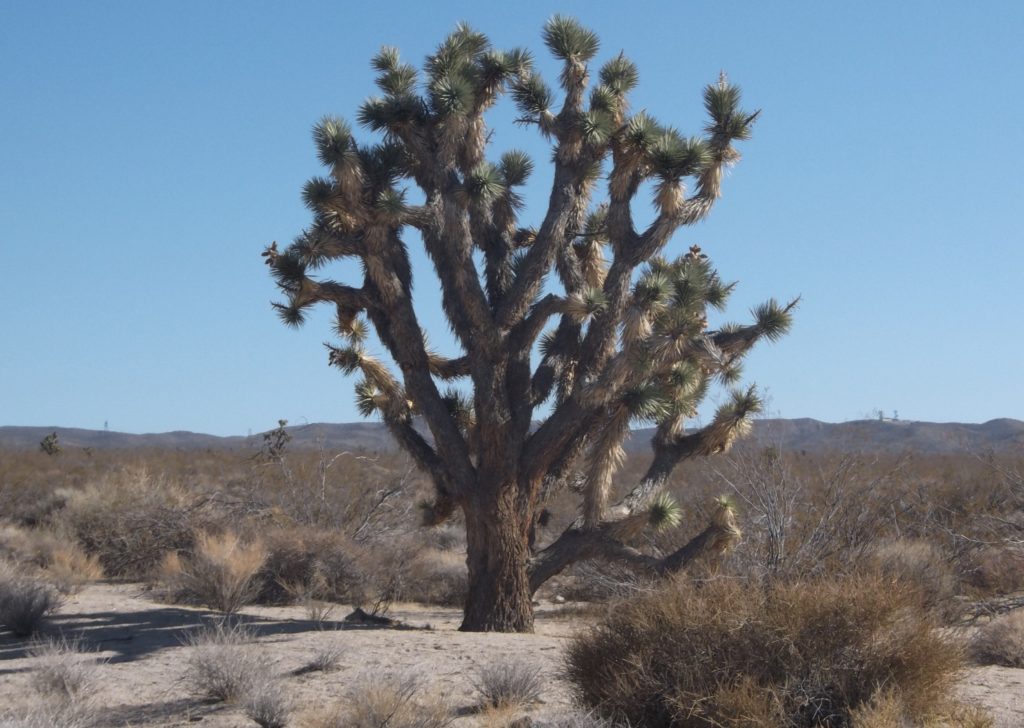 The first township we came to was Amboy. This happened to be on the old route 66, so we were back on this road after many weeks. Amboy consists of a motel, a cafe and a post office. I have been trying to buy a stamp for a post card to my mum ever since we left Portland. I had no more luck today. The post office was closed. We went into the cafe in the hope of finding some wifi. Having ordered a coffee, the young guy behind the counter said only the manager knew the password and he had gone to the Doctor. Goodness knows where!
Around Amboy was complete desert, no vegetation at all. Just outside the town were large areas being used as salt flats and producing salt.
The journey from Amboy to the next town of Twentynine Palms was quite sad and depressing. The area, called Wonder Valley, is a dry, inhospitable, flat landscape between the mountains. Many derelict and abandoned homes. Some up for sale, real estate agent's boards advertising land and in some places people struggling on. The houses are all spaced very wide apart. Dirt roads link them. The roads are all signposted with street names and have a battery of mail boxes by the roadside. Why would they have come here to live in the first place? Was there once work here. Mining perhaps? Or were they sold some real estate agent's idea of a desert Utopia or Eldorado.
Well now, interestingly, a local guy has just stopped to chat and we asked him about Wonder Valley. It appears in the 50's the government gave anyone who wanted land 5 acres, as long as they made a $200 improvement to it. We stopped at the Wonder Valley Community Centre, which was deserted, for lunch. The adjoining playground had some trees which provided us with some shelter.
After leaving Wonder Valley it was not long before we reached Twentynine Palms. At the first intersection there had been an accident and many people and the police were gathered around. One car had obviously failed to stop at the Stop sign, resulting in 2 very smashed cars.
Twentynine Palms had a few more than 29 palm trees, but was an odd place. Possibly a more successful version of Wonder Valley. Very spread out, we weren't sure in which direction we would find the centre and a supermarket. Not finding much, we changed directions and came across a busier part of town. At least 5 real estate agents, motels, gas stations and various other small shops, but no sign of anywhere selling groceries. We asked and were advised we would find a supermarket in the opposite direction about 3 miles out of town. Eventually we found it and some wifi too.
Setting off again we were soon at the entrance to Joshua Tree National Park. We didn't venture far before stopping at Belle campsite. As we were early we found a nice site among huge boulders and surrounded by Joshua trees and yucca plants. We sat in the sun and read for a while, before thinking about getting some dinner. Much later another couple pulled in beside us. It was really a double site, but not much room for 2, so the campers and RVs had all driven past. A couple sleeping in a tent took advantage of the space though.

Having got our boots and winter woolies down from a box on the roof a few days ago, we have had to put them back and change our wardrobe again to sandals and shorts. It was in the high 20's yesterday. We have 2 duvets of differing thicknesses and have had the thick one on top. Last night it was too hot and I had difficulty sleeping. I heard something rustling the tent. It happened a couple of times. I knew it wasn't large, or human, Dennis was fast asleep. Later it happened again and this time Dennis was awake, so I said I could hear something. He put on the light and opened the door to investigate. It was a kangaroo rat enjoying the contents of our rubbish bag.
Due to bears for so much of our travels, I have not usually left the rubbish bag in the tent. The night before something had leaked from the bag in the Land Rover, so last night I put it out in the tent. It doesn't matter where you are there are creatures of some sort around. If we don't pull it tight there can be a gap between the underside of the Land Rover and the tent. The kangaroo rat had jumped in through this gap. When it saw Dennis is jumped up on to the step and back out through the gap. The bag is now in tatters and the rubbish all over the floor. The joys of camping!

Hits: 28