After leaving Thunder Rock Camp we followed the Ocoee River valley. A pretty, touristy area. Being Saturday it was packed with white water rafters. Dozens of them challenging the rapid strewn river, running beside the road. Soon, having passed a couple of power stations and dams controlling the flow, the scene changed. Still, deep water leading to a large lake.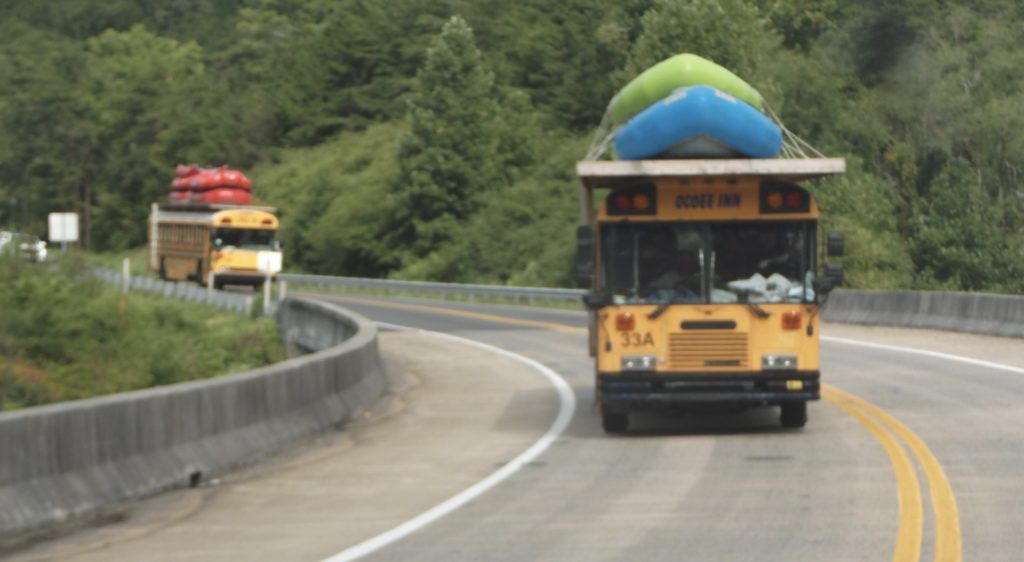 The drive from Thunder Rock to Chattanooga was quite a pleasant one with reasonable traffic. The young Dutch couple, we had met in the visitor car park at the end of the Blue Ridge Parkway and Lonely Planet both said Chattanooga was worth a visit. First we called into Walmart to buy a camera charger for Dennis's malfunctioning camera and another memory card. This achieved, we headed for downtown Chattanooga.
Having followed signs for the visitor centre downtown, we couldn't find anywhere to park. Being Saturday it was heaving with people. Having tried several car parks and just being beaten to a meter, we pulled up outside the Visitor Centre and I ran in. I have to say US Visitor Centres are not a patch on Canadian ones. I asked what we should see in Chattanooga. I was advised there was the 7th best aquarium in the world with fresh and salt water exhibits, and penguins! Also we could drive up Overlook Mountain. No information on camping between Chattanooga and Memphis was available. Dennis thinks I am being very harsh. Perhaps I should just say that Canadian information centres give information which covers the whole province, but in the US is is much more localised. Information is just confined to the local town/city.
Chattanooga is, of course, immortalised by the 1941 Glenn Miller tune 'Chattanooga Choo-Choo". The city was a major rail hub during the 19th and 20th centuries.
Deciding we have seen enough aquariums we headed for the Tennessee river and found a sheltered place under trees to have lunch. Then we set off for Overlook Mountain. The same problem, no where to park. To reach the summit it was necessary to get on a cable car. All the parking was full and there was a queue for tickets. It was a very pleasant residential location. Some beautiful homes taking advantage of the view and the cooler air. It is absolutely sweltering and very humid. We took some quick shots of the view through a gap in the trees, but it was rather disappointing. We have been spoiled by the fabulous views from the Blue Ridge Parkway. This view was far reaching, but mainly over urban areas and once again, very hazy.
We set the Sat-Nav for Memphis and set off. First on the busy 24 and then on the quieter 64. For several miles the road was designated as the David Crockett Parkway. A distant relative Colin? Making a number of stops to look at historical signs about such things as the location of Davie Crockett's homes with wives number one and two, we made rather slow progress.
When we got to Fayetteville we decided to go and ask if there was any local camping. A fuse had blown in the inverter line, so Dennis stopped to purchase some new fuses. A lady in the store very kindly googled local camping and printed out the information. After the Sat-Nav taking us to the middle of nowhere and stopping to ask a number of people who all thought they knew where the camping was, we found nothing and came to the conclusion it had closed down years ago! This is the problem with camping information from Google.
Setting off again on the 64 it was getting quite late and it was not a busy enough or a touristy enough area for there to be any camping. What to do? We pulled in to a manor house and farm and were welcomed first by barking dogs. A gentleman came over and introducing himself as Richard, he invited us up to the house to meet his parents, Cookie and Fred who must have been in their 80's. What a wonderful family. So welcoming. They insisted we do a tour of the 1815 mansion, originally built by the Childers family from the UK. The house was amazing. Pristinely kept in its original state. Beautiful antiques, family pictures and memorabilia. An amazing Steinway piano dating back to the late 1800's which was purchased in Nashville.
The family farm 500 acres and rent a further 100. We later met Richard's son, Derek, who lives in a neighbouring house and runs a tree surgery business from the farm. The family love to have visitors and were telling us about others who had stopped by. Recently a German cyclist had pitched his tent in a barn to shelter from a stormy night. Thank you Cookie, Fred, Richard and Derek for being so welcoming and hospitable. It was a lovely experience.

Hits: 25