It's Dennis's birthday so we have abandoned the Land Rover for the Hillcrest Hall Country Inn. A bright pink 1910 clapboard building on a hill overlooking the harbour. Originally the family home of Ebenezer Leadbetter, a local store owner during the town's successful coal mining period. Mr Leadbetter retired to Truro and over the years the house fell into disrepair. The MacDonald family, after a lot of trials and tribulations, have restored it to its current status as a hotel.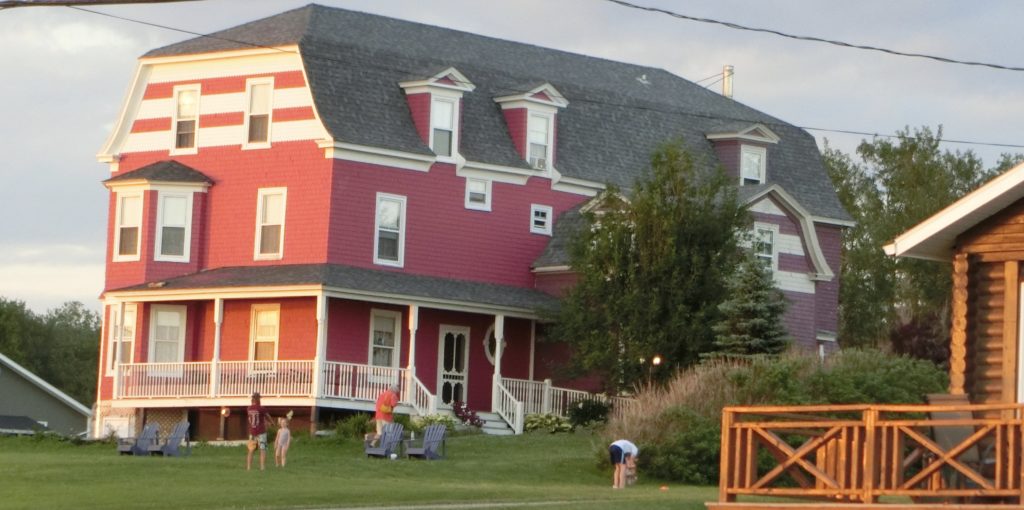 Last night we were determined to have our lobster dinner. This part of the Cabot Trail is also known for its folk and country music. We asked the hotel if there was somewhere close by where we could listen to music and eat seafood.  The Red Shoe Pub in Mabou was recommended. However, this was a 20 ks drive back up the Trail. Having been on the road all day and because alcohol and driving don't mix, we decided to walk to the one and only restaurant in Port Hood, the local Bistro.  Being a Saturday evening it was packed and rather than wait for a table we decided to sit at the bar. Not quite what we had envisaged, but it was absolutely fine. The waiting staff were efficient, but sadly lacking in personality and warmth. The Bistro was also rather bland and lacking in atmosphere. They did, though, have the "lobster dinner special" on the menu that we wanted.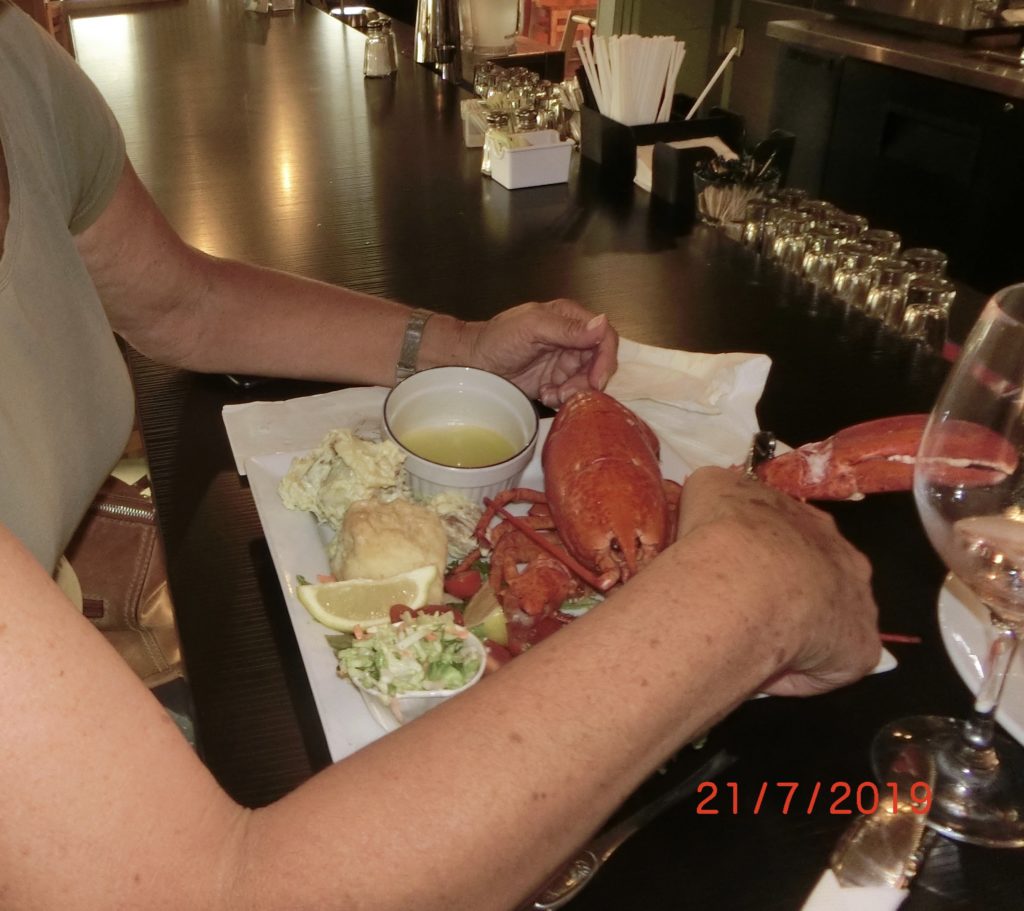 As we ambled back to the hotel, a beautiful day was complimented by a lovely sunset across the harbour. We stopped to watch and took a few obligatory pictures.
Yesterday when we were at Igonish Beach I was surprised to see that the rubbish bins were bear proof bins. I thought we had left bears behind in the north and western areas of Canada. In the afternoon when we were driving along a forested section of the Cabot Trail a black bear came out of the forest and ran across the road in front of us. Just a few yards further along was a resting place where families were picnicking. I hope they didn't get a surprise visitor.
This morning was overcast and grey. Apparently there had been a thunderstorm in the night, but we had not heard it, over the noise of our air conditioning unit. It hadn't really cleared the atmosphere though.
After a substantial breakfast, (not porridge for a change!) we set off in the direction of Halifax. We are not rushing as we are meeting another Land Rover enthusiast, another Bill, in St John, New Brunswick and he is not going to be available until Wednesday. We are going the southern coastal route to Halifax. The inland section from Monastery to Boylston was very pretty. Once we reached the coast it was very "rugged". Not just the scenery, the roads were pretty dreadful. Almost reminiscent of the Stans last year. The route is also very winding, following inlets and bays along the shore. Lots of abandoned and tumbledown houses. Not a lot of employment, other than the fishing industry, to keep people in this area.
At one point we came to a crossing by ferry. Due to a map reading error on my part, whoops! I thought we were in the next bay where a ferry went out to a settlement called Sonora and you could not continue along the coast. We were actually at a ferry across an inlet where the road did continue. We turned around and after about 10 minutes we realised we were on the wrong road and going inland. Rather than turn back we continued in a loop back towards the coast. Fuel was getting low, but the Sat-Nav was showing a fuel station a short distance ahead. It had closed down years ago! A second one was shown as being 14 ks away. Same problem. After a short span on a gravel road we reached Highway 7, which was taking us back to the coast.
The weather was even more hot and humid and getting very unpleasant. The sky was also as black as ink and a storm was threatening. As we came into Stillwater there was a campsite, so we decided we would stop early and get the tent up quickly. The campsite office was closed and a sign told us to go and find a site and the campsite manager would come and find us on his return. This we did and we are the only people camped in this part of the campsite, which is for tents only.
We had just got the tent up when "Norm" the Manager came along. He was very excited by our set up and by where we had been and wanted to take photos, read the blog etc. He advised us we can get diesel about 3 ks further on, which is a relief. He organised some change for the laundry for me and I went off to do the washing. While I was waiting for the washing and reading a book to pass the time, the heavens opened and we had a huge thunderstorm. The electricity went off twice, but quickly came back on again. I rushed back to the Land Rover when the rain had paused for a bit. Lovely surprise, Dennis was cooking dinner. Once again the rain came down hard and the thunder returned. According to Norm, this hot, muggy weather is not normal for this part of the world. I think we will be reading a bit and having an early night.

Hits: 54