We camped up a forestry road last night, as there were no suitable places on the lake front.
This camp site, a good one. Far enough off the main track, to be isolated. In a little clearing, big enough to allow the sun to shine on us and the solar panel on the roof, in particular.
For four nights now we have managed to find a "Rough Camp" and have avoided paying the same prices the huge Bus/caravan or RV's pay. The down side, is we haven't had a shower for four nights!!! Can you imagine that!!..:).
It's 70k's into Sault St Marie. A large town/small city, pop 75,000. After discussing the visa options we have decided to head down into the States and drive around Lake Huron from that side of the border. It's about 100 miles less distance to Toronto, compared to staying in Canada.
As Jen mentioned yesterday, the main objective is to try and get the US visa's removed from our passports, so we get a new one for another three months, when we come back in, through the Maritime States. This will give us more "wriggle" room to explore eastern Canada. Nova Scotia and maybe Newfoundland too? There is another reason. A little more subtle. To stop Jen worrying. She is a worrier. She worry's that we will run out of time or that a dinosaur will eat us. That's silly because there are no dinosaurs? She doesn't believe that all the mileage calculation that I did, will work out. Despite us actually being ahead of schedule. The result of being ahead is, that we have been going going going, without a break.
This time we have stopped at 3.30pm, in a Regional Camp site about 70miles south east of the border and on the shores of Lake Huron. First impressions driving into the US, feels great. The infrastructure is sophisticated and the towns beautifully maintained. Sure, it changed a little the further south we went, but we are impressed.
Our camp site, a regional one is not cheap at $34 but we figured it's about time we had a shower and took it easy for a change.
Sitting here writing this in the drivers seat and a group came to the window, interested in our set-up. They are a lovely family of Mum Deb, daughter Melissa, daughter-in-law, Jessica and later joined by three of their teenage children Madison, Blake and Brandon and the husband of Jessica, Brent. We chatted about lots of things, particularly cars. Brent, is a serious vehicle restorer and quite a talented one at that. Showing us pic's of the many vehicles he has transformed.
Also there was discussion about dairy farming. There is a 2000 Holstein cow heard, in the family. The cows only see the light of day when they go from the grain feeding stalls to be milked. It's an industrial scale operation, all taking place on a 1600 acre farm.
We talked about the serious flooding further south, and the impact it's going to have on grain prices later in the year.  It seems it's been a wet spring in Michigan, but none of the flooding of further south. Wifi here at the campsite wont allow me to upload their photo. I'll try the next stop we get wifi.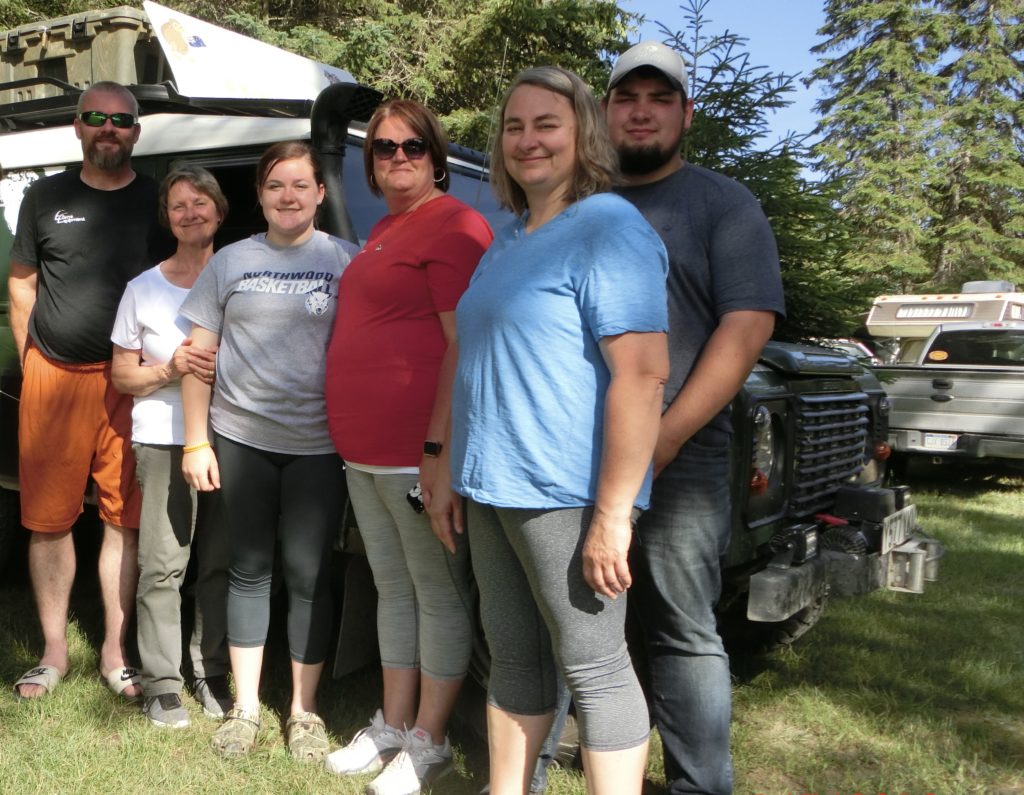 It's a gorgeous day today and we are 40 meters form the lake side. It looks like the kids are on holiday now and wont go back to school till around the end of August. Our plan is to be back in Canada by Independence Day, 4th of July. That will see serious celebrations and probably be difficult to find camping. My family and I happened to be In Los Angeles on 4th of July in 1976 the Bi-Centenary, and it was a riotous time.
I have to mention a very embarrassing situation. Shameful almost. Cause for a day of mourning. NZ playing our nemesis, Australia in the World Cup Cricket, knock out series in the UK. Our bowlers did an amazing job of restricting their batsmen to 245 all out. We left Canadian Tire with the NZ score at 113 for 3 and cruising. I was full sure we would add the Australian scalp to our credit list. Not so. We were all out for 160, or thereabouts the next time I could check the scores. A day of ignominy…:). Next game is against England. Lets say, we hope for improvement.

Hits: 29