Another night with rain, but fine when we awoke, so the tent had dried off a bit. Storm clouds seemed to be approaching though, so we made our first task packing up the tent. I had been looking forward to a shower and hair wash, after a couple of days of wild camping. The community campsite had nice, clean facilities. There was a sign in the shower asking you to press the button several times in order to get hot water. I turned on the taps in the wash basins and ran them for a while. By the time I got in the shower the water was scalding hot and there was no way to control the temperature! Sometimes you can't win!
We took Highway 5 south to Yorkton. Here we stopped at Canadian Tire for the usual use of their wifi. When we are sitting in car parks people bang on the side of the Land Rover, or tap on the window and want to talk to us. The Land Rover is an unusual vehicle for them and when they see the map on the side and where we have travelled, they are fascinated. For some of them we are living their dream and they want to talk about our journey and be photographed with us. One lovely couple today wanted to talk about emigrating to NZ. He is a builder, she a florist. We wished them well.
Today's scenery can be described in one word. Flat. The road, similarly, was straight. When we got to the Manitoba border it changed dramatically. A steep hill down to a lake, the Lake of the Prairies. After crossing the bridge over the lake, a climb up the other side. Forests and bends greeted us. Amazingly Manitoba already has a different feel. The houses, gardens and towns all seem neater and tidier. Many houses are quite tiny. Although it is more undulating and forested, there are still thousands of acres of grain. It is really green and lush with the fields rippling in the wind. The planting must have been earlier here than in Saskatchewan, as the grain is taller. We stopped in Roblin, the first town over the border for lunch.
Back on the road we passed a sign to Tootinaowaziibeeng! How on earth do you pronounce that!
This area is known for the large number of immigrants from Ukraine and Eastern Europe. It doesn't sound as if it is from these parts of the world. More like Afrikaans!
At Dauphin we stopped again to have a look at a Fort Museum. It was around 4pm on Sunday afternoon so they were about to close the gates. A Ukrainian lady, who was obviously one of the people in charge, came over and pointing at the Land Rover, wanted to know what on earth it was. We explained and told her about our journey and asked if we could have a quick look at the museum. She let us in, although some other members of staff didn't look very happy, and we had a quick look around. Unfortunately we didn't get to learn much about the history. Only that it was an amalgamation of buildings from 2 forts from the local area. Built by the British, we think, although the name Dauphin sounds French.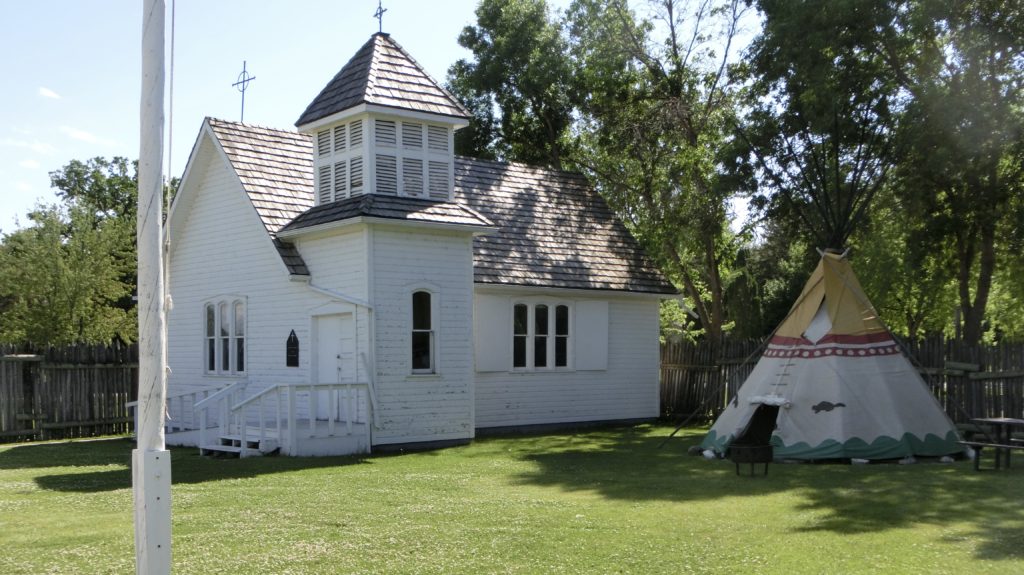 Dennis was chatting  with another staff member, of British extraction. He advised he had been a farmer. Dennis asked him what the average size was for a farm in this part of the world. He said 10,000 acres and there was one nearby with a huge herd of 3,000 cows. 
From Dauphin we headed due south through the Riding Mountain National Park. This is a pretty area of Boreal forest and many lakes. You need a pass to stop in the park, which fortunately we have, for all the parks in Canada. There were a number of sites for camping and we took a look. Camping in National Parks tends to be more expensive though, so we decided to carry on and overnighted at Erickson. This was a very pleasant community site and it was a lovely evening. A red sunset indicated a dry night and hopefully a fine day tomorrow.
Hits: 49