What a night! Jen woke me at some ungodly hour saying "do you think we should check the tent".
Good call as there must have been 30L sitting on the roof in a puddle!
As Jen mentioned yesterday, we seemed to have developed a slight diesel leak from the filter area. Damn. The only spanner I had to tighten the fuel line spigots, was a cresent or shifting spanner. They are not the best tools to be using as they can easily round off bolts and nuts and especially, brass spigots. Down a quiet side street in Saskatoon I got out what tools I had and managed to effect a slight tightening of the spigots and filter, but there is still a weeping. 
Do you think we could find any business that sold copper washers?  Not a chance. However, I managed to purchase a 19mm ring and open ended spanner and on arriving at our camp spot, immediately got underneath and retightened the bits. But it's still weeping. Replacement copper washers are required.
The pre filter we bought from England has proven unsatisfactory. Its too small. Restricting airflow, so I removed it and refitted the air scoop. I'll replace it with a bigger one when possible. The great news though, it works a treat, filter wise. With no dirt roads, it had collected quite a bit of dust and air blown seeds.
The Caranex took a hammering last night and was awash this morning. The problem is ponding. Giving it some thought, I have devised a possible solution. Put the rear horizontal cross pole on the outside. It's this pole that is not allowing the water to escape. While it's not as designed, I figure that crossing the side ropes over the pole from behind ,will keep it in place and allow the water to run away underneath, naturally. Let's see…:)
A little about Saskatchewan. Surprisingly it's not as flat as I had believed. Grain is obviously a major contributor to the provinces economy and it seems, more lately, oil and gas are also being discovered. It's worlds largest producer of Potash and one of the largest exporters of Uranium.
Again, the Hudson Bay Company in the guise of a Henry Kelsey stated trading with the local indigenous people just north of Saskatoon in 1774. Europeans started arriving and demanding more land. In 1865 there were 60million Bison/ Buffalo roaming the plans but within a decade that was reduced to just 500!!!! Resulting in the native people being relegated to reserves.
At one point along the road we stopped to look at a war memorial at the edge of a small town. Interestingly the names were all English.However, passing a cemetery on the way into Canora, where we camped, the newer gravestones were almost exclusively Eastern European. Polish, particularly. 
The farms are of an unknown size but what is noticeable, is the modest and unpretentious housing. I dont know if the land owners are finding the going tough, or they just don't go in for ostentatious display.
Winters are harsh. Often below -40degc. The soil appears fertile. It also appears that they don't till the soil after last years harvest. Simply sewing more seeds amongst the stubble. Maybe a different crop? We'll have to find out.
Along our route the terrain varied quite a lot. At one stage ponding was a significant cover of the land. However, as we travelled on, the country has got flatter and ponding is less evident. Every town has a number of machinery suppliers and they obviously do well, as every farm has last seasons combine, or machinery from several seasons, rusting away in nearby fields, or around the houses.  Cars and utes too. We had to stop to photograph one rusting shell. as it is a car the I would die for as a restoration project. A 1952/3 Hudson Hornet. Photo below. Jen said I cant have it. You can go off some people. Everything appears to be there and we could easily tow it with a bit of ingenuity..:)
Trains are huge. Jen counted over 100 oil tankers. Flat top wagons usually carry 40' containers one on top of the other. Sensibly trains seem to carry the bulk of freight. Admittedly we are traveling off the main Trans Canada highway to avoid trucks but most of the trucks we see are carrying gravel or bulk fluids.
So our camp tonight, Saturday, is in a lovely community campground in Canora on lush green grass and  trees with excellent facilities.  I washed the wagon and not long after, it poured accompanied by thunder.  Oh well. There are four other caravans on site but not a soul about to be seen. 
There has been interest from the Land Rover community in Edmonton in the way we have set up our vehicle , inside. So, here is a pic of the kitchen..:)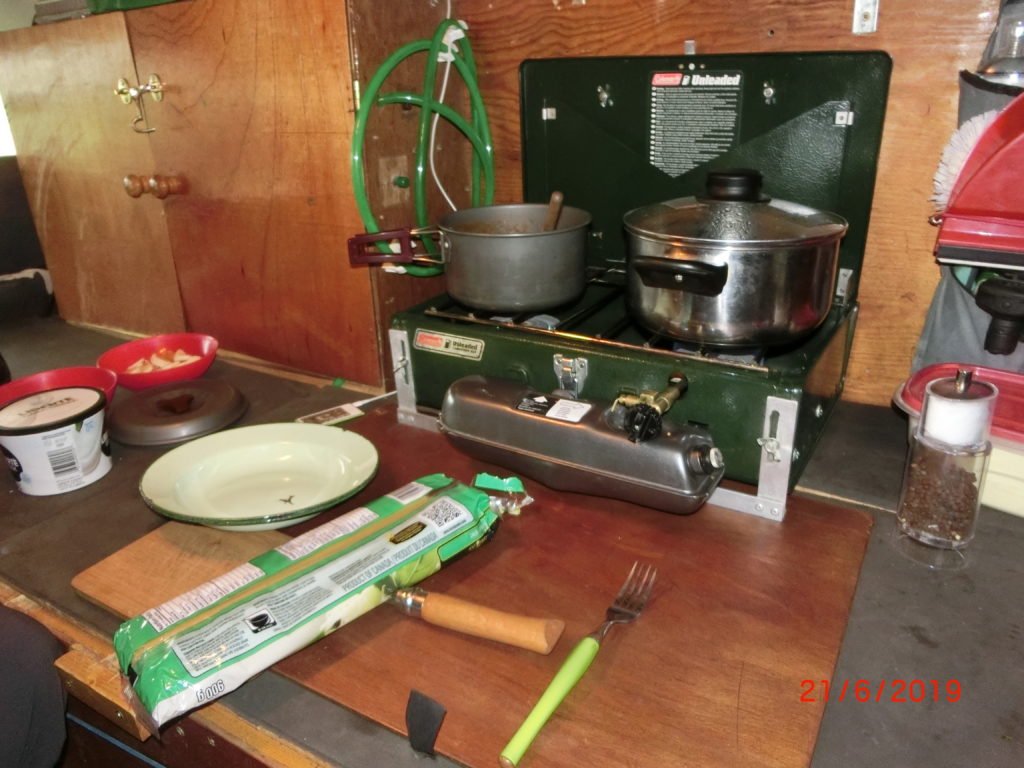 Hits: 47