I chose the RV campsite we are staying at because it is the closest one to central Anchorage and has excellent wifi. The guide also told me it was next to the railway, so I was expecting some noise! I have to say it is one of the noisiest places we have ever stayed. There are not many trains. The problem with them is not the engine noise, but the incessant honking every time they cross a road junction throughout the city. What the guide did not mention is that we are also close to 2 airfields. The commercial one and a military one as well. The commercial airfield is extremely busy for a place the size of Anchorage as it is the starting, or finishing point, for most cruise passengers. There were also a large number of military aircraft screaming around today. Are the Americans afraid the Ruskies want Alaska back! Fortunately at night most of the noise disappears.
Today we have remained stationary here in Anchorage and have done some catching up with domestic chores, communications and some minor bits of maintenance to the interior of the Land Rover. Things like the laundry, it is never ending, putting up a new bracket for the fire extinguisher and gluing some of the velcro round the windows to keep the mossy netting in tact etc
Chores done we went off to explore Anchorage. First stop the Anchorage Market. Here some sort of festival was taking place. Stalls of all descriptions selling everything from T shirts to handicrafts made from moose antlers and many types of food. As it was lunch time we decided on a large platter of halibut with chips and corn fritters with honey butter. How American is that! The honey butter was delicious, but seeing the large number of extra volume people about, this type of fare is only to be a very occasional treat!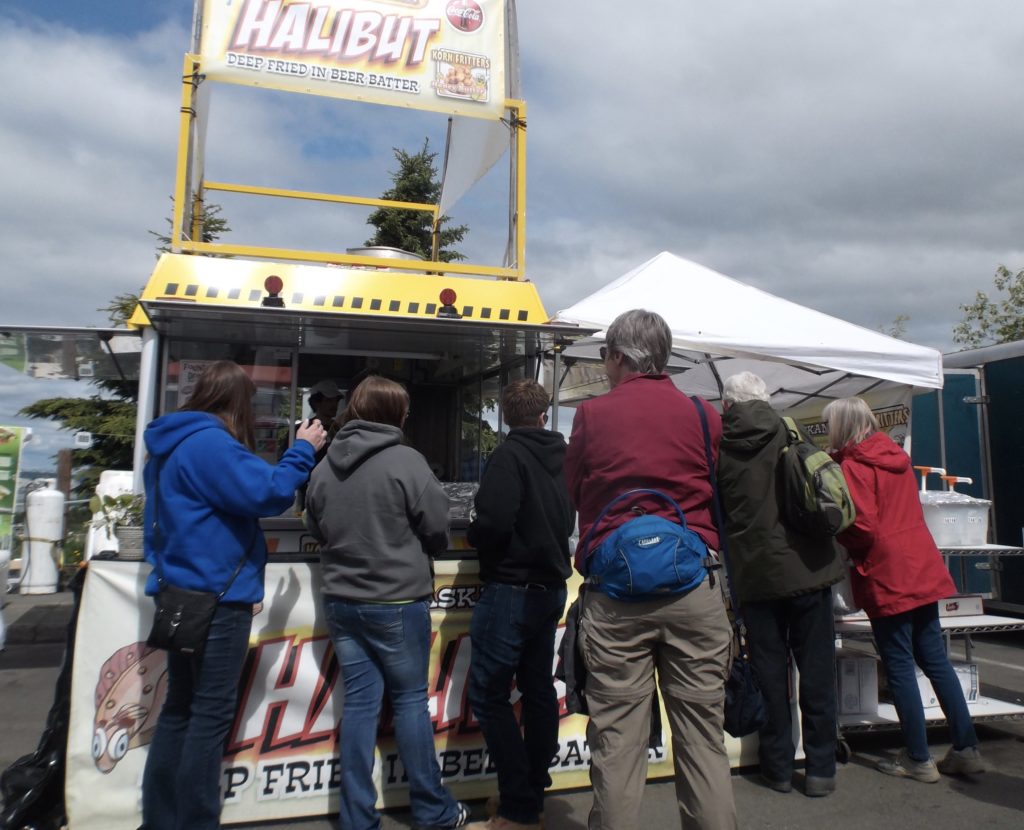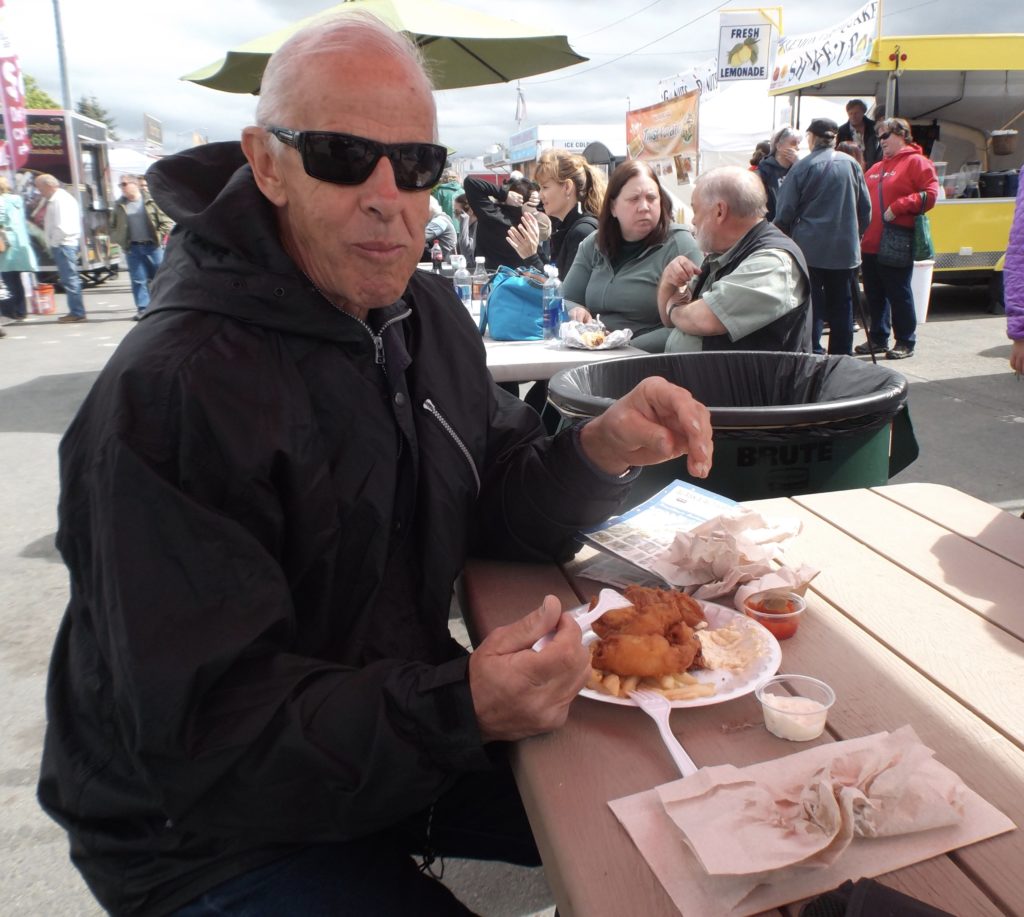 While we were eating we were joined at the table by a couple of Brits. They are about to join a cruise ship. We met several others while we were walking around the town all doing the same thing. There are a lot of Brits here on holiday. Yesterday evening we met a whole bunch of Kiwis here at the campsite. All travelling together in a posse of 6 camper vans.
Anchorage didn't take much exploring. There is not really a lot of it. We made our way down to the river, as we had been told the king salmon were running. There were quite a number of fishermen spread out along the bank. Chatting to a local guy, we learned he had fished here for years. The river had been closed for fishing for a number of years due to pollution, but has now been cleaned up. However, there has been a drastic decline in the number of fish. in 2002 there was a maximum catch of 5 fish per day allowed and he said he would always catch this number. Today he had caught nothing and we probably watched for 20 minutes and didn't see anyone catch anything.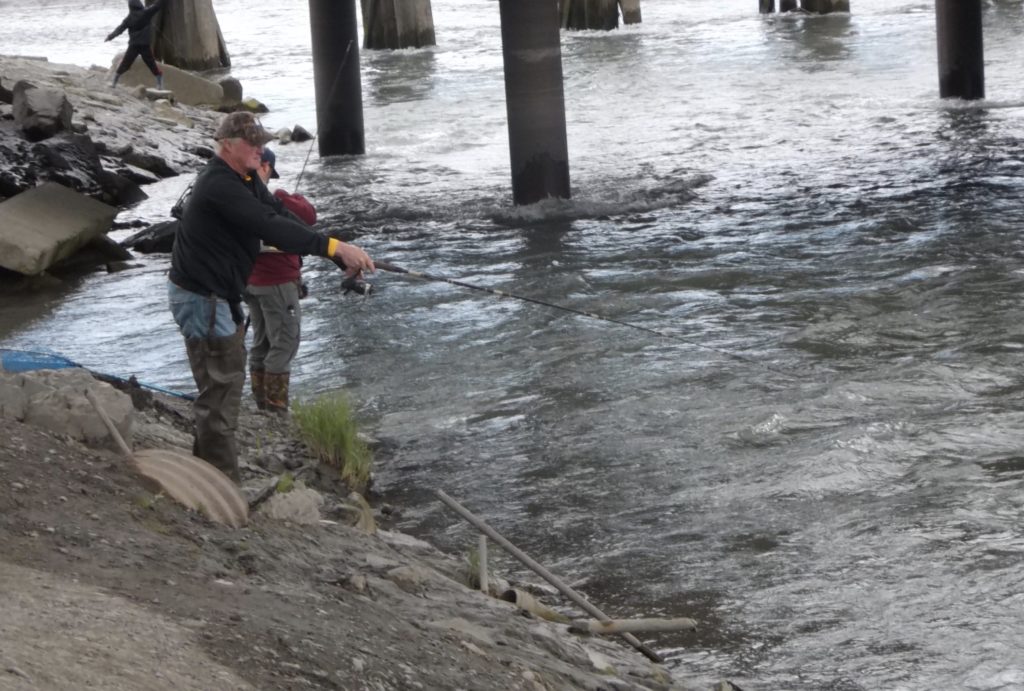 While we were in the UK I read that there is a similar situation in Scotland. The companies that used to charge large amounts for fishing in famous Scottish fishing rivers are struggling as people are not prepared to pay for so little sport. Obviously this is yet another example of how we are destroying our environment. Very worrying.
The fisherman we chatted to also told us why there was so much military aircraft activity. Apparently Putin has been sending Russian bombers very close to the US border. Provocation, posturing? Of course, the US has to react and show their military might.
We came back to the Land Rover for afternoon tea and a lazy evening. Tomorrow we will start heading for Fairbanks.
Hits: 36