Nobody accosted us for payment this morning for our camping site. It's still the shoulder season and things will change from 1st June? But maybe they wont, as you could say it's a pretty laid back part of the world, up here. The name Tok (pronounced Toke, short for Tokyo) was a camp for the construction teams building the Alaska Highway back in 1942. America was concerned about the vulnerability of Alaska to the Japanese, so decided to put in defensive positions. It seems the locals were unhappy to be associated with Japan in any way so they shortened the name to Tok. Mindless information!
Tok is the only town we will be visiting twice, as it's also on the road back from Fairbanks. We'll know where to camp next time too.
It was nice to have a warm shower and fill our water tank with excellent quality water.
Rain set in early this morning and we had to pack the Caranex, wet. The good bit was, it was dry inside during the rain. So, our minor mods have been successful and the waterproofing has worked too.
We are now camped for the next two nights in Anchorage. Not the most amazing campsite, beside the railway track with horn happy drivers, and only a couple of degrees off the busy airport flightpath!
The journey here though was at times, breathtaking. Fortunately the rain cleared in mid afternoon and the mountains and glaciers were resplendent.
We stopped to take a photo at one point, behind a wee Chevrolet car and the driver got out and came back to ask, "who was the Pom"? In a strong London accent. Allan was from North London many years ago but is now a retired farmer in Queensland, Australia, with his Aussie wife, Dorothy? A lovely couple with attitude, in their 'twilight" years, like us. An Aussie and a Pom..:). I hope we run into them again, or they make contact with us at some later point.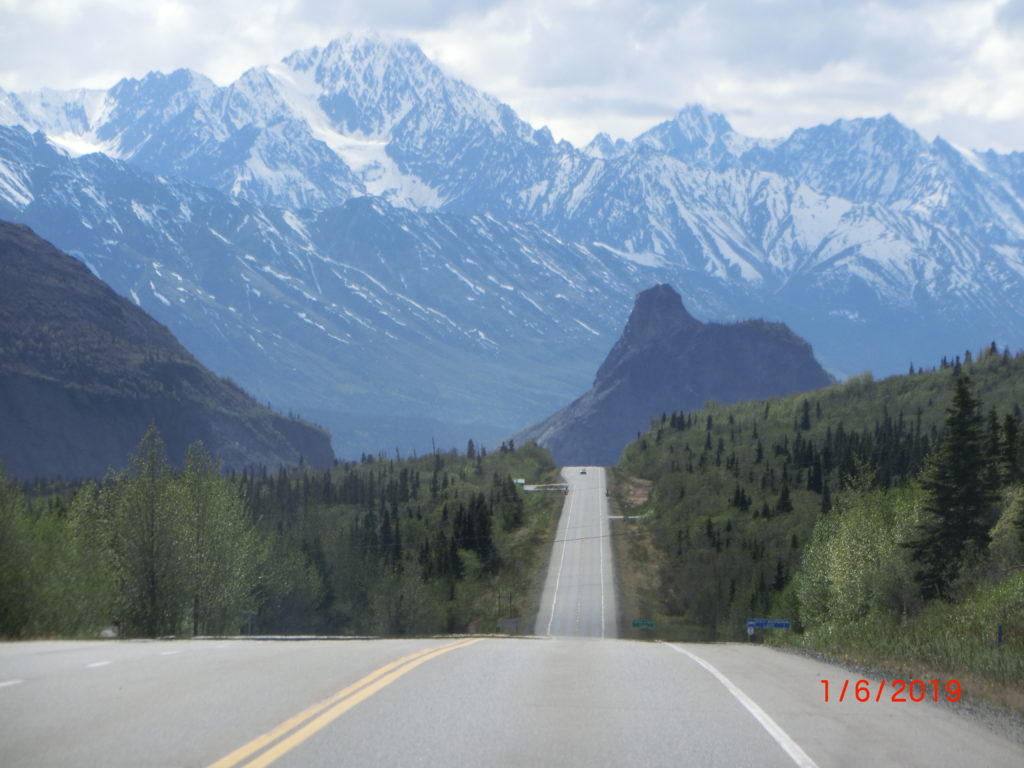 A big day mileage wise. 329 miles. There were quite a few roadworks. The road is obviously seriously affected in winter by frost and I suspect melting permafrost underneath, which causes serious undulations. There are derelict settlements all along the highway today. Many with dozens of abandoned cars surrounding them. Shops, petrol stations and homesteads just rotting away. Some with For Sale signs.
I'm guessing it's a hard existence in the winter but we discussed, very briefly, the idea of spending a winter cabin bound, but then decided there are too many other things to do and not enough time.
Anchorage has a population of 300,000 and we will get to have a walk around it tomorrow, Saturday. No doubt Jen will give you the good oil on it.
We trust you are all well and enduring the winter in NZ and Aus. but a good summer for the Brits and those on the Continent.

Hits: 26